Let the Band Play Neck
Waking up on Saturday's in the fall in Louisiana is almost a spiritual feeling. The smell of breakfast being cooked while the sound of ESPN's College Gameday is being echoed from the TV. Eggs, bacon, grits with a side of toast all being washed down by some fresh-squeezed orange juice. After a night of partying at Tigerland, it was a sure way to shake back. My best friend, Deuel (Do-Well), and I shared an apartment off-campus, but it was in walking distance. We waited until Lee Corso chose the winner of the 15th-ranked LSU Tigers hosting the 22nd-ranked West Virginia Mountaineers. He chose LSU.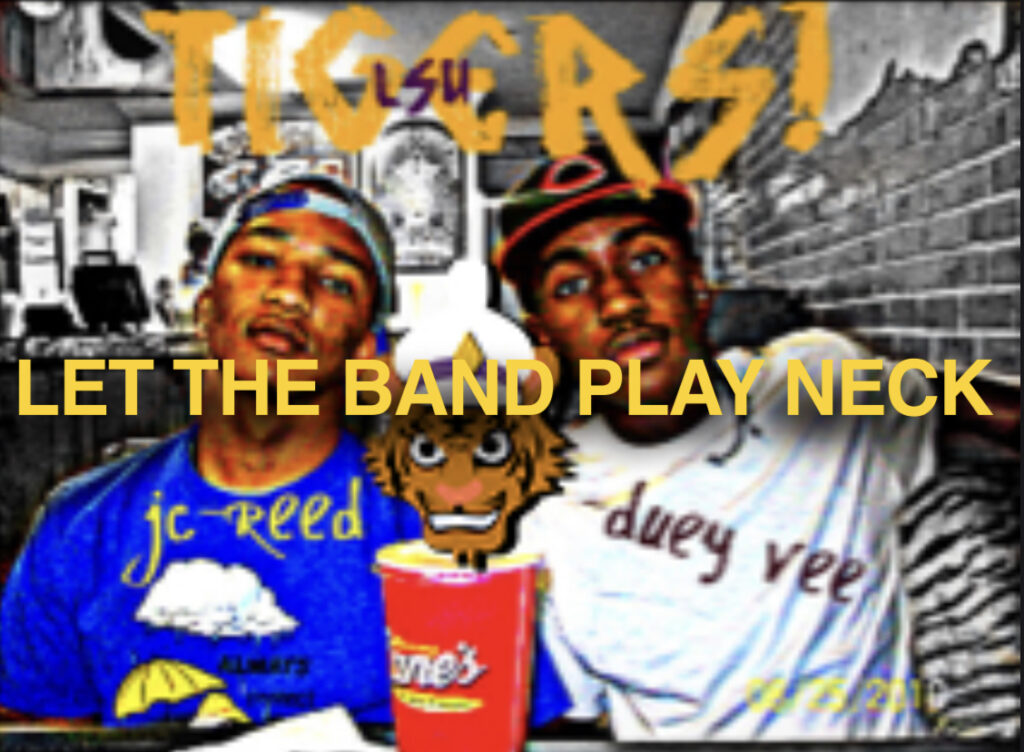 Tailgating Season
The 20-minute walk to campus was cool. The weather was pretty decent. 80 degrees with a slight breeze in low humidity. As we approached, you couldn't help but notice the sea of RV's and purple and gold tents. Young kids throwing a football around. Men drinking beer and playing corn-hole and it wasn't even noon. The smoke from the barbecue grills permeates the air. Ribs, chicken, burgers, jambalaya, pasta, fried shrimp, fried fish & boudin. If it were chilly enough, you'd even see bowls of gumbo.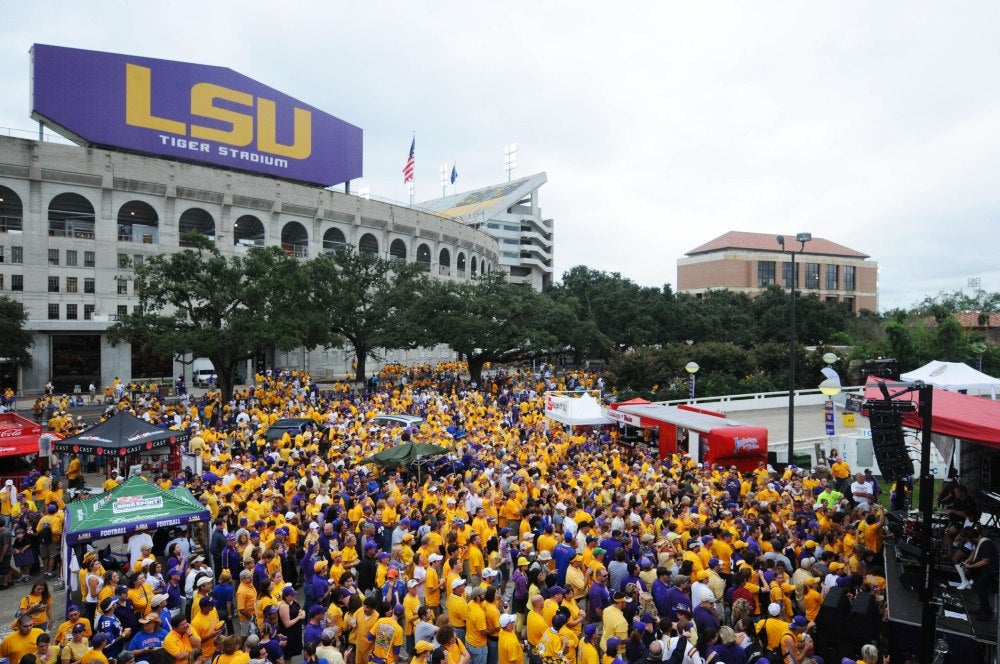 Through our voyage to the north side of campus, we carried a red solo cup filled with some concoction Deuel had cooked up. It was a mix of Bacardi rum and whatever juice we had in the refrigerator. We would randomly run into classmates or people we knew tailgating. They offered us food and drinks or to sit and watch the noon kickoff games being shown on ESPN or ABC. It was kind of customary of the land to offer. We would get asked by strangers, "Are you hungry?" just because we had on LSU branded merch.
We finally made it to Greek Row (a street littered with Greek houses). The houses were usually decorated with large signs hanging from the top balcony so everyone could see. In West Virginia, It Is Legal To Marry Your Second Cousin. I will never forget that sign. We, ironically, ran into some fans of WVU. "Is tailgating always like this?" Our response, "This is nothing. Wait until we play Bama."
Tiger Stadium
Baaa – Ba – Baaaaaa – Ba
The only place in the Sportsman's Paradise where the chance of rain is NEVER. Imagine 102,321 people yelling and screaming in unison, so much so that the earth shakes. Garth Brooks orchestrates the atmosphere. Former LSU coach and grass connoisseur, Les Miles once said,"Death Valley… the place where opponents' dreams come to die."
A game jammed with future NFL players, one player stood out; Patrick Peterson. Number 7 was already in the Heisman conversation, which was rare for a defensive back that never played offense, although he did return punts. Returning a 60-yard punt for a touchdown was encapsulated by a pose made famous by Heisman trophy winner, Desmond Howard.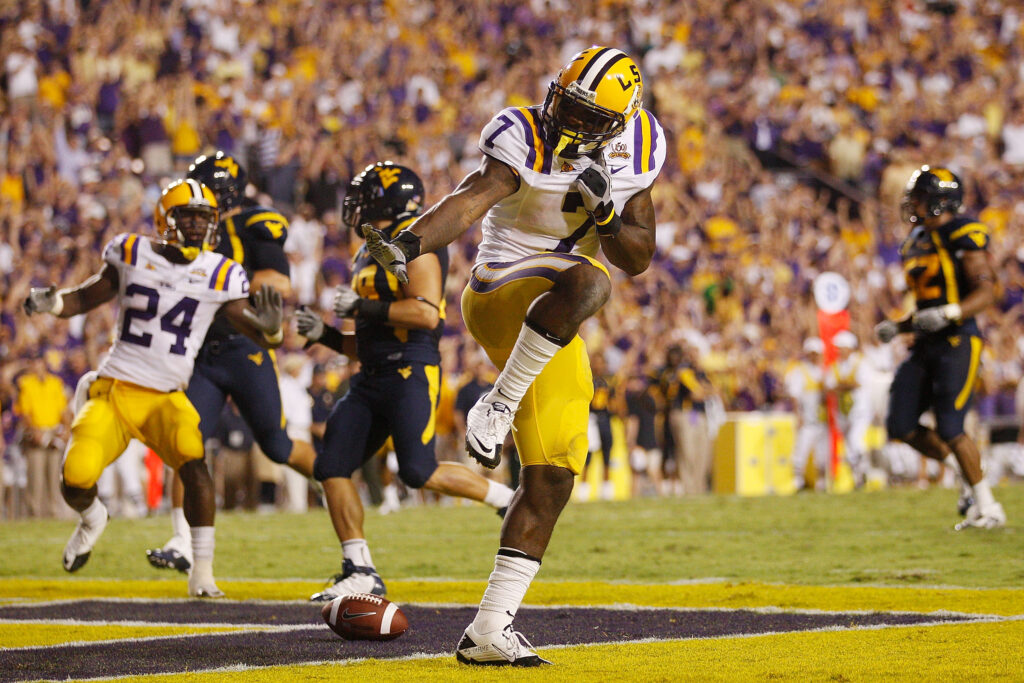 After the flag was thrown, and the penalty was assessed. After the field goal was kicked. The band decided to play a song that's not liked by visitors, but loved by the tiger faithful. It is played when a huge play is made or there's a turning point in the game. This was that turning point. This was the play to be made. This is what ensued.
Culture
ESPN's Scott Van Pelt has noticeably mentioned his infatuation of Baton Rouge on a Saturday night in Tiger Stadium. Van Pelt starts with the hospitable nature of the people of this region. The energy is passed from the crowd onto the field of play. The pride that the people withhold. The effort that's put forth to provide an undeniable atmosphere. Yes, sometimes obscene, but the passion pushes people over the line. It captures you more than your IPhone. It sticks to your soul like a warm bowl of grits on a cold winter morning.
LSU is a staple. Its placement along the Mighty Mississippi River has allowed the roar of tigers to be flown upriver throughout all the connected rivers and tributaries in the United States. Louisiana is very infectious place. No, we don't have the decent commodities, such as; roads, buildings, and a self-sustaining economy like we should have, but the people we have here are like no other. Think about this: New Orleans, Baton Rouge, Lafayette are within a 2 hour radius of each other and all have different cultures, accents, and ways of living. Our culture is rich and deeply rooted. It should forever live on, even in Death Valley.