Saints add more Defensive Line Depth and youth at Running Back on Day 2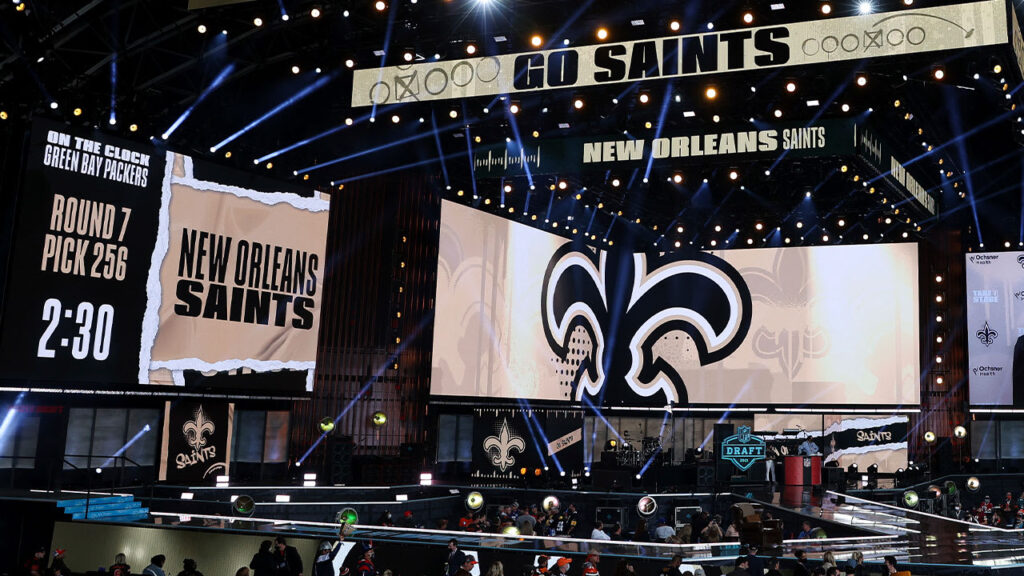 Who would have thought that Mickey Loomis and Co. would have not traded up through three rounds of the draft?
"We tried," Saints Head Coach Dennis Allen said in his post draft presser on Friday night, "it just didn't work out."
They also reportedly attempted to move up six spots with the Vikings at 23 on Thursday night but couldn't get anything finalized. Instead, they ended up making two selections last night in Notre Dame defensive lineman, Isaiah Foskey at pick 40, and TCU running back Kendre Miller in the third round at 71.
The Picks: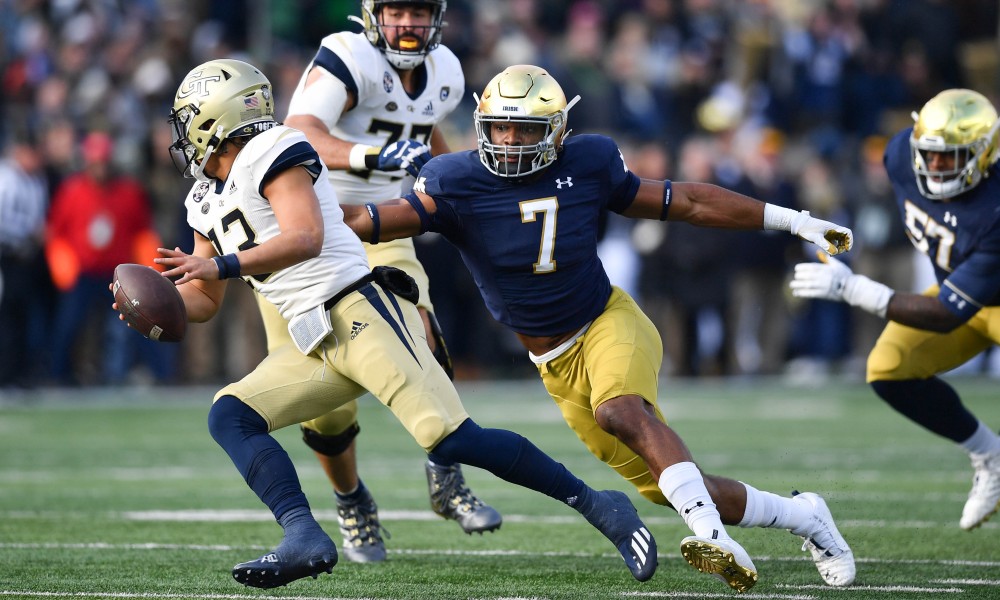 It was a little surprising to see the Saints double down on defensive line with their first two picks, but when you break it down, this makes a lot of sense. Foskey is 6'5, 265 pounds with a 4.58 40 time, and this combination earned him a 9.54 RAS (Real Athletic Score) which is a metric that the Saints value highly. He also was extremely productive in his time at Notre Dame, breaking long time New York Giant, Justin Tuck's career sack record with a total of 25 in his three years as a starter. After losing Marcus Davenport to the Minnesota Vikings in free agency, Foskey has the athletic profile and pro-readiness that will make him a day one impact player at that spot.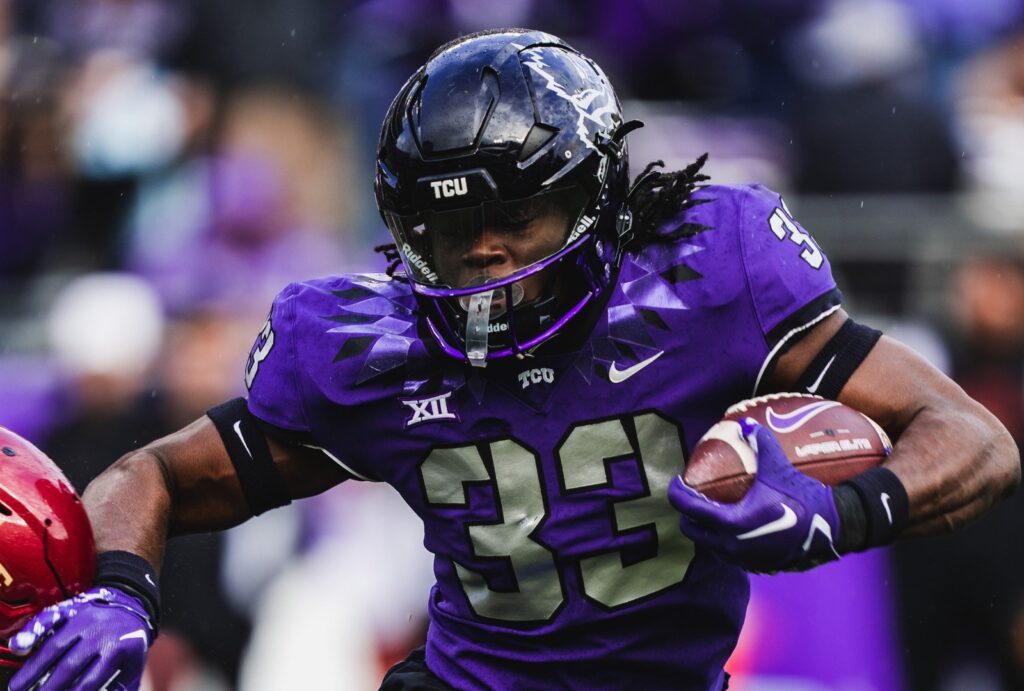 Going running back in the third round was another surprise to me, but as Alvin Kamara is aging as well as pending a significant suspension along with newcomer Jamaal Williams never being a true lead back in his career, it was important to add youth and depth in such a strong running back class. The 20-year-old Kendre Miller does just that, and the Saints obviously envision him being the future of that position for them. Miller was extremely productive in his final year at TCU, totaling 1400 yards and 17 touchdowns on the ground in 14 games for the national champion runner up in 2022. Standing at 5'11, 215 pounds, Miller also has prototypical size for a lead back in the NFL. His main strength when watching him is his contact balance and smoothness as a runner, which will remind Saints fans of Kamara with the way he glides in the open field. Miller will get an immediate opportunity to compete for carries from day one and should be an impact player for the Saints in 2023.
What to Watch for in Rounds 4-7
First thing to watch will be the amount of times someone on either NFL Network or ESPN's crew highlights the percentage of NFL rosters that are made up of day three players. Would be a fun drinking game. Nevertheless, the Saints go into the day with five selections:
Round 4 (115)
Round 5 (146)
Round 5 (165)
Round 7 (227)
Round 7 (257)
It's almost impossible to project what teams will do with their late round selections, and the Saints don't really have an area they must address–just a lot of areas that could use depth. Here's a few positions and players they could look to round out in the final half of the draft.
Wide Receiver/Tight End:
Receiver is a position that could use some depth and insurance because of the uncertainty of the health of Michael Thomas. Since Adam Trautman's time as a Saint is almost certainly done, the Saints also could use another tight end to fill out that room.
AT Perry- Receiver, Wake Forest
Zach Kuntz- Tight End, Old Dominion
Bryce Ford-Wheaton- Receiver, Michigan
Kayshon Boutte- Receiver, LSU
Xavier Hutchinson- Receiver, Iowa State
Travis Vokolek- Tight End, Nebraska
Defensive Back:
This is more of a depth and age need especially at safety. This also may be the position with the most depth remaining on the board.
Antonio Johnson- Safety, Texas A&M
Clark Philips- Cornerback, Utah
Trey Dean III- Safety, Florida
Ronnie Hickman Jr- Safety, Ohio State
Christopher Smith- Safety, Georgia
Kelee Ringo- Cornerback, Georgia
Defensive/Offensive Line
Even with already addressing with multiple picks, you can never have enough bodies on the defensive line. The Saints depth at offensive line, also should be addressed with one of these picks.
Adetomiwa Adebawore- Defensive Tackle, Northwestern
Andre Carter II- EDGE, Army
Moro Ojomo- Defensive Tackle, Texas
Emil Ekiyor Jr- Guard, Alabama
Dawand Jones- Tackle, Ohio State
Jarrett Patterson- Guard, Notre Dame
Again it is nearly impossible to project this sort of a thing, but it is significant to take a look at the best players available because all players listed above had strong arguments for being picked well before round four. The draft resumes at 11 a.m. Central Time today.
UPDATE: The Saints just traded up to the top of the forth round with the Bears; terms of deal undisclosed at this time.