Issa Knife
Back in 2016, Rapper – 21 Savage did an interview with VladTV, where he explained the meaning of his tattoo that is located in the middle of his forehead. "Issa Knife." From there, a pop culture reference was born. It sparked 21 to name his next album "ISSA".
In 2016, Naji Marshall attended Hargrave Military Academy in Virginia where he averaged 20 points and 11 rebounds. He has come a long way since Hargrave, but yet his hard nose play remains the same. Naji, which is Arabic for "strong warrior", personifies the true essence of his name. Whether that means getting into on-court confrontations with Memphis Grizzlies' guard Ja Morant or getting physical with Detroit Pistons forward Jalen Duran for fouling Zion Williamson hard.
Naji has made it known that he is a protector of his teammates. "If anybody messes with them (teammates), they will have to see me." Earlier in the year, Pro Pels Talk did an interview with Larry Nance, and Nance stated that Naji and Jose bring the "toughness" everyday.
Although, his fist, accidentally, may have caused Brandon Ingram to have a concussion and to be sidelined for 4 games, the Atlantic City native is a pretty jovial person on the court. He & Jose's energy change the trajectory of the game quite often. Take the 1st home game versus the Phoenix Suns for example. Number 1 vs Number 2 in the Western Conference. The Pelicans seemed to be sputtering out of the gate. Enter Naji Marshall then followed by Jose Alvarado. They immediately changed the trajectory of the game which ended with a Pelicans win and a Zion Williamson 360 windmill that broke the internet. A scrum of pushing and shoving ensued between players and coaches. Guess who was in the middle of it?
The third year forward out of Xavier has been used in so many roles throughout the season. He's been a role player, starter, back to a role player, but his energy and effort remains the same. I believe that he has made the biggest leap from last year to this year. He has been ultra dependable. Naji's ability to cut and slice through the defense and get to the rim has been essential for this Pelicans team. He has been able to guard multiple premier guards/forwards in this league and has done a great job while making timely 3s.
Versus the Indiana Pacers, Naji may have had the best game of his NBA career. He had a career high 22 points, along with 6 rebounds and 4 assists. With a couple of highlight passes, off-handed dime to Willy Hernangomez to make note, Naji's highlight reel was cemented with a one-footed, 28-foot grenade that was dropped at the end of the 3rd quarter to beat the buzzer.
On the defensive end, the Pelicans held the Pacers under 100 points. The Pacers entered the game 4th in the league in made 3 pointer with an average of 15 per game. The Pelicans held them to only 9 made threes with Zion Williamson, Brandon Ingram, Trey Murphy, Dyson Daniels and Herb Jones being sidelined. Pacers' guard Tyrese Haliburton, potential Eastern Conference All-Star, was held to 12 points after scoring 43 the game prior.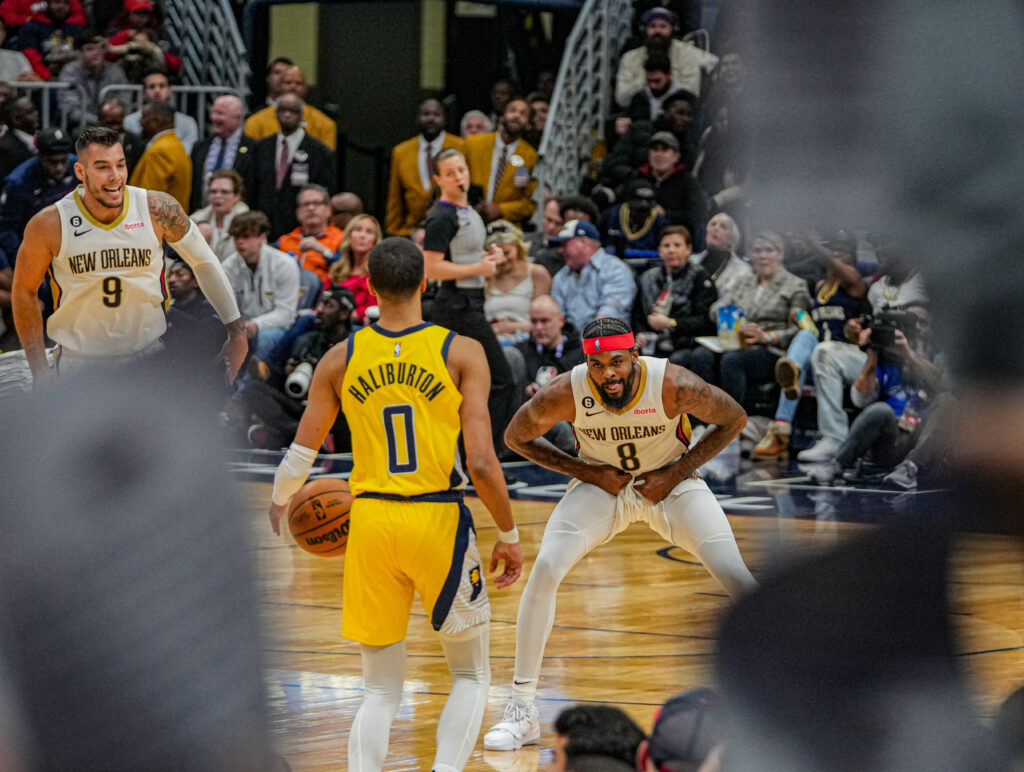 Knives are used to complete a lot of tasks. But as Naji Marshall stated "a knife is only an object, I'm a soldier".
So, would that make the Pelicans an army, better yet, a navy?