All hail Taysom Hill, savior of the 2022 Saints
What is this strange feeling?  What is this – in the words of Jerry Seinfeld – salty discharge?  Are these tears of…joy?
It was hard not to get a little emotional on Sunday during the Saints' 39-32 win against the Seattle Seahawks, which was the first time this writer has set foot in the Superdome since the team blew a double-digit fourth quarter lead against hapless New York Giants in October 2021.
Now, the Saints are 2-3, in second place in the NFC South, and are far from the 1-4 corpse they could've been had utility player Taysom Hill not single-handedly put the team on his back and carried them into the end zone four times Sunday.  Taysom, who has been hurt and largely forgotten about during the team's 1-3 start, put up one of the most insane stat lines in franchise history Sunday: 9 carries for 112 yards on the ground, 3 rushing TD's, 1/1 for 22 yards and a TD through the air, a fumble recovery on special teams, and a huge block on an Alvin Kamara run that helped seal the victory.
Taysom's performance represents both the team's path forward to sustaining success, as well as its greatest weakness.
Taysom may not have the arm talent of Jameis Winston or the mental processing power of Drew Brees, but his athleticism and knack for creating explosive plays whenever and however he's called upon makes Hill special nonetheless.  His performance against the Seahawks is a stark reminder that he needs to be on the field and involved in the offense as much as possible.  This game is solid evidence that the Saints can win with the cocktail of a game-manager archetype like Andy Dalton, plus a hefty swig of "QB Power."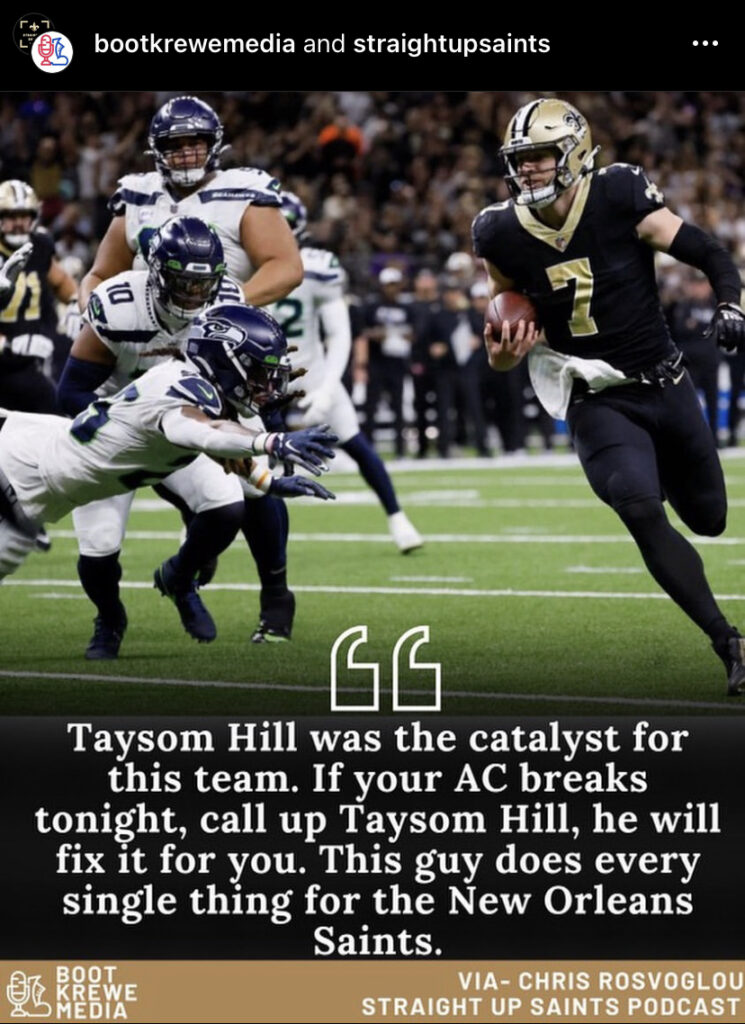 There's a sect of the Who Dat Nation which laments the fact that defenses can see these plays coming from a mile away every time Taysom lines up at QB. But the bottom line is, if other teams can't stop it, who cares if it's predictable? Run Taysom until his legs don't work. Yards are yards and points are points; it doesn't matter how we get them.
This is no reactionary take.  We have plenty of highlights from the moment Taysom Hill was claimed off waivers in 2017 that he is special and he makes game-changing plays when he's healthy.
Taysom's career day is also a reminder of something more grim – the void of leadership and talent at the QB position. That's not to say Dalton and Jameis aren't talented or leaders, but they have yet to prove they have a special trait that gives the Saints a chance to win every single game. They do not put asses in the seats, nor do they make those asses stand up and cheer louder than an airplane when they make plays. Until the team finds someone like that, the search will continue.
Also, in the meantime, the Saints need Taysom Hill on the field as much as possible as the team tries to climb out of the grave it has fumbled itself into.
For the first four weeks of the season, the Saints were doomed by Sean Payton's absence.  But now that his pet project has reminded everyone that Taysom's arguably the most explosive player on the roster, the season has been saved by the former head coach even as he convalesces in a recliner, sipping domestic beer and Tweeting from afar.
Like a black hole warping everything within its event horizon, nothing will escape the gravity of Payton's impact (or lack thereof) on this franchise for years to come, for better or worse. This week, for better.
Payton, this Bud's for you.