Black History in Sports Part 2 of 4
Meet Marion Motley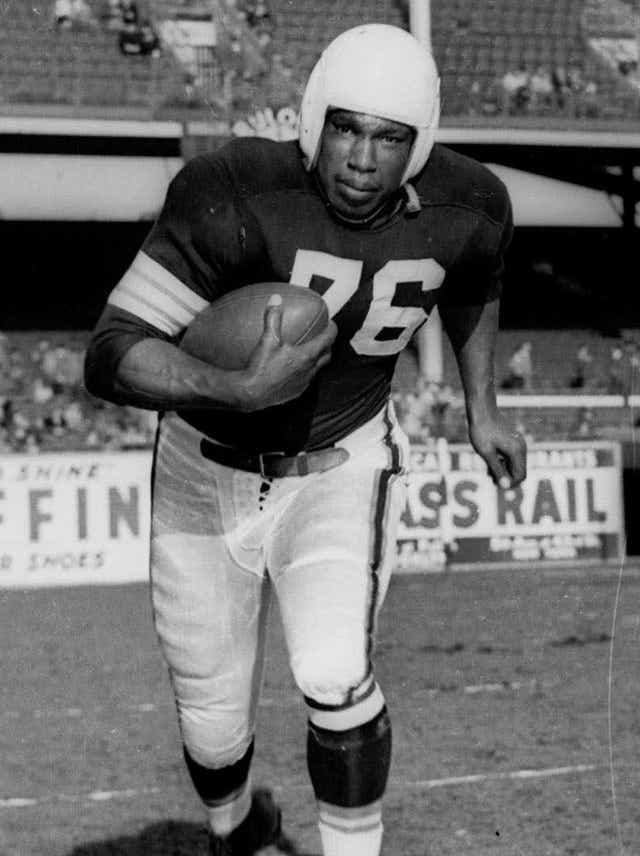 Marion Motley broke the color barrier in professional football in 1946 with the Cleveland Browns. Motley served in the US Navy during World War 2 and played football for a military team that was coached by Paul Brown. After the war Coach Brown went to go coach the Browns (The irony, right?! Brown & Browns). When Marion found out he wrote a letter to him looking to play. At first, Brown said no, I'm not sure why but apparently, he changed his mind because a few days later he decided to bring Motley in so he could room with another African American teammate Bill Willis. Marion didn't break the color barrier alone, he had some help. They did this 7 months before Jackie Robinson was called up to the Dodgers. When the 1946 season started Motley, and Willis, along with Kenny Washington and Woody Strode broke the pro football color barrier together. Motley however, was the best of the bunch.  
Marion Motley's running style and exceptional blocking ability marked him as one of greatest football players ever. Motley was solid, 6'1 and weighing about 238 pounds. Other players who remembered his playing style described him a strong. There are stories floating around about his times with the team: I'm not sure if it's true or not, but I have read different stories about him and his roommate (Willis) playing in all but one game during that 1946 championship campaign. Coach Brown apparently left Motley and Willis at home in Cleveland paying them money to miss the game rather than risk taking them to Miami because of so many death threats. Don't quote me on that. Later that year, according to multiple accounts, Motley instinctively pushed Brown to the turf. There was no reprimand, although Brown did ask, "What did you do that for?" Motley was clearly about that life.  
Just like most black athletes around this time he dealt with extreme racism throughout his career. Motley was a dominating fullback and linebacker. Fellow Hall of Famer Joe Perry even referred to Motley as the greatest all around football player ever. Motley won an NFL Championship in 1950, that same year he led the league in rushing. He was also 2-time Pro-Bowler. In 1968 he entered the Pro Football Hall of Fame. He was named #74 on the top 100 players in NFL history.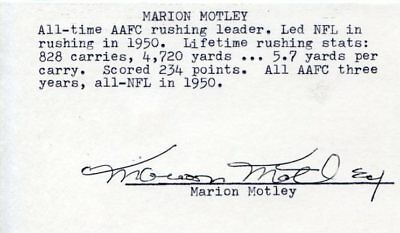 After his amazing career in the NFL, which was slowed by a knee injury, he tried to stay around the sport. He attempted to get into coaching and was denied because of racism. Unable to secure a coaching job he took a job with the US post office, and the department of youth services. Motley passed away in 1999. 
There is so much more out there about Marion Motley's life that I did not cover. If you have a spare 5 minutes do yourself a favor and watch this. He deserves our recognition because his efforts have paved the way for the stars of today.