Homerun Race
Who ya got?
Everyone loves homeruns! The thrill of squaring up a round ball with a round bat is a remarkable thing. What is even more remarkable? Squaring up that round ball and it flying 480 feet into the upper deck. The Homerun was, and always will be, the most entertaining part of baseball. Yes, some will disagree, however, majority of fans show up to see hitters bang. A perfect game is fascinating, but it isn't spontaneous. Turning double-plays up the middle is like poetry in motion, however it isn't as exciting.
Homers come with a little more 'swag'. The bat flip has become an event on it's own. The 'stand and watch' is another option for some players. We have some that take their time to round the bases. We have some that point at the dugout like 'I told y'all I was going deep!'. It brings passion out of players. Hitting is HARD. So when a player is successful in such a difficult task, they celebrate. Let them celebrate!
Currently, we have two players tied for the HR lead with 17 bombs on the season; Vladimer Guerrero Jr. of the Toronto Blue Jays and Ronald Acuna Jr. with the Atlanta Braves. Many will recognize the name Vald Guerrero Jr. – his father Vlad Sr. use to smash homers himself. The power didn't fall far from the tree. Could he be the one that has the HR Title come seasons end?
Ronald Acuna Jr. brings that flare to his bombs. When he hits it, he HITS it. He will let you know he got all of it. His celebrations are fun to watch. He probably isn't liked by many pitchers but he doesn't care. Will he have the most homers at the end?
Adolis Garcia in only his second season with the Texas Rangers has shown his power. The 28 year old outfielder has just 206 major league starts under his belt. He is right behind the two leaders with 16 Hrs. Will he continue to bang with these other power bats? Can he maintain this production through the long 162 game season? We shall see.
Fernando Tatis Jr. is tied with Garcia. It is unreal he is this high on the list because Tatis Jr. has missed several games this season due to injury and COVID protocol. Wonder what his total would be if he hadn't missed. Would he be over 20 already? Will a shortstop finish as the Homerun leader?
Fifth on the list is a freakin' pitcher! Shohei Ohtani has 15 homeruns on the season for the Los Angeles Angels. Dude also has a 2.72 ERA on the mound. I mean C'mon man, That is unheard of. He is in a league of his own. A completely different specimen than anyone else. Will he take the crown?
If it isn't any of these five guys, who will it be? Do you have a favorite to win the Homerun Title?
Lastly, I figured I'd bring back a classic to end it. Who remembers the 1999 Nike commercial with Maddux and Glavine? It was/is hilarious! Here it is for your viewing pleasure!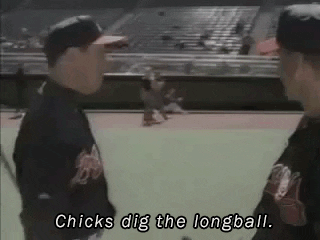 1999 Nike Commercial: Glavine & Maddux (Chicks Dig the Longball) – YouTube