Saints move to 2-0 Following Another Ugly Win on Monday – but Optimism Soars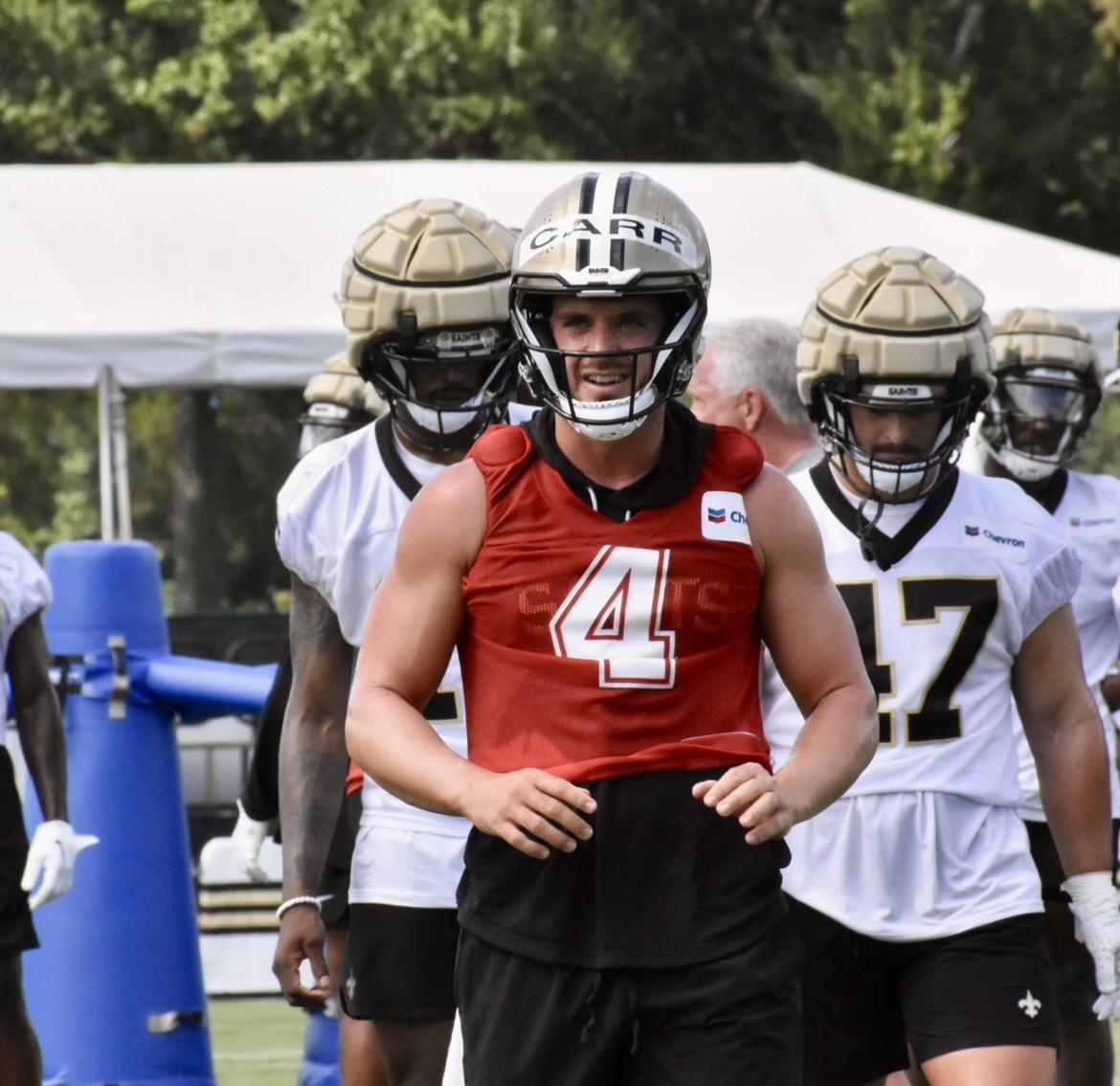 For the first time since 2013, the Saints sit at 2-0 through the first two weeks of the season – which is enough to make anyone feel good about the team's state going forward. However, there are plenty of obvious aspects of this team that need to be cleaned up – but no one expected this to be perfect right away.
On Monday night, the Saints traveled to Charlotte, North Carolina to face their first divisional opponent of the year in the Carolina Panthers – led by first overall pick in quarterback Bryce Young. In the post Brees years since 2021, the Saints have traveled to Charlotte before week three both seasons and lost in extremely disappointing fashion both times. In 2021, the Saints were famously missing seven coaches due to COVID policies and totaled a whopping 128 yards of offense, losing 26-7. Last year, it took the Saints three quarters to muster a single point – and the offense even gave a touchdown away in the first quarter when an Alvin Kamara fumble was taken for a score (one of three turnovers the team committed). What do these two early season trips to Charlotte have in common? They were both flat out duds of performances from the team in almost every aspect.
One thing that was true following Monday night was that it felt different and cleaner this time around, although far from perfect. Offensively, Derek Carr had by far his roughest half as a Saint in the first 30 minutes of the game, which was a similar start offensively to last week. Only Except it was against a banged up Panthers defense rather than the elite Titans unit that they faced last week.
However, they came up with clutch second half plays and established the run behind a ground attack of Tony Jones Jr. and Taysom Hill, after Jamaal Williams suffered a first half hamstring injury, and found a way to win the game.
The offensive line again looked shaky again, with Carr being sacked another four times, and he also looked very uncomfortable in the early stages of the game – finishing the first half 11/22 for 89 yards and a really bad interception that was thrown into triple coverage. The unit also went 0/2 in the redzone after struggling mightily in that part of the field last week as well.
Yet, the team was able to put together another very strong second half offensively. Carr, who is now a combined 18/23 with 289 yards and a touchdown in the second halves of these first two games, looked far more comfortable in the final two quarters on Monday night. This can be heavily attributed to the fact that is because he is distributing to a receiving trio that you could put up against any in the entire league right now.
After Michael Thomas was the only reliable offense for the Saints in the first half, making all seven of his catches for 55 yards, Chris Olave (6 receptions/89 yards) and Rasheed Shahid (4 receptions/63 yards) dominated the second half including two key catches of 40+ yards that both sparked drives that ended up in touchdowns.
Olave's catch was especially notable because it was on a very important third and long and may very well be a nominee for catch of the year at season's end.
It is clear that the offense as a whole has the potential of being an explosive unit on paper, but growing pains were a given early in the season and it's up to Derek Carr and Co. to work through those in the coming weeks. However, their performance in big moments this season when they've needed a big play has been extremely encouraging – which bodes for the remainder.
The real star of Monday night, though, was the New Orleans Saints defense – who suffocated Bryce Young and the Panthers offense the entire night en route to their tenth straight game, holding opponents to 20 or less points (a new franchise record). It is night and day when you compare the way this group looks now to how they looked through six weeks last year.
The biggest difference is unquestionably the pressure the Saints are able to generate when rushing four, and the way they were able to squeeze the pocket of an elusive player like Bryce Young. The new look defensive line, with additions such as Bryan Breese, Khalen Saunders and Nathan Shepard has panned out in a huge way two games in, and the interior has opened up lanes for Cameron Jordan and Carl Granderson off the edge – both are among the league leaders in pressures early on in the season.
Granderson in particular, after a very strong finish to the 2022 season, has gotten off too a flying start to the tune of 2.5 sacks (including a forced fumble). He's been the game wrecker off the edge that the Saints have been searching for opposite Cam Jordan, who looks to have a lot more left in the tank so far this season. This work by the defensive has been stellar play from Demario Davis and Pete Werner as well.
On the back end, the story has been the play of Marshon Lattimore, who not only looks the best he ever has, but has arguably been the best corner in the league this year.
The local media gushed about Lattimore throughout the offseason, and it seems like that was for very good reason. He continues to be one of the more underrated players in the entire league, but that will change if he can keep this level up all season long.
Only two games in, you can see the framework for what can be a very special team as the year goes on, however, there's no question it has been ugly on the surface thus far. Offensive line, running game consistency, redzone offense and playcalling at times needs to get cleaned up, but that is generally a theme with NFL offenses early on in seasons. With this defense leading the charge and keeping them in games, the offense will have time to gel and work some of those issues out. The return of their all-pro running back Alvin Kamara next week will no question help as well. For now, the Saints will look to work out some of these offensive issues and pick up their first 3-0 start in a decade at Lambeau field on Sunday afternoon, as they take on the Green Bay Packers and first year starter Jordan Love.