The Saints own the fraudulent Buccaneers
Where does one begin with the Saints' 36-27 win over the Tampa Bay Buccaneers?
This game had everything.
Jameis Winston ran all over the Bucs defense.  Then, he was martyred by them.
Tom Brady torched the Saints secondary, then he was torched by the Saints secondary.
Alvin Kamara dropped a pitch on 4th and goal, but still scored easily on the play. After leading the Who Dat chant, Mark Ingram made an impact in his triumphant return.
Trevor Siemian, the team's third-string QB, led New Orleans to victory over Tom Brady.  And with that, Sean Payton has all but cemented his place as front-runner for Coach of the Year.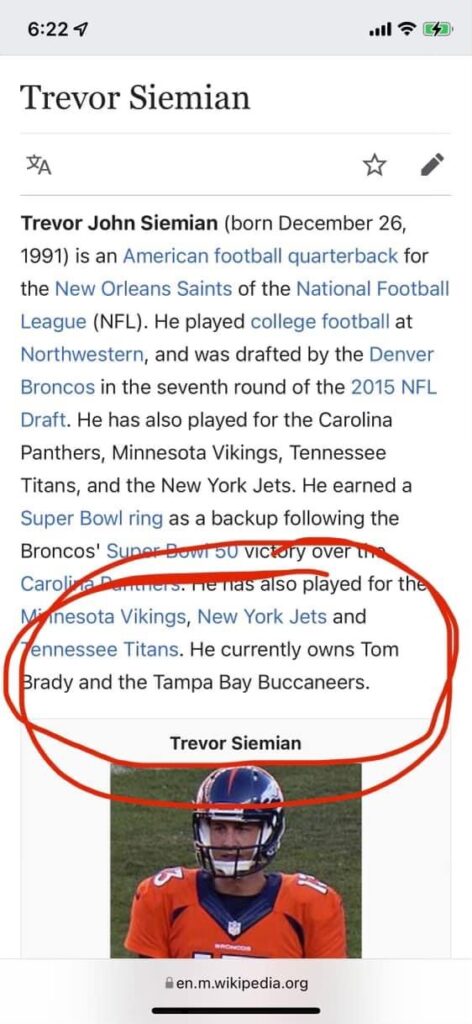 It was, without a doubt, the most insane and insanely satisfying regular season win since Michael Thomas pulled out the Joe Horn flip phone against the Rams in 2018.
As my trusty Black and Gold B.S. co-host Sean Haspel likes to say, we're through the looking glass in 2021. But after Sunday's win over the Bucs, the Who Dat Nation is in a much weirder place.
There is no more looking glass – we are now the socially awkward kid who's never kissed a girl, and who at his first sock hop, takes the blue pill and stays up all night smoking cigarettes and doing drugs with a bunch of strangers, only to bed a super model.
Watching the Saints this season has brought us so far down the rabbit hole, we now gaze at the world through the rabbit's mouth.
But let's not bury the lede here. The Saints won at great cost, as Jameis Winston will miss the rest of the season with a torn ACL after his knee bent awkwardly on a dirty horse collar tackle by former LSU star linebacker Devin White.
Devin White, you are dead to us. Take your horse and ride it into the fucking sun.
Regardless of whether Jameis is back next season, he is now forever enshrined in Saints lore as the goofy, lovable, competent, unpredictably fun face of the 2021 team.  We thank you for your service; your 15 TDs propelled the team to a 5-2 start and your locker room dance moves, even when your leg is wrapped in a scary looking brace and you're teetering dangerously on crutches, are the essence of what makes New Orleans the greatest city in the world.
The king is dead.  Long live the king.
Trevor Siemian, the team's third-string QB (Taysom Hill is still out while recovering from a concussion), has also etched a place for himself in franchise lore. He entered the game guns blazing, looking decisive and composed on his way to 159 yards and 1 TD.
He didn't set the world on fire, but I'd be comfortable with him starting in place of Winston or Hill. We've seen enough to know by now that this team's strength is its defense, and so long as whoever is running the offense doesn't turn the ball over and scores enough, the defense will prevail and the Saints will have a chance in every game, regardless of who they're lining up against.
Siemian certainly made fewer mistakes than Bucs QB Tom Brady, who had a few moments against the Saints secondary, throwing for 375 yards and 4 TDs.  But he also lost a fumble and threw two picks, one of which P.J. Williams returned for the game-clinching touchdown.  In the three regular season games Brady has played against the Saints since signing with Tampa, he has thrown seven interceptions.  It's probably fair to say that defensive coordinator Dennis Allen and his secondary have Brady's number.
The Saints own the fraudulent Buccaneers.  And now they're halfway to owning the head-to-head tiebreaker over them in the NFC South.
During a season that has already seen its fair share of crazy games, this was unquestionably the scariest, craziest and most cathartic. And with the team's immediate future at QB uncertain, it's only going to get weirder from here.
But in Sean Payton we trust.  As Buddy D would say, he is the straw that stirs the drink.  None of this is possible without his machinations. 
It's becoming clear that it really doesn't matter who's under center – Payton (and Mickey Loomis and Jeff Ireland) has built this team to win no matter what, as he has won with five different quarterbacks over the past three seasons.  If he fielded a broomstick with a bucket for a head next week against the Falcons, I'd still feel pretty good about it.