Storylines, Position Battles and Roster Moves as Training Camp gets under way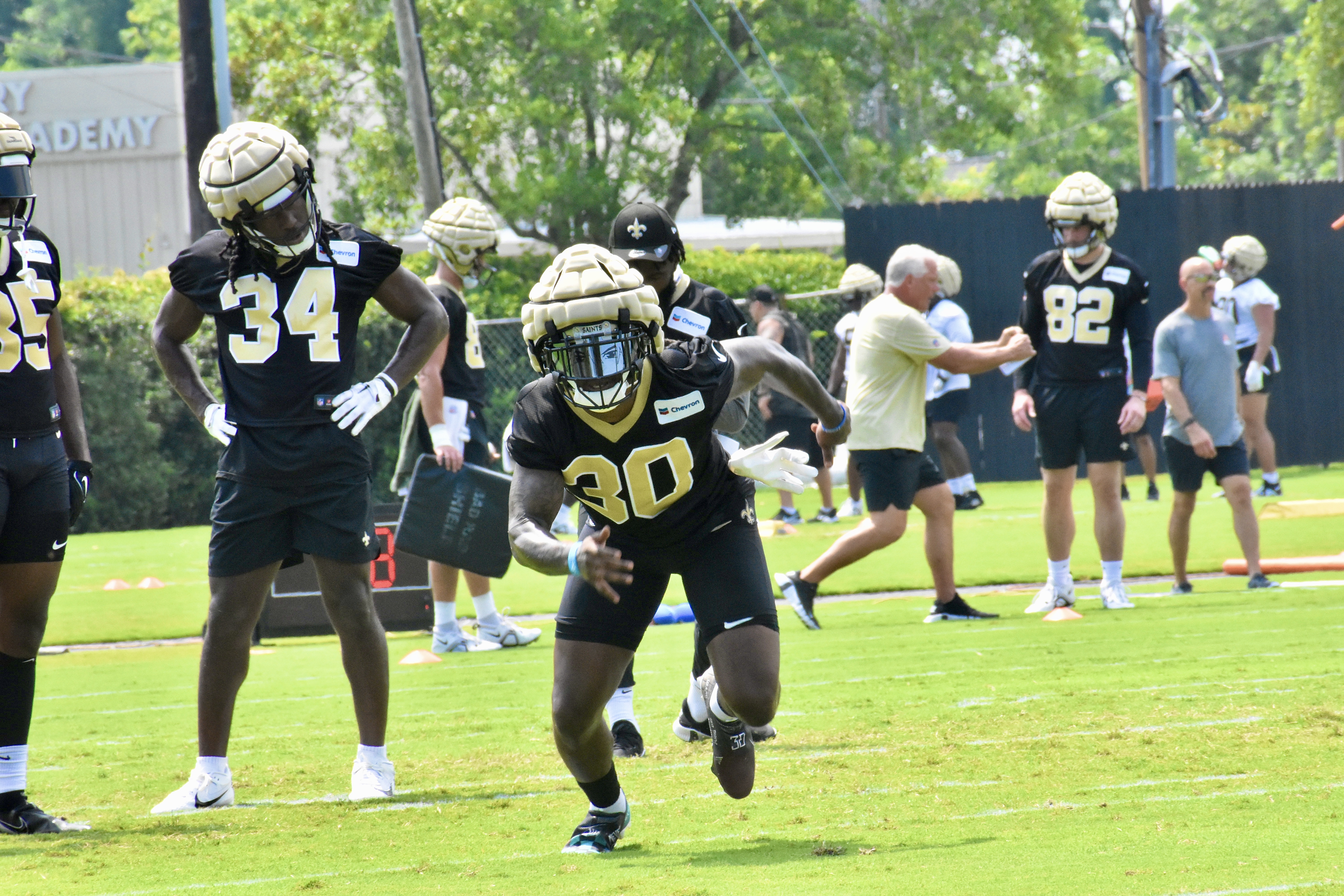 Training camp is in full swing around the NFL, as we continue to inch closer to the return of football. For the New Orleans Saints, it is an opportunity to get a look at this new roster in pads, and round out what has felt like a much stronger offseason in 2023 than the first one of the post-Sean Payton era. There is plenty to dive into before the team takes the practice field, so let's get caught up on the biggest stories of training camp for the 2023-24 New Orleans Saints.
Status of stars on offense
With a new man leading the huddle in pro bowl quarterback, Derek Carr, looking to revamp his career with a new organization – it will be crucial to have the full arsenal of weapons on the field in 2023. The injury bug has decimated the Saints' offensive skill positions the last two years, and having their marquee players available could be what determines Carr's success in this upcoming season.
The first name that comes to mind is former Offensive Player of the Year, and the NFL's all-time single season reception leader in Michael Thomas – who's battle with injuries has been very well documented over the past three seasons. The 30-year-old receiver made a surprise appearance during OTAs and will reportedly be a full participant from the beginning of training camp.
All of this is great news, but it sounds similar to the way the offseason went last year for Thomas – so how can we expect anything different from the now 30-year-old receiver? The reality is we can't, all we can do is hope that Thomas's tireless work ethic and commitment to sharpening his craft and rehabbing will finally pay off.
One thing that can never be questioned about Michael Thomas is his heart and passion, and in a small sample last year – he showed that he still has plenty left in the tank with four touchdowns in the three games he played. The hope is that Chris Olave can take another step in his second year after his very strong rookie season so that there will be less pressure on Thomas to be the Saints' top receiving option. No matter what, if 13 is healthy – he will command the attention of opposing defenses.
The second star that's status is uncertain is running back Alvin Kamara, who's legal issues recently were resolved in court. The 28-year-old Kamara pled down to a misdemeanor charge. He recently settled on confidential terms with the victim Darnell Green, which means it is now up to the NFL to come up with a suspension for Kamara. It is impossible to predict when this punishment will be handed down, but four-six games can be expected for the pro bowl running back this upcoming fall.
This looming suspension prompted the Saints to sign the NFL's rushing touchdown leader in 2022, Jamaal Williams and select TCU star Kendre Miller in the third round of this past year's draft. Williams was a surprise signing, but with reports that he spent the offseason slimming down working on his ability as a pass catcher – look for him to recapture shades of his role in his time with the Green Bay Packers, where he caught as much as 39 passes in his four seasons with them.
Position Battles
Possibly the most important part of training camp every year is teams cutting their rosters from over 90 players to 53 as well as players competing for starting positions. For the Saints, there are many names and positions revolving around those two areas in the 2023 training camp period.
The most significant battle of the entire offseason is who will become the cornerback opposite Marshon Lattimore, Paulson Adebo or Alontae Taylor. There has been frequent turnover in this position since Lattimore's rookie year in 2017 with players like Janoris Jenkins, Eli Apple, P.J. Williams and more holding the position, but it seems like the team has found two players they like in Adebo and Taylor going into their third and second years respectively. Both enjoyed standout rookie seasons, but after injuries heavily affected Adebo in his second year – it was Taylor who stepped up as the teams number one cornerback with Lattimore missing over half the year with a lacerated kidney. Both have a fairly similar builds but differ in strengths, with Adebo being a better ball hawk and Taylor being more physical – it is unclear who is the leader at this time, but it is no doubt a good problem to have.
The second battle stays on the defensive side of the ball with another position the Saints have been searching for in a defensive end opposite Cam Jordan. With the departure of the failed experiment, Marcus Davenport, the team is left to choose between veterans Carl Granderson and Tanoh Kpassagnon or youth in former first round pick going into his third year in Payton Turner and second round pick from this past year's draft Isaiah Foskey. All will more than likely have a role in some capacity next season, but the starting spot is up for grabs going into next year. The hope in the organization would likely be that Payton Turner steps up and starts to show return on their investment of a first round pick after injuries plagued his first two years as a pro, but the favorite is likely Carl Granderson who was productive in that spot down the stretch of last season.
The two starting spots on the interior of the defensive line is also more or less yet to be decided between new additions Nathan Shepard and Khalen Saunders, this years first round selection Bryan Breese and a familiar face in Malcolm Roach. Ideally, new faces and internal improvement will help elevate a defensive line that ranked near the bottom of the league in both pass rush and run stop win rate.
On offense, positions to keep an eye on are the receivers behind Michael Thomas, Chris Olave and Rashiid Shaheed that make the roster. This likely will be three of A.T. Perry, Bryan Edwards, Keke Coutee, James Washington, Tre'quon Smith or Shaq Davis in these spots. The fact that they traded up this past year to get Perry and Edwards's familiarity with Carr (spent 2020 and 2021 with the Raiders) means that those two likely are favorites for a position on the roster. The offensive line depth is also up for grabs, with the team adding multiple veterans ahead of camp.
Roster Moves
There were a couple of interesting/fun moves made on Tuesday morning that could affect the composition of the final roster for the season.
First of all, Jimmy Graham has returned to the Saints on a one-year deal with the intent to play. After reports of his signing, many speculated it would be a one-day deal so he can retire a Saint – however it appears that Loomis and Graham's agent had been in talks for awhile about his return to New Orleans. It will be a battle in order for him to make the roster, as Juwan Johnson and Foster Moreau are locked in for the final 53 as well as Taysom Hill in whatever position you want to call him – nevertheless, it will be fun seeing Graham wearing number 80 in black in gold for at least a few weeks.
The other, and perhaps even more significant move of the day was the signing of five time pro bowl guard and New Orleans native Trai Turner. The 32-year-old guard has moved around a lot in the past few years, but could potentially be a valuable depth piece barring inevitable injuries that will affect the starting five in 2023. The Saints addressing of the interior offensive line this offseason shows that they are probably looking for a successor to Andrus Peat, who is on the final year of his contract, as well as the fact that they aren't entirely comfortable with Calvin Throckmorton and Lewis Kidd as depth pieces at guard. The addition of Turner and trading up to make the selection of Old Dominion guard, Nick Saldiveri, at the top of the fourth round likely means that there will be fresh faces in backup positions on the Saints offensive line.
There is no doubt more to come in the next few days as camp gets under way, but it is important to get caught up before that wave comes. Training camp always makes football feel a little closer to being back, as we're just under seven weeks away from the opening of the regular season. It definitely will be an entertaining few weeks before the preseason. We will keep you caught up to date on all of the news and standouts out of camp throughout the next few weeks until then.