Pelicans take Sharpshooting UConn Guard Jordan Hawkins at 14th Overall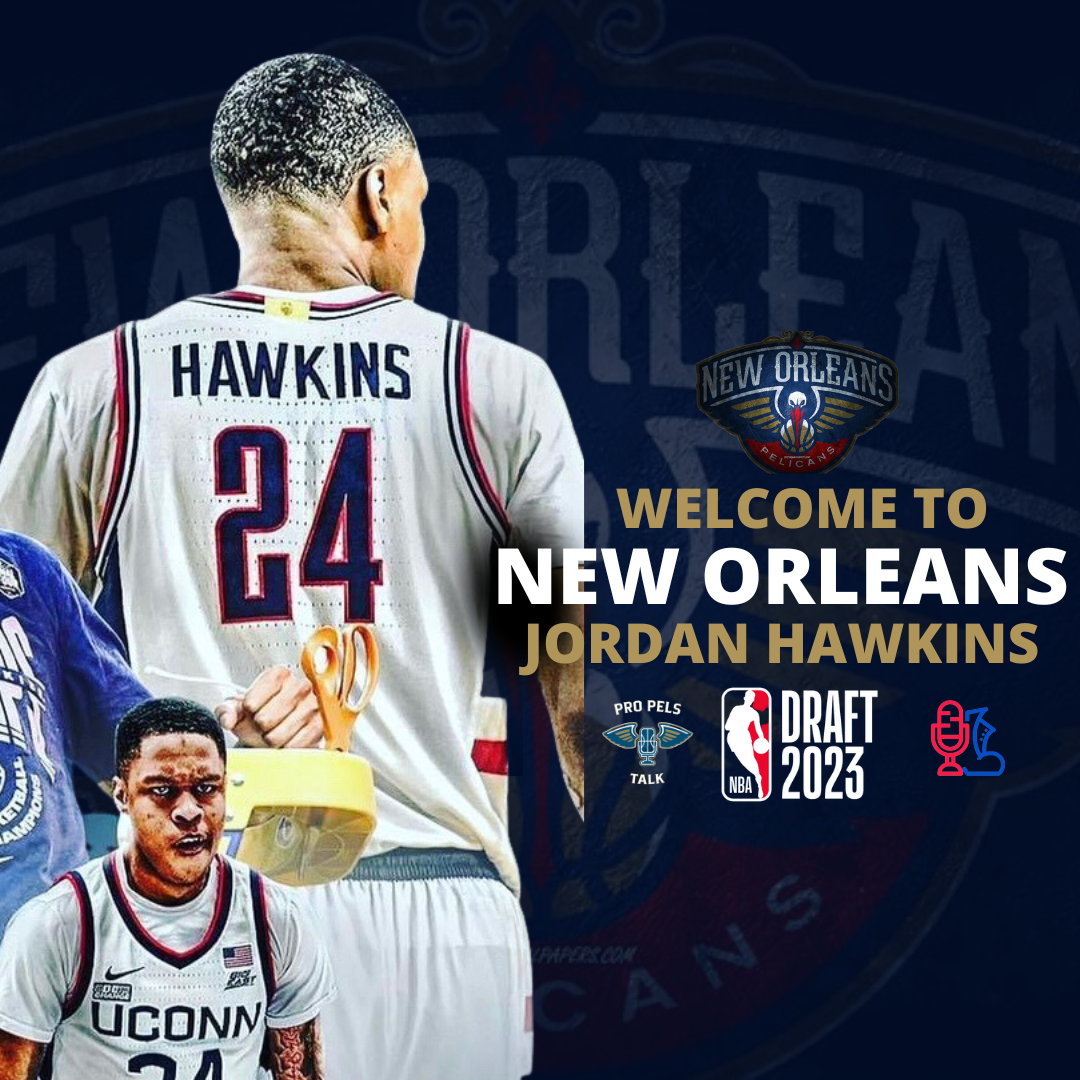 After over a week of constant rumors regarding whether or not the Pelicans would push to the top of the draft to take point guard phenom Scoot Henderson and if they'd be willing to part ways with either Zion Williamson or Brandon Ingram, David Griffin and co. stayed put and drafted 6'5 sniper Jordan Hawkins out of UConn.
This always seemed like the player for New Orleans if they ended up making the pick at 14, and as unsurprising of a result this is, it is the perfect pick for a team that was desperate for shooting help and spacing offensively. Hawkins averaged 16.2 points and shot 39% from three on 7.6 attempts per game for the national champion UConn Huskies, and his play down the stretch in postseason play was a primary reason for that success.
The fit is obvious for the Pelicans because of how lackluster the team was from deep in the 2022-23 season and has been for awhile, finishing 27th, 28th and 23rd in makes from deep in the last three years respectively. Hawkins 109 three pointers made last season ranked third nationally and second in the history of the program, behind Ray Allen (who was a pretty good shooter himself). When watching Hawkins, his movement off ball is extremely impressive, and his ability to go from catch to shot in a split second is as good as it gets in the college level. His game complements players like Zion Williamson and Brandon Ingram perfectly because of how he creates space because of his shooting ability, and Willie Green mix lineups in with both Hawkins and Trey Murphy III because of the space they will create for the Pels stars.
The offense that UConn has run under coach Dan Hurley emulates that of new Pelicans offensive assistant in former Hornets head coach James Borrego, who will bring a greater sense of identity for a Pelicans' offense that struggled with consistency down the stretch of last season. Actions such as the one shown below in this video are very common and will pay to Hawkins's strengths perfectly.
After a ton of speculation surrounding the direction that the franchise will turn from here, this is a selection that reinforces faith in continuing to build a roster that surrounds their two stars Zion Williamson and Brandon Ingram who, despite their past injuries, will still both be under the age of 26 when the 2023-24 season begins. There is still likely more roster turnover to come in the next few months of the offseason, as the team needs to find a way to improve their shooting along with rim protection, which they were also bottom of the league in (find a stat or link to show that fact). However, it is clear at this point that David Griffin and co. will roll with the same nucleus that had them sitting at first place in the Western Conference in the first few days of 2023.
The free agency period begins June 30th, and it will be interesting to see the next coaching and personnel shifts as the offseason continues on.