Tigers find victory against Arkansas and a trip to the conference championship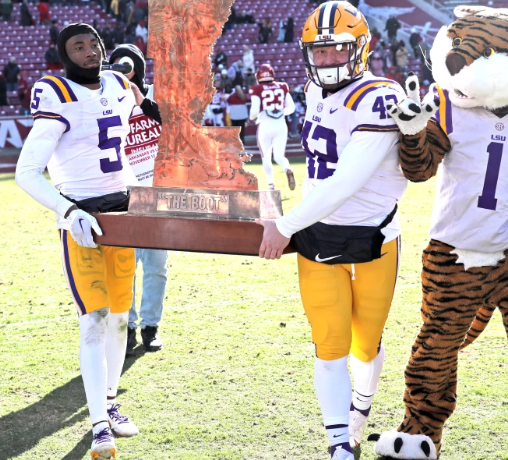 It was highway robbery, plain and simple.
The sun was beaming on a picture-perfect Saturday morning, but to my 10-year old self it might as well have been a dreary, damp, and frigid Monday in the winter.
Instead of spending the day playing in the yard, I was on my way with my parents to a family reunion that I was told would be filled with plenty of distant relatives that I had never met before.
A true hostage situation for a 10-year old if there ever was one.
For the life of me, I couldn't wrap my head around why I would have to waste an entire Saturday meeting aunts and uncles for the first time while being subjected to the bane minutiae of adult pleasantries and conversation.
In my mind, I was heading to the snooze-fest of the decade. Thankfully, my parents promised that we would only spend a few hours there before moving on with our day.
When we arrived at the reunion, my expectations for the event were wildly exceeded.
There, in the midst of the adults, were about a dozen or so cousins all around my age that I had never met before. And, they had a football.
What was shaping up to be a dull Saturday wound up being what felt like a never-ending recess at school. That was, until it did end.
True to their word, my parents called for me after several hours had passed. It was time to go home, and I was as upset with them on the way back as I was on the way there.
On that day, I learned a valuable lesson. When something exceeds expectations, it isn't fair to redefine those expectations and complain when a loftier goal isn't met. Instead, you should enjoy the pleasant surprise for however long it lasts.
The No. 7 LSU Tigers took care of the Arkansas Razorbacks last Saturday morning, and it was every bit as gross as the 13-10 final score indicates.
If the Tigers were in the business of excuse-making, there are plenty to be made. It was an 11 AM kickoff, the weather was cold, the game was on the road against an opponent that historically plays well against LSU, and the contest was situated in a classic letdown spot after a big win the week before.
Even with the excuses I named, I'm sure there are some that I missed.
The Tiger offense struggled to get anything going all day against a Razorback defense that has had a tough season stopping opponents to this point.
That was not the case on Saturday with LSU's lone touchdown coming in the 3rd quarter. Tiger quarterback Jayden Daniels never found a rhythm and passed for only 86 yards on 15 attempts. He was sacked seven times by the Arkansas defense.
Daniels also lost a fumble and threw an interception.
While it wasn't a great day for the passing game, the LSU rushing attack fared finely.
Josh Williams was once again the bell cow and rushed 19 times for 122 yards and a touchdown. John Emery, Jr. and Noah Cain also cycled in and ran for 40 and 25 yards, respectively.
In the end, the Tiger offense only scored on one the touchdown previously mentioned and two 2nd quarter field goals, but 13 points would prove to be enough for an LSU defense that arrived in Fayetteville ready to play.
Arkansas quarterback K.J. Jefferson was a game-time scratch due to injury, and the Tiger defense made the day a nightmare for backups Malik Hornsby and Cade Fortin.
Speaking specifically, freshman linebacker Harold Perkins, Jr. was the biggest reason the Razorbacks had such a difficult day.
Perkins recorded eight total tackles, four sacks, four tackles for loss, one pass deflection, and two forced fumbles all while suffering from the flu hours before kickoff.
A performance like the one we saw on Saturday from Perkins is quite nearly ineffable, and there were many comparisons drawn between the freshman linebacker and Tyrann Mathieu whose 2011 season at LSU boasted stat lines that many would argue also single-handedly won games for the Tigers.
Perkins surely had the best game of his young career against Arkansas, but he was not without help.
Fellow linebackers Greg Penn III and Micah Baskerville had great games in their own right, and lineman BJ Ojulari and Jaquelin Roy also made their presence known. In fact, the defense played so dominantly all game, that I was convinced LSU would win even with such a poor offensive day.
The offense never really found its way, but the Tigers walked away with a win and The Golden Boot Trophy. Later that evening, Alabama defeated Ole Miss giving LSU claim of the Southeastern Conference Western Division title.
Plenty of fans complained about the sloppiness of LSU's win. Some are already looking ahead to playing No. 1 Georgia in the SEC championship game with a sense of discouragement.
However, with our expectations of this 2022 season so wildly exceeded, we don't get to reset the bar. This was an LSU team that was picked to finish fifth in the SEC west. At the beginning of the season, many pundits and prognosticators believed nearly everything would have to perfectly fall into place for the team to finish with a ceiling of eight wins.
Now, LSU has punched its ticket to a conference championship game appearance and has amassed eight wins with two extremely winnable games left to play on the regular season schedule.
Maybe, the Tigers will make the trip to Atlanta only to suffer a blowout defeat at the hands of the Bulldogs. Maybe, LSU will continue to shock the country and find a way to win and place itself into the College Football Playoff.
The fact that we are having this conversation at all after such wholesale changes to the program in the offseason should speak volumes to how far the Tigers have progressed in such a short amount of time.
I do not subscribe to moral victories, and if LSU wins out only to lose to Georgia in the SEC championship, we should all rightfully feel disappointed. However, in no way would it be allowable to say that the Tigers finished short of their goals.
As LSU coach Brian Kelly has alluded to many times, this season was never about winning games. You play to win, yes, but this season was more about program building. It was about re-establishing a culture that fans can be proud of and that, in the long run, will net the Tigers another national championship.
Based on how quickly the players have bought into this new culture, I think it's fair to say that this season's mission has been accomplished.
I have been wrong about a lot when it comes to LSU this year. I don't think I'm wrong when I say that this year will finish short of a national championship. At some point, the Tigers are going to lose again, and that's fine. Don't redefine what you think the team's goals should be simply because they exceeded the previous bar and surprised you.
Enjoy the fact that LSU has achieved a moderate amount of success so early in Kelly's tenure, and take solace in the fact that the Tigers finally have a coach who is combining talent with a culture of winning.