The latest Falcons collapse is what life is all about
The older I get, the more I wonder why I decide to leave my happiness in the hands of a game I have absolutely no control over.
Most self-help gurus will tell you to choose activities, values and metrics in your life that are immediate and within your control.  Football is no such thing.
For most of the Saints' 2022 season opener in Atlanta, there was nothing anyone could do as the defense looked bewildered by the exhumed corpse of Falcons QB Marcus Mariota.  No amount of screaming at the television would make Jameis Winston look less gun-shy.  Complaining to your spouse, partner or closest available stranger at the bar wasn't going to give the Saints' shiny new receivers any more separation, or stop them from slipping on the turf.  Nothing could possibly make up for Wil Lutz's missed first quarter field goal.
Or could it?  Because then came the Falcons' 16-point fourth quarter collapse, a now annual tradition for the Saints' most hated rivals.  If there's one thing that the Falcons are better at than the Saints, it's snatching defeat from the jaws of victory.
Watching the Falcons blow a 26-10 lead is perhaps the best reminder of why I (and you, presumably) make the irrational decision to subject ourselves to this torture every Sunday from September through the new year.
Watching Jameis Winston emerge from the mysterious blue injury tent a different man – one who would effortlessly torch the Falcons secondary to the tune of 212 yards and 2 TD's in the fourth quarter alone and lead the Saints to an improbable victory – is a thrill that is unequaled.
Watching Michael Thomas come back from the dead – on the receiving end of those two fourth quarter TD's – is a thrill that makes me feel alive again after enduring two years of a mind-numbing pandemic, personal tragedy and the world generally falling apart around us.
Tuning into Saints Twitter after the game to see Saints fans take over Mercedes-Benz Stadium (and even an Atlanta Wal-Mart?) is the icing on top of this opening week King Cake.
"I hope they're not all like this," new Saints head coach Dennis Allen said after the game.
I actually hope that they are all like this. Except maybe next time, the team can skip the part where they sleep-walk into the open maw of an opposing team that treats the matchup like their Super Bowl.
I want to see that fourth quarter team every week. I want to see Jarvis Landry making impossible catches. I want to see Tyrann Mathieu recovering fumbles. I want to see Jameis Winston cooking cornerbacks with a flick of the wrist.
I want to see Michael Thomas foaming at the mouth after every big play.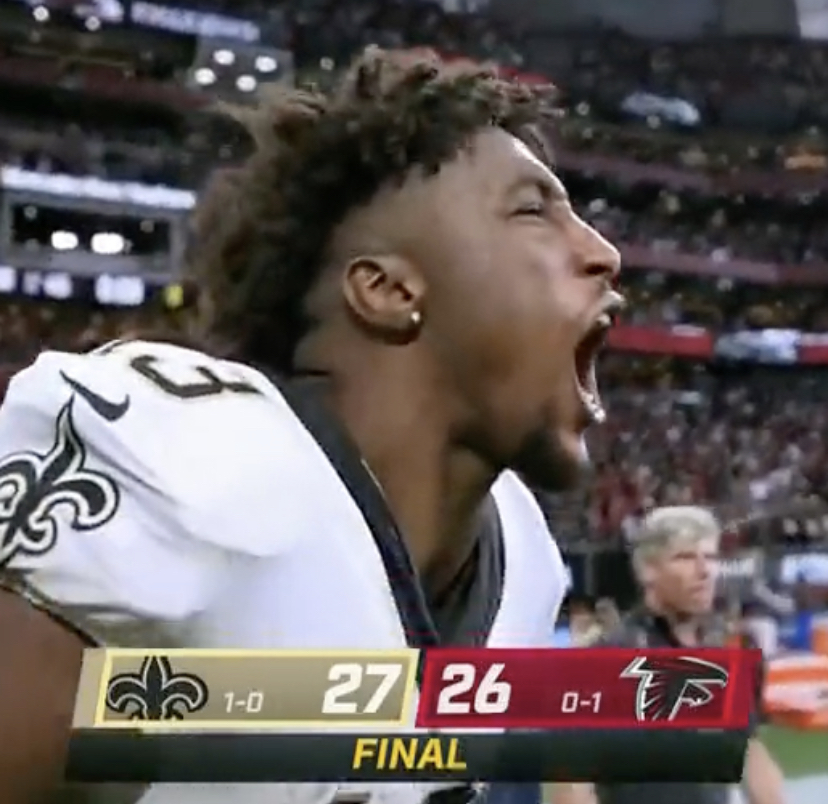 Ultimately, for many of us, our allegiance to the Who Dat Nation is owed to another factor that is completely outside of our control: being born in New Orleans, and not Atlanta. If the Falcons keep Falcon-ing by blowing huge leads, they might not have any fans left to disappoint.
But then again, the team you follow is something within your control.  And our willingness to welcome the beleaguered, the downtrodden and the downright weird – well that's within our control, too.  And that's part of what makes New Orleans so special.
Atlanta fans, we're making it known now – the Saints 2022 bandwagon is accepting applications.