Never Too Hot For a Turtleneck
Today in New Orleans, it is currently 92 degrees on a beautiful Thursday afternoon. As the humidity makes it feel like 102, it still seems like a pretty normal summer day. I'll probably take the kids for snowballs on days like today. As I sit in my living room with the air conditioner on 70, I wonder if Antonio Daniels would be wearing a turtleneck if the Pelicans were playing.
Tonight is game 6 of the NBA Finals with the Golden State Warriors having a 3 games to 2 advantage over the Boston Celtics at the TD Garden arena. It has a been a series of adjustments and momentum swings. Competitive.
As I sit back and dissect this series, I cannot help but to think the Pelicans have a legitimate chance of being in the NBA Finals sooner rather than later. I believe they will be talented enough to be a great team next year if the team can continue to grow and become fully healthy.
This past season tested me as a fan. I frequented the Smoothie King Center, weekly. It got to the point where the arena workers would recognize me and say, "You back again?!" or "I hope we get the win tonight!" – especially, after we started the season 3-16. We would have Twitter Spaces, led by Chris Conner (@impatientbull), past 12am some nights about adjustments that needed to be made by the coaching staff and organizationally. It was good to connect with other Pelicans' fans and current Pelicans' color commentator, Antonio Daniels.
Imagine being able to talk to a 13-year NBA veteran, and have a basketball conversation about the game while he explains some insight that he's privy to that you may never hear otherwise all because of Al Gore's internet. A very interesting dynamic. He also explained his love for the city of New Orleans and understanding of the passion of the fanbase. It's one thing to say nice things, but he also proved it.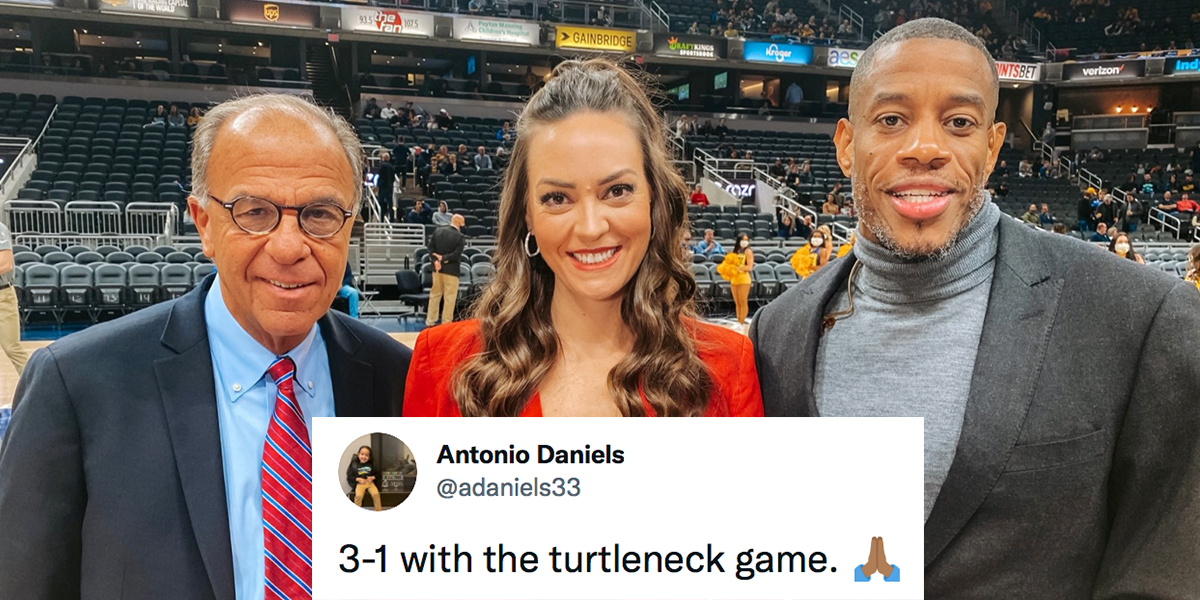 On November 24th, the Pelicans played a home game versus the Washington Wizards in which they won. That night, Antonio Daniels wore a turtleneck to the game. When you're on a losing streak like the Pelicans were on, you look to repeat the same routine to get the same result. He decided to wear a turtleneck for the next couple of games which included Devonte Graham's game winning 3-ball in transition versus Utah & Jonas Valanciunas's 39-point barrage versus the Clippers.
The turtleneck was here to stay.
Daniels wore a turtleneck every game for the rest of the season. There were even times on long roadtrips where he had to restock on turtlenecks. Pelicans' fans in other cities were showing up in turtlenecks to show support. A true test of his loyalty came in the spring muggy months of Louisiana. To wear that thing in this heat is a testament to who Antonio Daniels is. He's a man of his word. The people from this area can appreciate that, AD.
To answer my own thought of I wonder if Antonio Daniels would be wearing a turtleneck if the Pelicans were playing, the answer would have to be Yes. He has honored his word every step of the way. I can't find any reason to think otherwise.