For The Love of JJ Watt
JJ Watt has asked the Houston Texans for his release and it appears that they have mutually agreed to part ways. In the words of Justin N. "Are the Houston Texans the worst franchise in all sports?". Another star is leaving Houston, and they have hardly anything to show for it. They already lost Hopkins and now Watt ending his 10 year run as the face of the franchise. According to NFL Network's Ian Rapoport, the Texans could have received "a solid draft pick" in exchange for Watt's services. Instead, Houston will get nothing in return for one of the top defensive players of his generation, not even so much as a compensatory pick. Yikes!
Unsurprisingly, there's a lot of teams interest in JJ Watt, So where will he land? Bachelor style here is a list of teams that may have a chance at the love of JJ Watt.
Contestant Number #1: Pittsburgh Steelers
Watt's brothers T.J. and Derek both play for the Steelers, so that seems like an obvious place for him. Watt would want to play for a winning team and the Steelers, who went 12-4 last season, certainly qualify. J.J., who is four years older than Derek and six years older than T.J., has never played on the same team with his brothers and has joked about how much fun that possibility would be.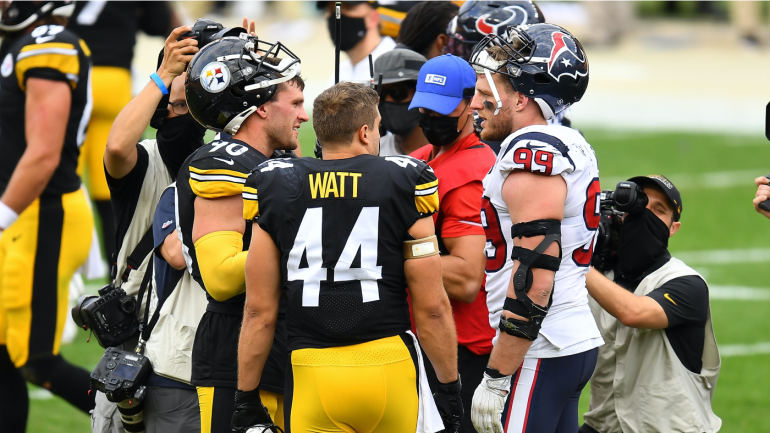 Contestant Number #2: Green Bay Packers
The Green Bay Packers also would make a lot of since. Watt grew up in Pewaukee, Wisconsin, which is about 120 miles from Green Bay. Watt's much-talked about cabin also is about a two-hour drive from Lambeau Field. He also broke the news wearing a Wisconsin hoodie. Is this a sign (I sure hope so). When the Texans practiced against the Packers in Green Bay during the 2019 preseason, Watt talked about growing up a Packers fan. The Packers went 13-3 and lost to the eventual Super Bowl champion Buccaneers in the NFC title game.
Contestant Number #3: Baltimore Ravens
This may be a reach but the Baltimore Ravens, who went 11-5 last season and hired former Texans defensive coordinator Anthony Weaver to be their defensive line coach last month. Weaver was Watt's position coach for four seasons before being promoted to the Texans defensive coordinator last off-season. He may shock the world and end up here.
Contestant Number #4: Buffalo Bills
Reportedly the Buffalo Bills were among the first teams to reach out to J.J. Watt following his release from the Houston Texans. At first glance, Watt and the Bills appear to be a match made in heaven based upon what Watt's camp is looking for in his next home. Cap space may be the Bills' biggest issue among the four things listed by Cabot. Adam Schefter recently reported that the NFL's salary cap will be around $180-$181 million for the 2021 year.
Contestant Number #5: Tennessee Titans
The Titans might have an advantage in the race to sign Watt since head coach Mike Vrabel worked closely with him early in his career. We have already seen Vrabel's connections help to bring in coaches and players, so he could work his magic once again with Watt.
Only Watt knows for sure what he wants most out of his next and probably his last NFL team. But time is running out for J.J. Watt to achieve the ultimate goal: Win a Super Bowl. Where ever he lands I am certain this will be a main factor. Personally I'm hoping contestant #2 wins the rose.