Saints Offensive Incompetence Hits Low Point; Lay Egg on Sunday Afternoon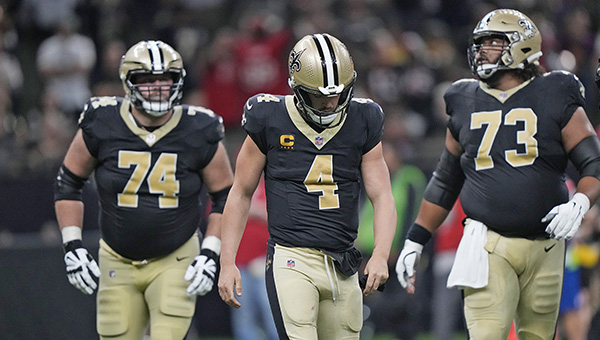 Through three weeks, many writers (including myself) felt fairly decent about the state of the Saints – especially after they caught a lucky break with the severity Derek Carr's shoulder injury. However, any optimism that may have existed is mostly eradicated now following the team's dud on Sunday afternoon at the hands of their divisional rival, Tampa Bay Buccaneers.
The team had their full arsenal of starters offensively for the most part (Cesar Ruiz, concussion – Juwan Johnson, hamstring) after they got back their star running back Alvin Kamara from suspension and Derek Carr miraculously starting after he sprained his shoulder last week. None of that mattered on Sunday afternoon, as the unit had one of the franchises worst offensive performances since the pre-Payton-Brees days.
When watching the game, it wasn't exactly clear what the issue was on the field. The offensive line seemed to give Carr their best protection to date, Alvin Kamara averaged nearly five yards per carry (albeit on 11 attempts) and it didn't seem like Carr was hampered by his sprained shoulder much if at all. In the aftermath, almost all criticism was pointed at the team's playcaller in Pete Carmichael, and rightfully so.
Carmichael has been the team's offensive coordinator since 2009, and has been with the organization since 2006 – the beginning of the Payton-Brees era. At over 14 years, he is easily the NFL's longest tenured coordinator, and that isn't exactly an accomplishment – as standout coordinators are very popular during NFL head coaching searches. Even through all of the historic success of the Saints offense throughout the 2010s and 20s, Carmichael never seemed to be part of those conversations.
The 51-year-old took over playcalling duties following Sean Payton's departure, and the numbers were mostly awful in 2022. However, in fairness, there were many injuries throughout last season that saw a carousel of different players at nearly every position group. This led to the organization attributing their anemic offensive performance to player execution.
After Sunday, it is clear that there is no way of avoiding it, the team needs a change at play caller desperately before they spiral too far out of control and the season is lost before Thanksgiving.
Sunday started rather well for the Saints offense, as they went right down to the redzone rather uncontested on the game's opening drive. However, on 2nd and 5 on the Tampa 19 yard-line, Pete Carmichael dialed up a trick play that was poorly designed to put it in the nicest way possible.
Credit to Nick Underhill of NOF Network for the all-22 view of this play that incapsulates the frustration of watching a Carmichael-schemed offense. Here we see Taysom Hill (#7) line up aside Derek Carr (#4) after they shifted laterally to get Hill over the center. Postsnap, Hill hands it off forward to their quarterback who everyone in the stadium knew wasn't 100% or any threat as a runner whatsoever, and this is followed by a forward pitch to Alvin Kamara (#41) that the defense can see happening in front of their face. All of this AND it was being run to the short side of the field. This play results in a seven yard loss and kills a promising opening drive.
It is important to walk through a play like this step-by-step because it captures in essence how it is clear that the game of football has passed Pete Carmichael up. Pre snap motion, RPOs, formational versatility, creative design, tempo, urgency, purpose – all of these things have been almost completely non-existent since he has taken over control of the team's offense. Carmichael appears to not even be coaching the same sport as the Mike McDaniel, Kyle Shannahan, Ben Johnson or Sean McVays of the world, and this lack of nuance is wasting the abundance of talent that this offense possesess.
Some overall numbers from Sunday that further pushes this narrative: Carr averaged over 16 air yards per pass on 3rd and 5 or shorter and averaged an excruciating 3.4 yards/attempt for the day, Alvin Kamara had 13 receptions for 33 yards which is the lowest amount of yards on 13 catches in NFL history by nearly 40 yards (71), the teams 197 total yards were the third lowest total of the past 22 years and it was the 10th straight game where the Saints have scored 21 points or less.
This is not to say none of this offensive incompetence is on the players, as there is no doubt it was an awful performance by Carr amongst others – but there is only so much he can do when routes on third and less than five yards are breaking 12+ yards down the field. This playcalling and gameplan management must change in major ways now before the season is lost, and this is why Dennis Allen should make the switch to quarterback coach and passing game coordinator Ronald Curry as offensive coordinator.
Midseason coordinator shifts are not exactly common in the NFL because the belief is there is no way replacing the guy who has been in charge of the playbook since the beginning of the offseason, and it does not have a great track record of success when it does happen. In this case, however, is there any way it can get worse?
After four games, the Saints are 23rd in yards per game (285.3), 26th in points per game (15.5) and 29th in yards per play (4.4), all while maintaining a defense that remains in the top ten of each of these stats. In fact, the 19 points per game they are allowing would be even lower if the offense hadn't gifted a fumble inside their own ten yard line – a play after the defense got a big interception. This anemic offensive output will clearly not correct itself unless drastic measures are taken – although it appears Dennis Allen isn't ready for that step just yet.
This is the incorrect approach to me, and it is asking to be caught falling behind in scramble mode the longer they wait to do this. The saying "better three hours too soon than a minute too late" applies here, however it feels like they're already more than a minute late on this dilemma dating back to the offseason.
Even with this seemingly worst possible start for the offense, the Saints still find themselves with a 2-2 record in a weak division with an easy schedule. They are on the road the next two weeks: first in New England to take on a struggling Patriots team but still a Bill Belichick defense and then they're onto Houston to face the surging Texans, so 2-4 does not seem like a hard to believe scenario right now. It will take a re-buy in across the board that starts with the coaching staff energizing a group of players that has clearly not been having fun since the fourth quarter in Green Bay, and that starts with the offense taking pressure off a defense that looked rather demoralized throughout the game last Sunday.