Saints Blow 17-point 4th quarter lead and Suffer their First Loss; However Receive encouraging News Regarding Derek Carr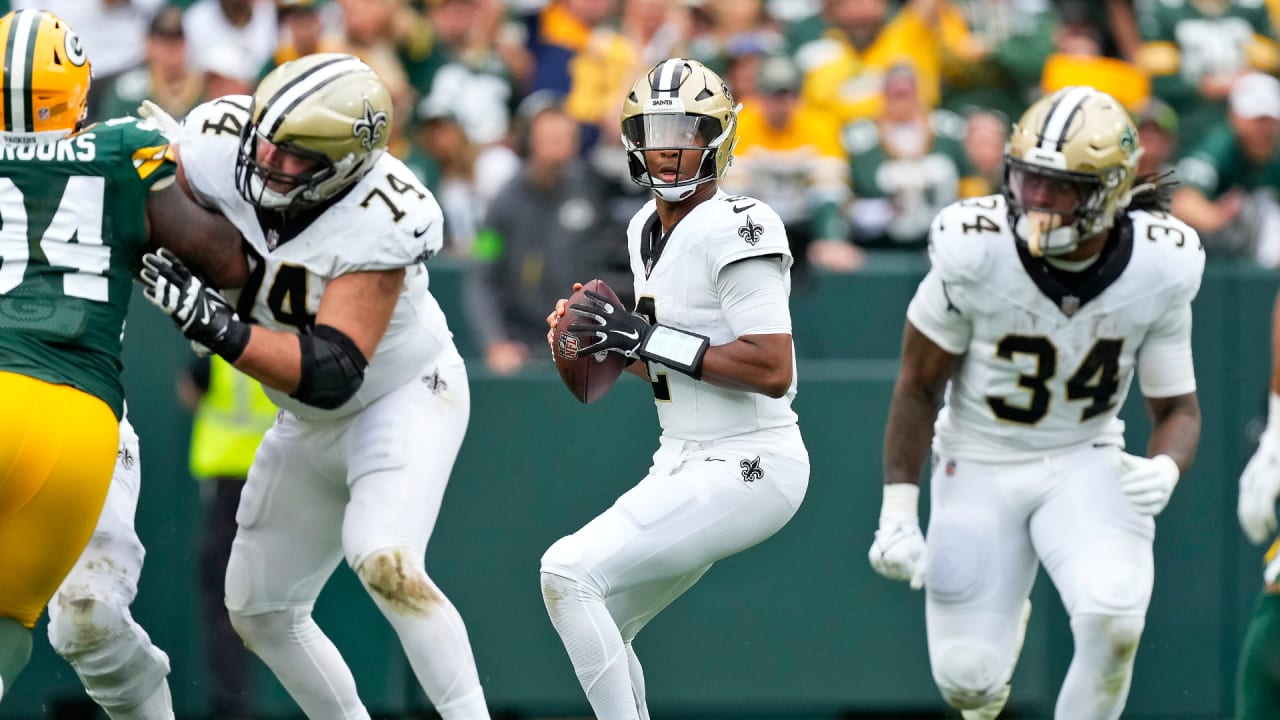 The Saints were riding high going into halftime following an early 17-0 lead in Lambeau field, shutting out the Packers in the first half of their home opener, something that hasn't happened to them since 2018. The defense was still suffocating, Jimmy Graham caught a touchdown strike on the team's first redzone appearance of the day and Rasheed Shahid had an electrifying 76-yard punt return for a touchdown to cap a dominant first half. However, the pass protection struggles continued to rear its ugly head, and that would prove costly in the second half.
With 10:54 remaining in the third quarter, Derek Carr dropped back to pass on a 3rd and 9 just past midfield. Although Carr had a fairly decent pocket on this particular play, the strange deep breaking concept drawn up by Pete Carmichael made it take awhile to develop. This resulted in a pile-driving sack from Packers EDGE rusher Rashan Gary, one of three on the day for him, and this left Carr on the ground in obvious pain.
As the tweet above from @JaydenDat states, Jimmy Graham appears to be open underneath, but it is a tough ask to have a 36-year-old tight end make an athletic play after the catch and convert a first down – so this particular play is likely more of a negative on Carmichael than anyone else. However, Carr had been sacked three times before this point, and has gotten sacked over one time a quarter in the first two and a half games, which is entirely unsustainable.
Even through this injury, the Saints defense was able to keep the game at 17-0 entering the fourth quarter, but fatigue began to set in and resulted in drives getting longer and penalties becoming more frequent for the defense because of the ineptitude of the Jameis Winston-led Saints offense down the stretch.
In the five drives that were quarterbacked by Winston, the Saints punted four times and missed the go-ahead field goal with just over a minute left in regulation. In the fourth quarter, the Packers held the ball for 8 minutes and 15 seconds of the 15 total minutes. The reality was that the 18-unanswered-points in the final quarter by Green Bay was due to the offense of the Saints getting back to their 2022 ways in playing not to lose.
In this stretch with Winston at the helm, the team was 1/6 on third downs, ran all of four plays on Green Bay's side of the field when they had the lead and only managed to get Chris Olave one catch before finally targeting him twice for 38 yards on the final drive. It was clear no one could contain Olave before Carr went down, however Carmichael and Winston refused to give him looks when they needed to move the chains playing with the lead. The unit looked eerily similar to the Andy Dalton-led offense a year ago, where the team was incapable of playing with a lead because of conservative play calling and a play-not-to-lose mentality.
When a player with 80 NFL starts, in Winston, is your backup – and you have the receiving talent that exists on this team – there is no excuse for blowing a game like this. This offense last year always got themselves into trouble when they get away from scheming up looks for their best playmakers like Olave, and it seemed as if Carr was able to positively influence Carmichael on the sidelines through the first two games in making sure this didn't happen.
When it was up to Carmichael to babysit Winston, he fell back into his old ways of being too predictable and the results spoke for themselves on Sunday. The only productive drive of the day for Winston saw two receptions for both Michael Thomas and Chris Olave, making what occurred the four previous drives all the more frustrating.
This all accumulated into an excruciating 18-17 loss in Lambeau field to move the team to 2-1, blowing a golden opportunity to be one of four undefeated teams going into week four.
The news was not all bad on Sunday, however, as they got a promising update on the status of their franchise quarterback's throwing shoulder.
The image of Carr walking off the field obviously favoring his right shoulder felt like shades of Aaron Rodgers getting carted off during week one, and the worst was feared for Saints fans everywhere. An AC sprain is a major sigh of relief for the entire organization, but it must serve as a wake up call for offensive line coach Doug Marrone and the entire unit that they must be better. The lionshare of the pressures given up on Sunday were by their $100 million right tackle Ryan Ramcyzk and their $50 million center Erik McCoy, they must be accountable and improve now before Carr returns to the lineup.
Fortunately, Carr is reportedly week-to-week, and has yet too even be ruled out for next Sunday – although the Saints will unquestionably be cautious easing him back in. It will likely be up to Jameis Winston to lead the way versus his former team, the Tampa Bay Buccaneers, in the Dome next week in an attempt to get off to a more than ideal 3-1 start. On a positive note, the team does get back their star running back, Alvin Kamara, in hopes to revitalize a running game that has been virtually non-existent to this point.