Saints Training Camp Roundup; All of the Action as Preseason approaches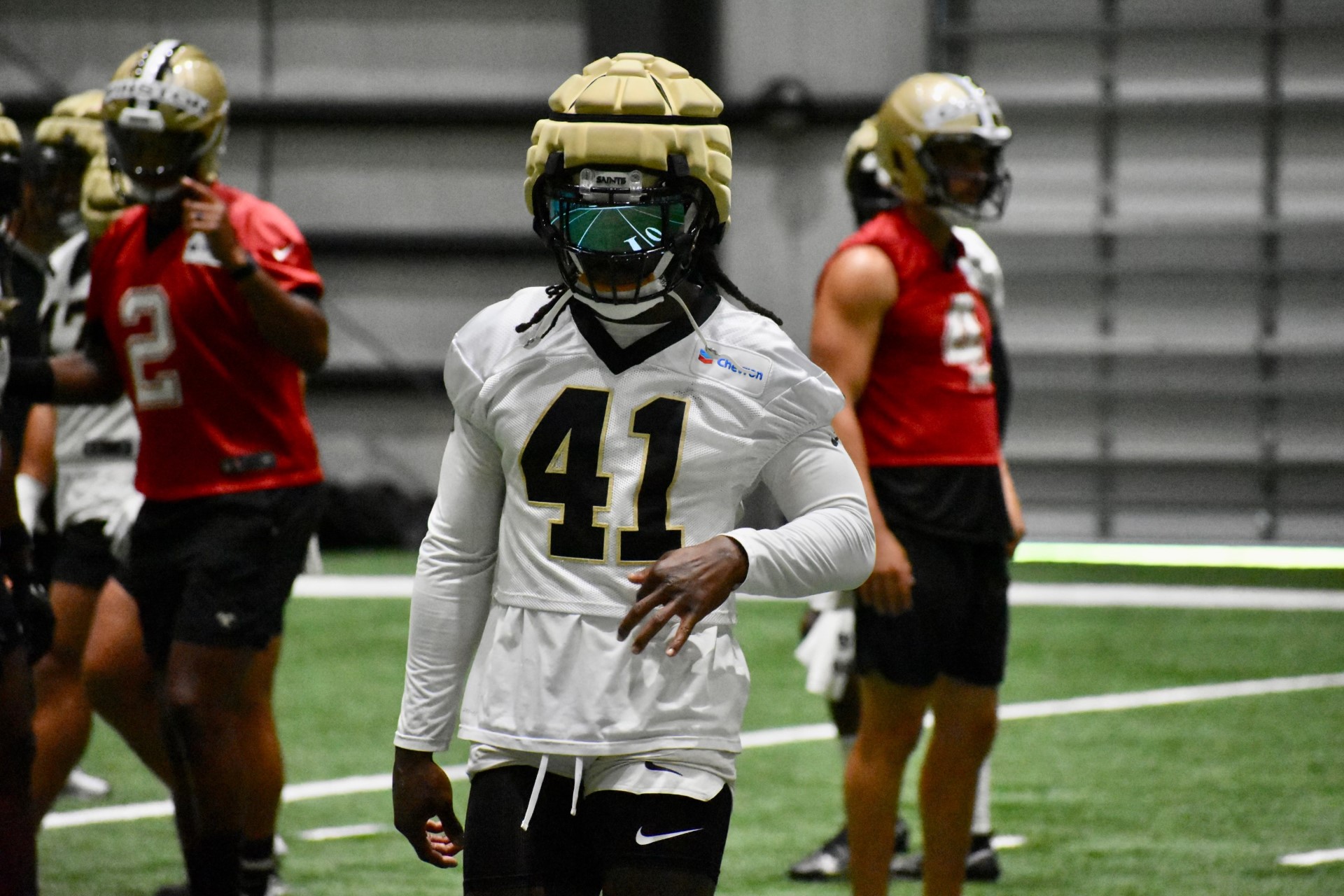 The Saints are now a full week into padded practices and six days away from their first preseason action as the offseason wanes into its final weeks. There is a lot to dive into both on and off the field from the team's facility this over the past few days, as the group continues to gel in the second year under head coach Dennis Allen.
The biggest development from the past seven days for the Saints, and one of the biggest stories around the NFL was Alvin Kamara's long-awaited suspension finally being passed down from the league office, which means the 27-year-old running back's legal troubles are officially behind him as pertains to this case. Kamara will officially miss the first three games of the 2023 season, and it feels like one of the better case scenarios for New Orleans and their star running back.
It will be a more than capable backfield of the NFL's rushing touchdown leader in 2022, Jamaal Williams, and third round rookie Kendre Miller out of TCU for the first few weeks of the season (vs. Tennessee Titans, @ Carolina Panthers and @ Green Bay Packers). This will also ensure the Saints get a freshly rested and fully healthy Kamara – barring any injuries – for the beginning of October, and the Tennessee alum looks as smooth and explosive as ever following his first season that he was not selected to the pro bowl.
The other major off the field story was defensive end, Cameron Jordan receiving an extension that will last through the 2025 season and Jordan's 14th year. The official number was two years, $27.5 million for the 34-year-old defensive end who has spoke at length about his desire to be a lifetime Saint – as his dad, Steve Jordan, was with the Vikings.
Cam Jordan is already guaranteed himself a spot in the Saints ring of honor as well as a potential spot in the Pro Football Hall of Fame, but his sights are set on the biggest achievement of all in adding a Lombardi Trophy to his resume. When asked if there was a number of sacks that he wants to chase to finish his career, last week, his response was simply "How many sacks does it take to win a Super Bowl?" The 12-year veteran is already the franchises all-time leader in sacks with 115.5 (Rickey Jackson's 123.0 is unofficial because his 8.0 sack rookie season was in 1981 before the stat was tracked), but his focus has always been centered around team success. Here's hoping that Jordan can fulfill his goal of bringing Derek Carr back to Las Vegas (the sight of the Super Bowl this season) and finally adds that title to his resume after coming so close many times before.
On the field, the practices as a whole have been back and forth affairs between the offense and defense, which has brought a level of energy and competition that perhaps could be the first step that leads to the 23′ Saints getting off to a stronger start than that of last year. Early on in the week, defense was the clear "winner" of the team periods of practice.
Although it is great to hear news like that, there is the immediate wonder of whether that is indicative of struggles and inconsistency offensively – something that has been a theme of the post-Drew Brees era for the Saints. However, it was clear that the offense responded in the following days, and it isn't a reach to say having an established leader at the quarterback position is a big reason for the quick response by that unit.
Veteran cornerback Bradley Roby sung Carr's praises following Saturday's practice, even comparing him to his former teammate and one of the greatest quarterbacks of all time.
Not to say that there is any world where Derek Carr is on the same level as Peyton Manning, not even Carr himself would make that claim, however, quotes like these shows the difference between him and the rest of the quarterbacks that have taken snaps since Drew Brees called it a career. It cannot be overstated how impactful having a player with the tenure and resume of Carr could have in leading a successful offensive unit.
The longtime Oakland/Las Vegas Raiders' quarterback's influence has already sparked the Saints organization to get creative this offseason, as they brought in his former head coach and one of the most recognizable faces in all of the NFL, Jon Gruden, for most of last week to be an "observer" of practices.
Carr had some of his best seasons under Gruden from 2018-2021 including over 4000 yards passing and 67% completion in each of those years, and it is clear – even with all of the drama surrounding the former coach's previous email scandals and eventual stepping away from the Raiders midway through the 2021 season – the two have remained close. This is the second time the Saints have brought in Gruden this offseason, which has raised some eyebrows around some of the national media circle because of his impending lawsuit against league as well as the controversy surrounding him, however, this move makes all the sense and the world in trying to settle Carr into New Orleans and will help the team early on to make sure that the offense can get off to a strong start out of the gate.
As stated earlier, the defense appeared to have a strong week in spite of Carr's late-week success. A name that continuously was mentioned throughout the week was cornerback Marshon Lattimore, who seems to have gotten off to an extremely strong start in camp.
For those in attendance, media and observers alike, Lattimore has been the camp's MVP so far, which is extremely encouraging after an injury riddled 2022 season where he played extraordinarily well in the seven games he appeared in. Dennis Allen spoke after yesterday's practice about how impressed he's been with his star cornerback's start to camp.
Thankfully, there isn't a significant amount of injury news surrounding the team in their first week in pads, but it is still worth noting. As of today, LB Demario Davis (calf), WR Rashiid Shaheed (groin), WR Tre'quon Smith (groin), G Andrus Peat (quad), TE Lucas Krull (tailbone) and OL Koda Martin (ankle) all missed practice with injuries, none of which have been described as significant. However, LB Andrew Dowell (torn ACL) and RB Eno Benjamin (ruptured achilles) both had their seasons ended this past week.
These season ending injuries prompted the front office to bring in two former pro bowlers for try outs this morning. The NFL's top rusher from 2017, Kareem Hunt and four time pro bowl linebacker Anthony Barr both worked out with the team on Monday morning to try and fill those voids per multiple sources. Both are unquestionably two of the biggest names remaining on the market, and have a fairly good opportunity to be on the roster come week one.
For Hunt, the Saints currently only will have Jamaal Williams and Kendre Miller available to them for the first three weeks, and running back security can be very important even with two capable players already rostered. Hunt has caught over 35 passes in four of his six seasons in the league, mostly as a backup for Nick Chubb in Cleveland – so he has experience in a role with limited snaps as well as a receiver out of the backfield. The fit in the Saints offense is clear, especially with the absence of Kamara weeks 1-3. The question is, what would the organization do with Hunt once Kamara returns. Even with a long injury history, it is likely that the 28-year-old running back does have some good football left in a limited role, so it could be worth bringing him in as an insurance policy.
For Barr, even before the injury to Dowell, bringing him in for a look would make a lot of sense based off the teams lacking bodies with experience at linebacker. In Dennis Allen's nickel heavy system (five defensive backs), two linebackers are on the field most frequently. The Saints' top two guys are both elite players in former All-Pro veteran Demario Davis and young Pete Werner, who had a fantastic 2022 season despite missing some time with injuries. Beyond those two, there aren't a ton of bodies available. Zach Baun would be next man up in Werner's spot, and he has struggled in trying to adopt his off ball role in the first few years of his career after being more of an edge rusher in college at Wisconsin. And D'marco Jackson, who missed his entire 2022 rookie season with an undisclosed injury – but has reportedly had a strong camp – would backup Davis. The 31-year-old Barr's best football may be behind him but his instincts and size (6'5 240) as well as experience in an off ball role is worth taking a look at for the Saints.
We're just six days away from seeing the team taking on the defending world champion Kansas City Chiefs live from the dome next Sunday afternoon in their first preseason action, and football is getting within arms reach from being back for real. Allen indicated that some if not all starters would be available for next Sunday at least, detailing specifically about his new quarterback, Derek Carr.