2023 LSU baseball: A lesson in faith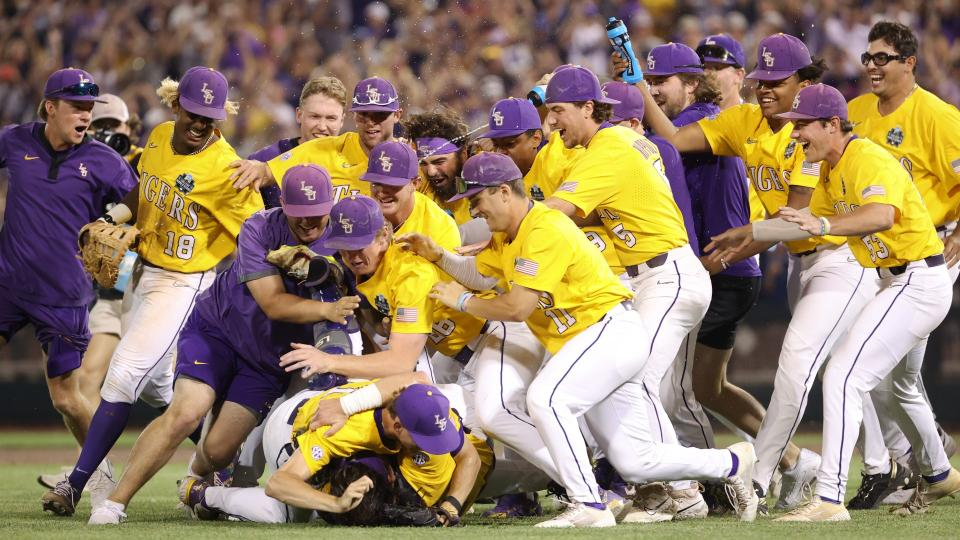 The names of strangers marched in a seemingly infinite scroll to the top of the felt screen as applause rang through the room. The theater slowly illuminated to avoid shocking the senses of the patrons who patiently sat through the two and a half hour movie shrouded in darkness.
Rows of seats once filled with people began to empty as moviegoers traversed the sticky aisles filled with discarded popcorn buckets and empty soda cups.
As everyone around me ambled towards the exits, I leaned back in my upholstered seat not quite ready to rejoin society.
Overcome with reflection, there was a specific line from the movie's ending monologue that gave me reason for my hesitation to leave.
"Sometimes, people deserve to have their faith rewarded," were the words in the film that buzzed around my head like bees around a hive.
In its simplest form, faith is the complete trust or confidence in someone or something. Faith is a concept that most are familiar with, and its practice is easy to adhere to when life is going well.
However, when circumstances change and we find ourselves faced with the inevitable bad break or personally bleak hour, we may often look with disgust or frustration upon the well-meaning individuals around us when they advise us to "just have faith."
Mankind has always struggled with faith, and stories of this uniquely human flaw are as old as time itself. For this reason, when faith is truly exercised and when people genuinely give their trust away hoping for the best, those moments become inspiring.
It's like when thousands of LSU baseball fans make the trip to the middle of the country to watch their Tigers fight through the losers' bracket and earn a berth in the championship series despite having to face the Southeastern Conference champion Florida Gators who were on full rest.
Those fans had no reason to believe that an LSU baseball team that was saddled with a shaky bullpen all season had a chance to successfully traverse eight baseball games in nine days other than the sheer faith that the Tigers would find a way.
That's an example of a grand display of faith, but there are private displays as well.
Those moments happen when a coach like LSU's Jay Johnson calls a meeting with shortstop Jordan Thompson after the junior made several errors the day before and scuffled at the plate.
There, in the midst of grown adults taking to the internet to post every sort of disparaging comment about a 21-year old kid struggling to play a child's game, a coach told his shortstop that the whole team believed in him. That same coach put his faith to work when he wrote that shortstop's name in his starting lineup the next day with all the marbles on the line.
Many of you are probably nodding your head in agreement right now. These memories may bring smiles to our faces because we know the outcome of the last two weeks.
We know that after suffering a tough one-run loss in game two of the CWS, Nate Ackenhausen threw the game of his life in the elimination game against Tennessee to preserve a suffering bullpen.
We know that Javen Coleman, Blake Money, Griffin Herring, Gavin Guidry, and Riley Cooper all combined to stymie Wake Forest in the next game and push the Demon Deacons into a winner-take-all game.
We know about Paul Skenes's scoreless innings pitched to start that game, Tommy White's walk off home run to end that game, and Ty Floyd's record-tying single-game strikeouts to start the championship series.
We know the Tigers capped off an incredible season in a pressure-cooker of expectations to win the 2023 national championship against the Florida Gators and claim the program's seventh overall title in Johnson's second year as a coach.
What if LSU didn't win it all though?
Imagine a world where Cade Beloso's timely home run against Florida never comes or Tre Morgan's underhanded flip to home plate against Wake Forest is a nanosecond later.
Maybe the Tiger bullpen had a bad day when they were needed, or maybe, God forbid, Thompson made a few more errors in a handful of pivotal moments.
Do you still nod your head in agreement? Is faith still worth something to you?
The aforementioned movie quote, "sometimes people deserve to be rewarded for their faith," implies that there are many cases where having faith doesn't pay off.
I can tell you from firsthand experience that unrewarded faith certainly exists, and I'm sure many of you would agree.
The world is not a perfect place. When we put our faith in the imperfect people or things around us, we often finish empty handed and disappointed. That doesn't make faith useless though. On the contrary, that's part of what makes the act of faith inspiring.
It's admirable to take life's shortcomings in stride and still muster up the courage to ante up with faith for something outside of our control. It's a courage that is truthfully not always in my repertoire. I am not going to pretend to be the LSU baseball fan filled with the most faith because this year I was not.
I handed harsh scrutiny to this team for much of the season, specifically with regards to the bullpen, and I felt that I had good reason.
For the last 14 years, I witnessed several talented LSU teams make the trip to the CWS only to finish short of the ultimate prize. In 2017, we all saw a Tiger team take an eerily similar path to this 2023 team through the losers' bracket to face off against another Florida Gators team.
That 2017 squad ran out of steam at the end to no real fault of their own. That's baseball sometimes, and the 2023 Tigers were a razor's edge away from a similar fate.
This year, LSU has the potential first two picks in the Major League Baseball draft. The Tigers had a prolific offense and three pitchers that could arguably be aces on every staff in the country. Yet, with all that talent on the roster, the chips still had to fall into place. Unlikely heroes still had to step up. Destiny still had to choose its champion.
Thankfully, it chose LSU.
Tiger fans are already wondering how many titles the program will win under the direction of such a young and determined head coach like Johnson. Given enough time, he may win a fair share, but championships will still be rare.
Winning always is, even for a program so accustomed to success like LSU's. The good news is that because winning is so scarce, watching the Tigers bring home the gold becomes that much more satisfying.
Just like the infrequent payoff of faith, it's the infrequency of the championship season that inspires us when we finally witness our team hoist that coveted trophy.
After all, if winning was so easy, it wouldn't be so special.
The voice of the theater attendant cleaning the aisle shattered the silence of my reflective stupor.
"Pretty awesome film, huh? They don't make movies like that anymore," he said.
"No, they really don't," I replied.
I stood up from my seat and left the theater knowing that it was the rarity of what I witnessed that made it so beautiful.