The SEC Tourney, LSU baseball, and glasses of milk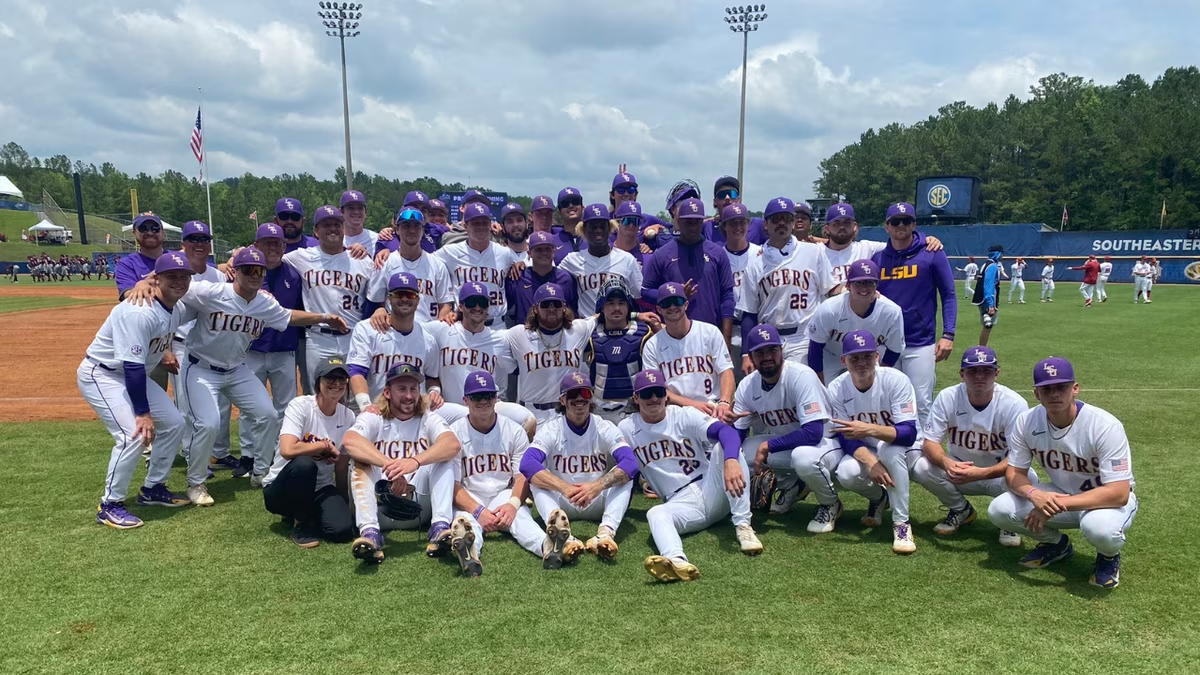 There are 7.88 billion people on Earth, and no two people are exactly the same.
While there are similarities between groups of people who share a common upbringing or live in the same geospatial area, each individual person is completely unique from the other.
This fact alone makes it seemingly impossible to separate all of mankind into two distinct groups. Seemingly impossible, that is, until one considers the almighty glass of milk.
A half-poured glass of milk is seen as the great arbiter of our time, and every living person that gazes upon that glass will make a determination as to whether or not the glass is half-empty or half-full. There is no in-between.
It's amazing that something so simple reveals so much about the psyche of a person, but that's only part of what makes the glass of milk special. It's also a fantastic source of calcium and vitamin D.
After LSU baseball's short-lived run in Hoover, Alabama, for this year's Southeastern Conference Tournament, the glass of milk test is once again separating Tiger fans into two distinct camps.
The eternal optimists of the fanbase have pointed out how LSU's glass looks half-full. All season, Tiger fans have wondered if members of the LSU bullpen would finally step up and provide reliable relief options for the team.
When called upon, there were several Tiger relievers that answered the bell.
Thatcher Hurd, who has bounced between starting roles and bullpen duties this season, received the start for game one of the tournament against South Carolina. Hurd pitched a solid game of 5.1 innings allowing three earned runs and striking out four batters. While seemingly pedestrian, Hurd's start was exactly what LSU needed, and Nate Ackenhausen followed Hurd with 3.2 innings of work and six strikeouts.
The Tigers defeated the Gamecocks 10-3, and the fan base morale was high heading into game two.
This is where the glass half-empty folks begin to take their moment in the Sun.
LSU ace Paul Skenes received the start in game two against co-regular season SEC champion Arkansas, and his Razorback counterpart was left-hander Hagen Smith.
For the first time all season, Skenes looked human. His command was fine, but he struggled leaning on pitches outside of his fastball for strikeouts. Several times throughout the game, Arkansas batters extended Skenes deep into pitch counts. After 3.2 innings pitched, Skenes exited the game with the bases loaded.
LSU reliever Riley Cooper was called upon to save the Tigers from the jam they were in, and, after a lazy fly ball was caught in shallow center, it appeared Cooper had done his job.
However, catcher's interference was called after Alex Milazo's glove made contact with the Arkansas hitter's bat. As a result, every Razorback advanced a base and a run scored. The next Arkansas batter hit a single, scoring two more runs, and what was once a 2-2 game quickly became a 5-2 game in favor of the Razorbacks.
Those five runs proved to be enough after Hunter Hollan, another Razorback lefty, relieved Smith and held the Tiger bats in check.
Smith and Hollan combined for 17 strikeouts against the Tigers in what was truly a disheartening day at the plate for LSU.
LSU's Cooper had his best outing in a long time as he twirled seven strikeouts of his own without allowing another run after the fourth inning. In the end, the final score of 5-4 proved that Cooper's solid performance would go to waste.
The Tigers entered the loser's bracket but were fortunate enough to still have Ty Floyd available to start the next game against the Texas A&M Aggies.
Floyd delivered as advertised. The junior right-hander threw five complete innings and struck out seven Aggies while only allowing one run.
Floyd exited the game with a 3-1 LSU lead, but Texas A&M did not take long to strike. The Aggies tied the game in the 7th inning thanks to a three-run homer off of Tiger reliever Griffin Herring and scored another to take the lead off of Sam Dutton.
Tigers Javen Coleman and Gavin Guidry combined to shut the door in the last 1.2 innings of the game, but the two-run lead that Texas A&M had built was too much for the LSU offense to surmount.
Yes, you heard me correctly. The mighty LSU offense that fans are repeatedly told "can hang with any team" was once again stymied for a second-straight game.
The Tigers had a coach's dream scenario of runners on second and third with less than two outs in the 9th inning, but only managed to score one run thanks in part to a wild A&M pitch.
LSU was eliminated from the tournament with the 5-4 loss to the Aggies.
The Tigers are now 7-7 since the beginning of May and have lost back-to-back games on three separate occasions.
The glass-half full folks will point out that we have finally seen enough sustainability from the LSU bullpen to be optimistic about making the decision to go to the bullpen.
They are correct in their optimism.
The glass-half full folks will point out that even with a better performance from the Tiger bullpen, the effort still wasn't enough for an LSU offense that has struggled against good pitchers down the stretch.
They are correct in their pessimism.
See, that's the kicker about the glass of milk philosophy. Usually, both the half-full and half-empty camps have legitimate evidence to support their arguments.
No one wants to admit to looking at the glass-half empty, but sometimes pessimism is more realistic than optimism. Unfortunately, I think the glass half-empty faction has more of a leg to stand on at this point in the season. 
It's difficult to watch a team with such a loaded batting lineup struggle against good pitching even when the much ballyhooed Tiger bullpen does their job. In this writer's opinion, lack of hitting in clutch situations does not bode well moving forward especially against teams that will feature anywhere from decent to excellent pitching staffs.
As of the writing of this article, LSU has been announced as the No. 5 seed in the country and will host a regional that will feature Tulane, Sam Houston State, and Oregon State. Should the Tigers advance, they will play the winner of the Kentucky regional.
There is far too much inconsistency in this LSU team to look ahead to a super regional though. Whether you believe the glass is half-full or half-empty with regards to this Tiger baseball team, it is a fact that LSU isn't a team firing on all cylinders at the moment.
There is still time for the Tigers to put it all together, but the time is now. If LSU fails to do so, you can rest assured that Tiger fans will be spending the rest of the summer crying over the spilled milk of the 2023 baseball season.