LSU drops pivotal series against unranked Mississippi State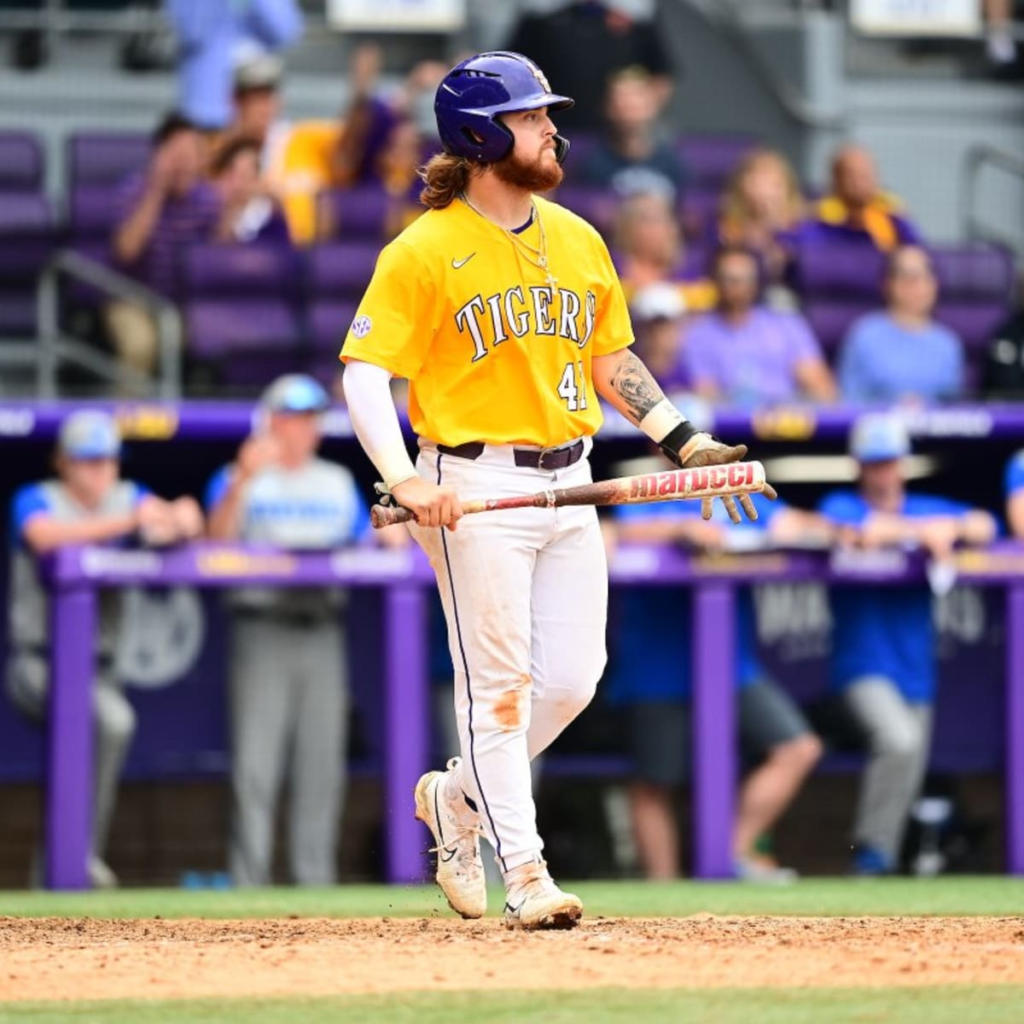 Sunday's 14-13 loss against the Southeastern Conference bottom feeder Mississippi State Bulldogs was the worst collapse for the LSU baseball team in the coach Jay Johnson era.
That's not hyperbole. I'm not using a histrionic opening line to hook readers or get clicks.
The plain and simple fact is the Tigers gagged away a nine-run lead (!) in a game that was more than halfway finished.
LSU led 13-4 entering the sixth inning before State scored 10 unanswered runs to not only win the game but win the series (!!) against the formerly ranked No. 2 Tigers.
Embarrassing is the only apt descriptor for what fans of the purple and gold witnessed, and if the alarm bells weren't ringing for this LSU team before, those bells are being heard loudly and clearly now.
For weeks, fans were told to relax by members of the Baton Rouge media.
"Every team has warts," radio host Hunter Palmer said. "The bullpen is concerning but no team is perfect."
That sounded nice and reassuring at the time much like the words of his coworker Matt Moscona. Two weeks ago, listeners of Moscona's show were subjected to one of his infamous rants in which he described how easy it would be for the Tigers to make a trip to the College World Series because "literally no team has beaten LSU two games in a row."
A few weekends later and that take is about as cold as the mystery meatloaf at your elementary school cafeteria.
If it sounds like I'm jumping on the local media with both feet after the fact, that's because I am. I won't hide that.
However, it doesn't take a professor of logic to understand the huge errors Palmer and Moscona made in their arguments.
Just because Palmer claims that every team has foibles does not erase the fact that fans were told at the beginning of the year that this was one of the most talented college baseball rosters ever only for the team to begin to unravel at the end of the season.
While there have been key injuries that are impossible to predict, explaining LSU's woes away by saying no team is perfect comes across as more of a red herring argument than the perspective adjustment that Palmer thought he was making.
Moscona's argument was worse.
Somehow, simply because LSU hadn't been beaten twice in a row up to the point Moscona made his grand diatribe, that meant the possibility of the Tigers losing twice in a row in future weekends an equally unlikely occurrence.
Moscona declared that LSU's pitching staff was sustainable because it had been sustainable. That's the kind of circular argument that insists upon itself. The fact that relief pitching had been sustainable in the past in spite of the clear weaknesses it was showing does not explain the weaknesses away or ensure that the relief pitching will be sustainable in the future. To think otherwise is wrong.
As difficult as it for those with blind optimism in the local media to come to terms with, this Tiger baseball team is in a dire situation with only a few weeks left to figure their problems out.
Those problems begin and end with the bullpen pitching.
Starting pitcher Paul Skenes continues to be electric on the mound. He struck out 13 Bulldog batters through seven innings in LSU's lone win in the Mississippi State series. It's worth noting that the game was a 10-run rule, so the Tiger bullpen never had the chance to ruin the great outing.
The relief pitching sure found a way to spoil Ty Floyd's solid start in game two though. Floyd pitched six full innings and struck out 10 before he was asked to hand the ball to the LSU pen with a one-run lead.
After reliever Nate Ackenhausen gave up a go-ahead home run to State in the seventh inning, the Tiger offense responded and took a 4-2 lead against the Bulldogs entering the eighth inning. That's when reliever Thatcher Hurd came into the game and didn't record an out (!!!). That's the second weekend in a row that fans have witnessed an LSU pitcher leave the game with an ERA of infinity, and Hurd would sadly not be the last Tiger pitcher to accomplish that feat during this series.
Between Hurd and reliever Riley Cooper, Mississippi State scored seven unanswered runs in the last two innings to defeat LSU 9-4.
Make no mistake about it though, the cherry on top of the entire weekend was the nine-run collapse in game three.
The Tigers received a solid start from Javen Coleman in his first extended performance since coming back from UCL surgery. LSU then turned to eight total relievers who combined for 7.1 innings and surrendered 10 walks and 14 earned runs. Low lights of the second half of the third game included pitcher Christian Little imploding again and Ackenhausen making a brief appearance without recording an out after giving up two runs.
Now, an LSU baseball team that was the unanimous No.1 team in the country from the preseason until this past week is fighting for its life to maintain a top-8 national seed.
Next weekend's series against a Georgia team that's last place in the SEC East and the upcoming SEC tournament have become massively important if the Tigers want to guarantee themselves homefield advantage through super regional play.
Even if LSU holds on to a top-8 spot though, the postseason expectations dramatically change if the bullpen does not somehow improve between now and regional play.
Yes, there are still positives to this team. Skenes is the best pitcher in the country, Floyd has shown time and time again that he is a reliable second starter, and the LSU offense is capable of scoring runs at a prolific clip.
None of these positives will amount to a championship if the Tigers do not receive consistency from the bullpen. While the LSU offense can hang with anyone, a baseball team that's worth anything should never lose a game in which they score 13 runs.
Yet, the Tigers found a way to blow their lead against State much like they found a way to lose back-to-back weekends for the first time all year.
I have not sold out on this team yet. I have not "moved on to football season" as many fair-weather internet posters have decided. However, it should no longer be considered a given for LSU to host a super regional much like it is no longer a given that this Tiger team will even make a super regional.
Pitching depth is most important in regional play and again in the CWS, and pitching depth is a luxury that the Tigers simply don't have right now.
Baseball is a lot like life though. Just when you think you have your life sorted out (or in this case not sorted out) a surprise comes along and changes everything. Maybe there is a relief pitcher in this Tiger pen that is about to step up for the team in a big way. Maybe these last two weekends of conference play have been the bellwether for the premature end of this talented LSU team's run.
Just like life, the only way to find out what's coming next is to stick around and watch.