First day of OTAs in the Books for the Saints; What We Learned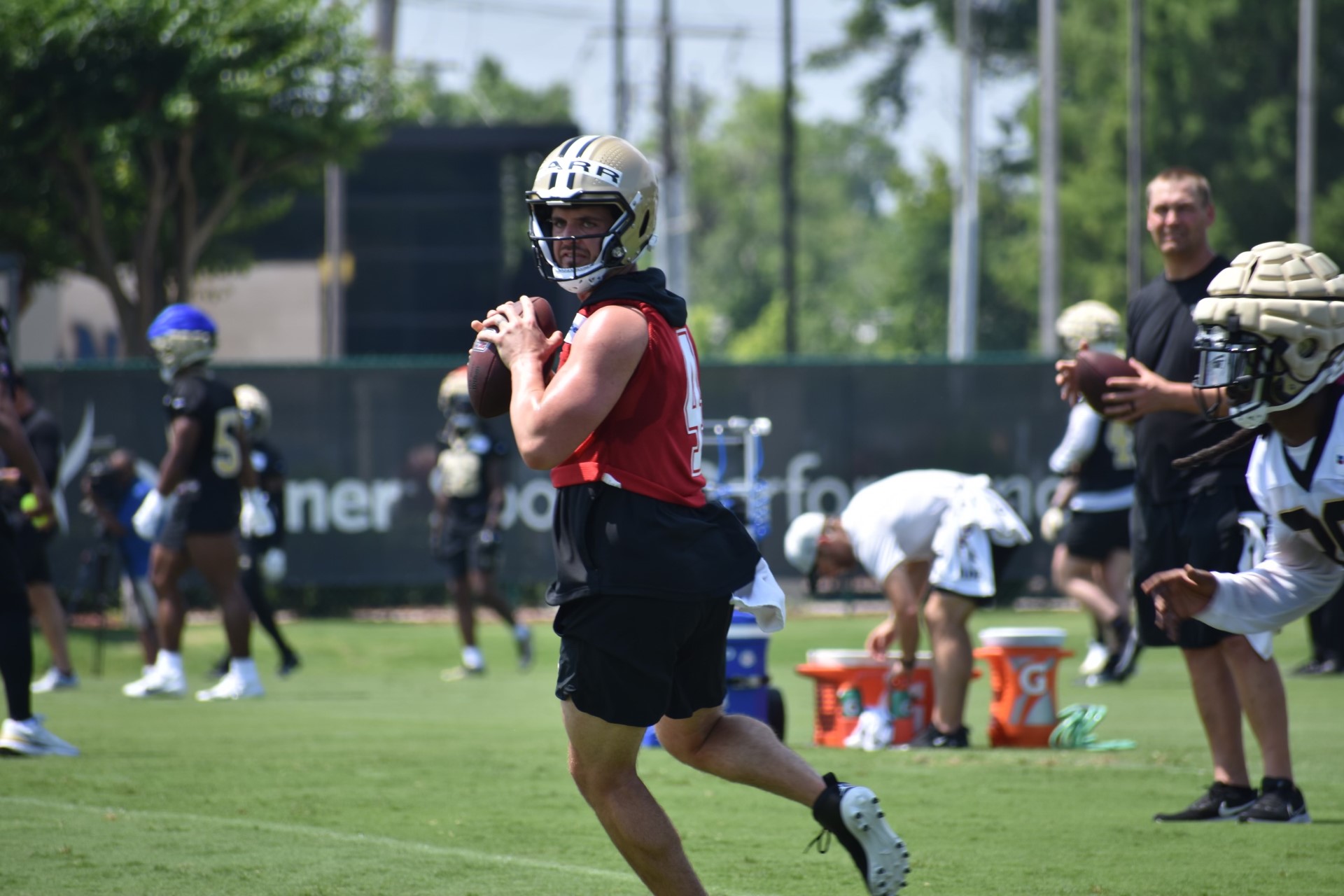 Tuesday marked the first day of Saints organized team activities (OTAs), and finally gave the Saints a look at what Derek Carr looks like in a Saints helmet amongst many other new faces. 80 out of 89 potential players showed on the first day which is a very strong attendance number. Alvin Kamara, Taysom Hill, Ryan Ramczyk, Mike Thomas, Marshon Lattimore and Andrus Peat were among those not in attendance on the first day. There were plenty of headlines from the day that warrant excitement, however. It is still early, but there were several notable things that were apparent on Tuesday afternoon.
First look at Derek Carr
It was no doubt a refreshing sight to see Carr in a Saints uniform today. Even pessimists of the move can appreciate not having the level of question marks that the organization has had at quarterback ever since the departure of Drew Brees. The headline here isn't about his performance this early on, it is just a reminder of the security he brings to the position as a pro bowl level quarterback who obviously has a chip on his shoulder. In the post practice presser, Carr spoke about the change that he has gone through and his first impressions of the organization.
Chris Olave Impresses
One of the few bright spots of the Saints season in 2022 was the outstanding play of Ohio State rookie Chris Olave. It has been apparent since before the season last year that Olave was a savvy route runner with loads of talent, and he proved it all year to the tune of 72 receptions for 1042 yards and 4 touchdowns in 15 games last year. This was all with very limited quarterback play, so improving that was already going to do wonders for him going into next year. Olave talked about bulking up at the end of last season to help himself in contested catch situations, and he did exactly that, showing up looking stronger. The play of the day (although there's no video of it) was a pass from Carr where he gave Olave a chance to make a contested catch and he delivered.
Foster Moreau Miraculously Present Day One with no Limitations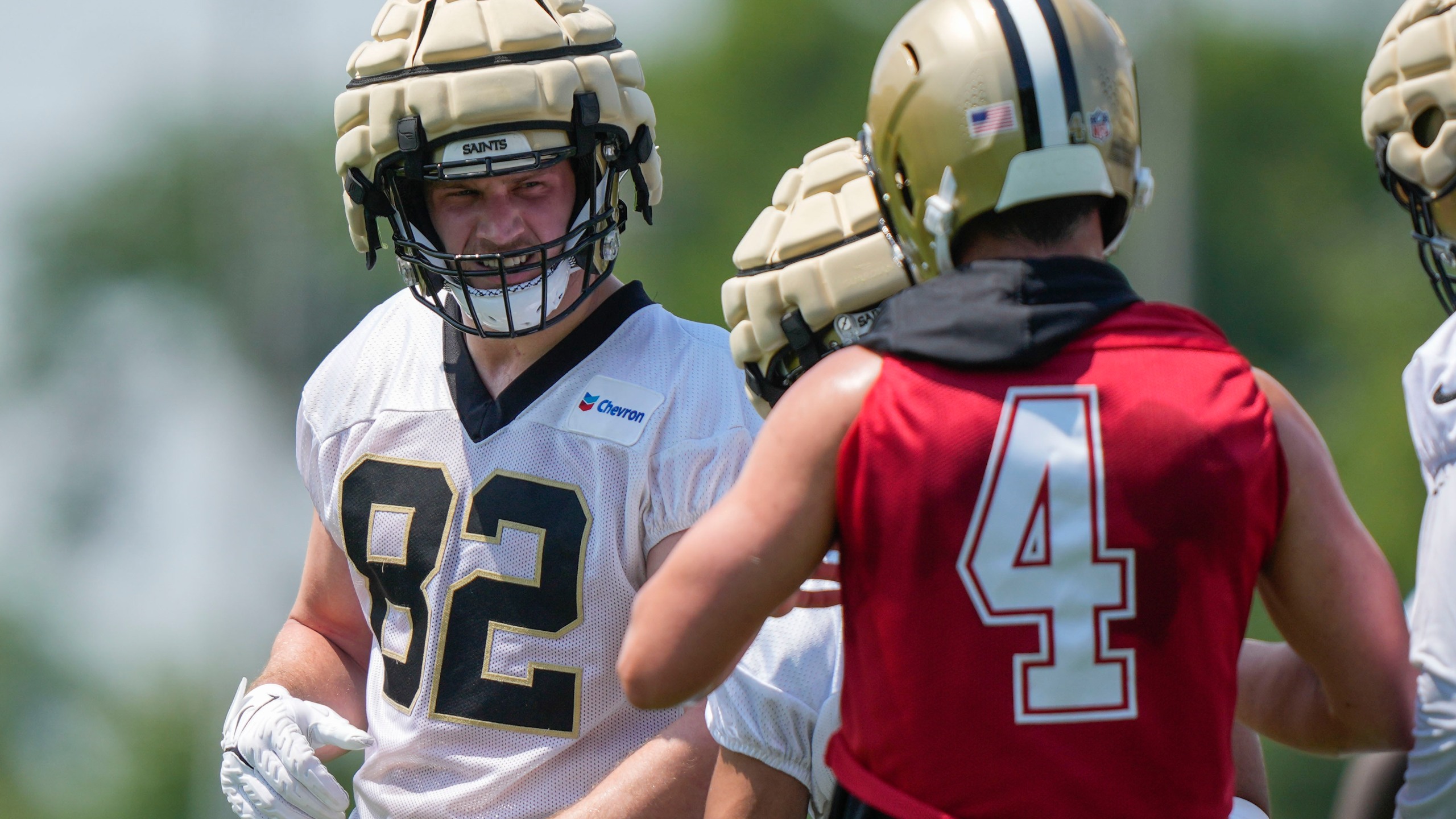 One of the feel good stories of the offseason around the NFL has been the development regarding the health of Foster Moreau. Earlier in the offseason, Moreau met with multiple teams including the Saints in his free agency period in pursuit of his first big NFL payday. The New Orleans native obviously had the Saints circled has a team he was especially interested as he is a Jesuit high school graduate and played his college ball at LSU. He received a physical from all teams, but it wasn't until one of the Saints head doctors, John Amoss, discovered an abnormality that turned out to be the early stages of Hodgkin's lymphoma. Miraculously, a little more than two months after this diagnosis, Moreau was back on the field catching passes from his former Raider teammate Derek Carr in his hometown. The tight end was at the podium after practice detailing some of what the last two months have been like for him.
A Few Notable Position Battles Looming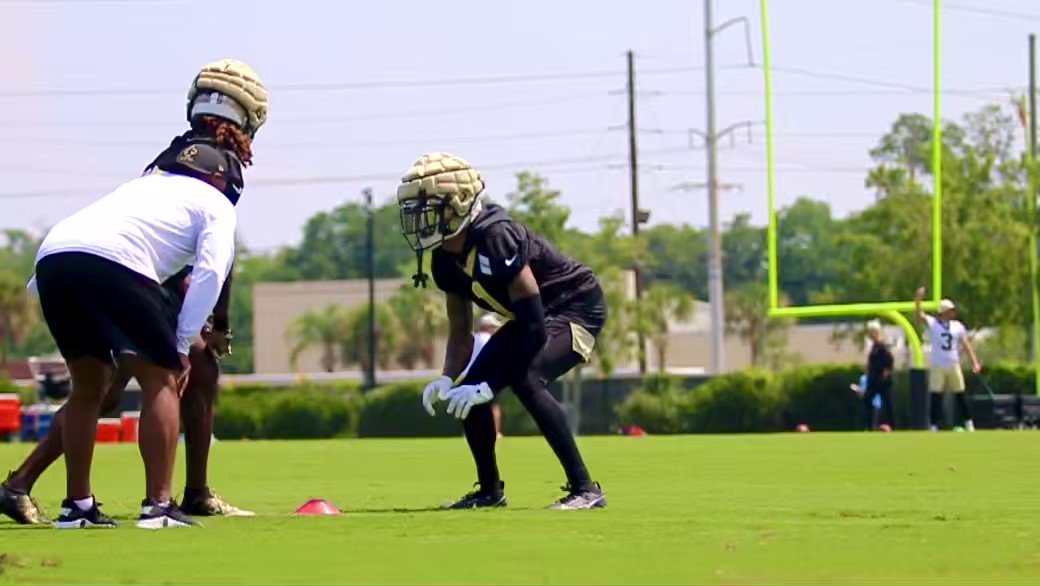 The starting lineups for the Saints obviously aren't set in stone this early on, but we do have an idea of some of the position battles that will take place during the team portion on both sides of the ball in depth positions as well as frontline starters. The most notable one is at cornerback on the opposite side of Marshon Lattimore, which has continued to be a revolving door, however now they have options with Alontae Taylor and Paulson Adebo. Both had very strong rookie years, the problem is Adebo had an injury riddled sophomore slump. He was one of the headlines of last years training camp, constantly being pointed to as one of, if not the main standout of the entire period. Adebo, along with Lattimore, missed significant time which opened the door for Alontae Taylor to play in a starting role last year. Other matchups to watch include rookie AT Perry and Bryan Edwards competing for the third receiver spot with Rashiid Shaheed, as well as Isaiah Foskey, Tanoh Kpassagnon, Carl Granderson and Payton Turner going for that defensive end opposite Cam Jordan.
There are plenty of other headlines that will arise this offseason such as the health of Michael Thomas and the status of the Alvin Kamara case, but early days of OTAs are about positivity surrounding the team. There were plenty of smiles on day one, and a 90% attendance rate is a promising development. The Saints will need a much stronger start to the season than they had in 2022, and these offseason periods are paramount for being on the same page come September.