Ole Miss sweep does not solve LSU's issues on the diamond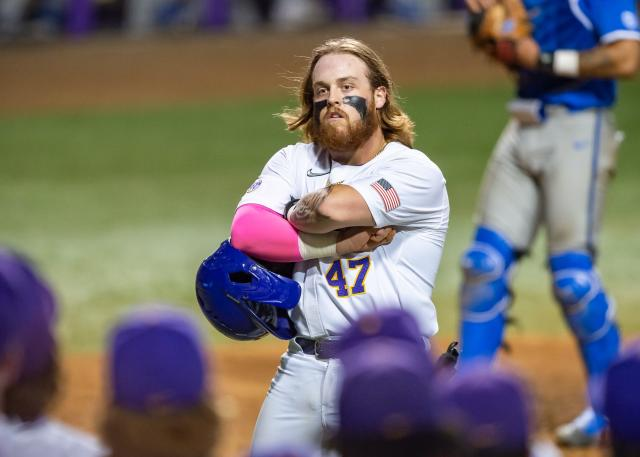 *Please note that most of this article was written before LSU's 6-5 loss to Nicholls State; therefore, that game is not mentioned, but the loss does not change LSU's outlook for the season*
The passage of time is like traversing a dense fog.
I know exactly what I'm having for lunch today, but if you were to ask me what I'm having for lunch in three weeks, it would be difficult for me to say.
It seems only natural to foster more uncertainty about events further into the future, and the NCAA baseball season is no different.
Players, coaches, and fans are allowed to have plans and expectations for the goals they want their team to accomplish, but there are plenty of changes during a 56-game regular season.
Injuries occur. Some players from whom much was expected don't pan out. Some players start the season as relative unknowns but quickly become household names. Some teams start seasons unranked and catapult into the top-25, while other highly favored teams never reach their potential.
None of what I mentioned above is rare. What's rare is beginning the year as the consensus No.1 team in the nation and hanging on to that ranking well past the halfway point of the season. What's rare is facing the ninth-ranked strength of schedule and winning every Southeastern Conference series except one (LSU neither won nor lost the South Carolina series as game 3 was canceled due to weather).
It's safe to say that, for the time being, it appears that LSU's baseball team is in rare air. This may not reflect reality though.
The pitching staff outside of Paul Skenes has been woefully inconsistent with starters and relievers alike struggling to command the strike zone. The Sunday starter role began with Thatcher Hurd as the incumbent and has since transformed into a bullpen amalgamation with Christian Little taking the first few innings.
LSU's fielding is drastically improved from last season's error bonanza, but there have been a few times this year when mistakes in the field costed the Tigers victory.
The Tiger offense has been potent up to this point, but there are moments when strikeouts up and down the lineup become contagious.
One of the biggest gripes fans began to voice before this past weekend was LSU's lack of consistency across three conference games. While the Tigers' schedule has been tough, there had been at least one game in each SEC series that featured an LSU collapse of some form or fashion.
Many believed that LSU's series against a struggling Ole Miss team was a "sweep or bust" type scenario, and while that phrase is an exaggeration, it was hard to argue against the Tigers' need for a weekend with three solid games.
Fortunately, LSU rolled into Oxford, Mississippi and pulled off the sweep against the Rebels albeit in dramatic fashion.
Skenes was once again the story of game one in which he pitched 6.0 innings and struck out 11, but it was Tommy White's grand slam in the fifth inning that lifted the Tigers to victory.
Heading into game two, LSU needed a big performance from Saturday starting pitcher Ty Floyd who has all the ability to be in the weekend rotation but has struggled to give the team the innings they need from a starting pitcher.
Lack of innings certainly wasn't the issue last Saturday as Floyd hurled his best outing of the season with 8.1 innings under his belt and striking out eight batters along the way. It was also refreshing to see Tiger reliever Nate Ackenhausen, who had been sidelined with an injury the last few weeks, deliver the last two outs of the game.
LSU center fielder Dylan Crews reminded many why he's projected as the first pick of the upcoming MLB Draft after he homered in back-to-back at-bats, one of which being a grand slam.
While the first two games were mostly pedestrian, it was game three of the series that featured the drama.
Little once again received the start on the mound and delivered his best performance of the year as he battled through early adversity to pitch 5.1 innings. Javen Coleman entered the game in relief for just the second time this year after recently recovering from UCL surgery, but unfortunately gave up a critical home run in his second inning of work.
The Tigers never seemed to have enough in the tank to pull away from the Rebels even though the opportunities to do so were certainly available.
LSU left a total of 12 runners on base through the course of the game but struggled to cash in those chances.
Entering the top of the ninth inning, the Tigers once again had their backs against the wall. The Rebels recorded two quick outs, and all signs indicated that they would hang on to their 6-4 lead and steal game three from the Tigers.
Games aren't over until they're over though, and after Jared Jones was walked and Brayden Jobert was hit by a pitch, LSU coach Jay Johnson sent Hayden Travinski in to pinch hit. Travinski had fallen down the depth chart since the arrival of freshman catcher Brady Neal, but personal circumstances don't matter when you grab a bat and head to the plate.
With one swing, Travinski reminded us of why sports are so special. In any given moment, anyone can be a hero, and as Travinski rounded the bases after launching the go-ahead home run, there was no doubt who that hero was.
The Tigers hung on in the bottom of the ninth thanks to the pitching of Gavin Guidry and pulled off the 7-6 victory and a sweep of Ole Miss.
I am not here to mince words. LSU's performance against Ole Miss was much needed, but it does not solve the Tigers' problems. LSU has serious pitching concerns and one good weekend from guys like Floyd and Little does not magically imbue them with the consistency they will need if this team is going to make a College World Series run.
Another question mark is Hurd. If he can figure himself out, I will be optimistic about LSU's postseason chances. If he can't, a national championship isn't impossible, but it will certainly be an uphill battle.
The good news is, the Tigers are not the only team with consistency issues. In fact, the pollsters continue to unanimously select LSU as the No. 1 team in the country every week, so there is a strong sentiment that LSU is as solid as it gets right now.
However, right now is not the middle of June when the CWS begins. Heck, right now isn't even the end of May when the SEC Tournament starts.
LSU still has plenty of time to figure itself out as a baseball team. My hope is that the team understands that they are still leagues away from being good enough to win it all this year.
If they let their No. 1 rankings inflate their egos and assume a trip to Omaha would be a coronation ceremony rather than a competitive tournament, this year's LSU team will simply be last year's Tennessee.