LSU baseball takes series 2-1 against Tennessee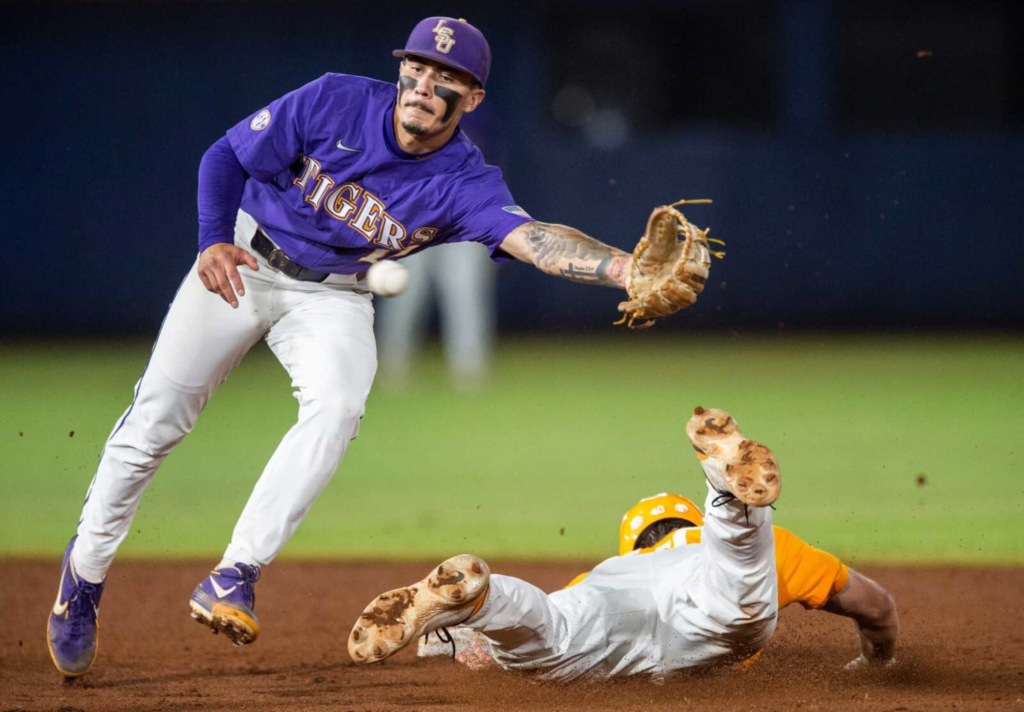 Sometimes, the hype of a sporting matchup does not live up to the billing. This was not the case when No. 11 Tennessee baseball rolled into Baton Rouge to play a best-of-three series against No. 1 LSU.
Fans of both programs had this matchup circled on their calendars since baseball season buzz began in late January.
Part of the reason so many people were looking forward to the LSU-Tennessee showdown was the abrasive style with which the Volunteers play the game under fifth-year coach Tony Vitello. When it comes to college baseball, Tennessee embraces the villain roll, and opposing fans happily root against the orange and white.
The other reason a record number 37,424 filtered through Alex Box across the course of the three-game series was the fact that, throughout most of the preseason polls, LSU and Tennessee were ranked No. 1 and No. 2, respectively.
For two of the three games, fans, especially Tiger fans, enjoyed a great display of baseball. Game one of the series took place on Thursday night and featured two highly rated Major League Baseball pitching prospects. Paul Skenes took the hill for LSU while Chase Dollander was on the bump for Tennessee.
Both pitchers were dominant, albeit in different ways. Skenes did what he always finds a way to do and fanned a total of 12 Volunteer pitchers through 7 innings of work. He surrendered only one run.
Dollander had a less intimidating line but worked his way out of jams through his 4.2 innings of work.
A sellout Alex Box Stadium was filled with nervous tension after the Volunteers pushed a run across in the top of the 5th inning. That was until veteran second baseman Gavin Dugas stepped up to the plate in the bottom of the inning after Jordan Thompson's leadoff double.
Dollander delivered to the dish after falling behind 2-0 and never saw that baseball again as Dugas laced a home run deep into the Louisiana night.
Tennessee would later tie the game 2-2 in the 8th inning, but the Tigers took advantage of some Volunteer miscues in the bottom half of the frame to load the bases. Thompson once again delivered, this time with a bases clearing double, and LSU went on to take game one by a score of 5-3.
Ty Floyd started for the Tigers on Friday and ran into some trouble early after giving up a leadoff home run to the first batter he faced. Floyd would go on to surrender four more earned runs across his five innings of play, but the Tiger offense did not let up.
Tre' Morgan, Tommy White, Cade Beloso, and Josh Pearson all had doubles in the first inning to give LSU a 3-1 lead. The Tigers would later deliver with back-to-back home runs from Brady Neal and Dugas in the 4th inning and tacked on one more run in the 6th inning to take game two and the series with a score of 6-4.
Freshman pitchers Chase Shores and Griffin Herring combined for four solid innings of relief and were a welcome sign out of the bullpen.
The wheels fell off of LSU's proverbial bus for game three. Thatcher Hurd received the nod from the coaching staff to start what would hopefully be a sweep, but never found his groove.
He also never recorded an out and finished the game giving up four hits, two walks, and six earned runs. For those of us that are mathematically challenged, Hurd left the game with an ERA of infinity which is always less than ideal for a starting pitcher.
Or, really any pitcher for that matter.
The Tigers were just flat beat the rest of the game. Even when there was a flicker of hope in the bottom of the 4th inning when LSU cut the Volunteer lead from 10-2 to 10-6, Tennessee extinguished the flames with scores in the 6th and 7th inning and never looked back as LSU dropped the final game by a final score of 14-7.
Sweeps are difficult to come by, and Tiger fans should be pleased with another series win in a difficult Southeastern Conference. However, I don't intend to mince any words when I say that the inconsistent play of Hurd has been concerning. The UCLA transfer could be one of the best pitchers on this talented LSU roster, yet he has rarely shown the ability to consistently have a command all of his pitches.
Hurd currently sports a 6.26 ERA and opponents are hitting .278 against him through his first 23 innings of play this year. If LSU plans on making a deep postseason run, they will need better production out of its third starting pitcher. For this reason, some fans have suggested relegating Hurd to a midweek starting role until he finds a rhythm.
However, this presents more questions to the pitching staff than solutions. For how long would LSU have Hurd pitch in a midweek capacity? There is no shortage of strong opponents in the SEC, so do the Tigers really have the time to experiment with a parade of different faces in the Sunday role? Also, would it do more harm than good to have Hurd shut down weaker midweek opponents only to have him thrown back into the fire against stronger SEC teams?
These will not be easy questions for Tiger coach Jay Johnson to answer, so, for now, the best move forward will likely be to continue giving Hurd the opportunity against quality opponents to find his rhythm.
With enough time and patience, I am certain that, much like the hype for the Tennessee series, Hurd will prove his worth and live up to his billing.
The Tigers will take on Nicholls tonight followed by a road series against No. 6 South Carolina.