LSU's basketball court controversy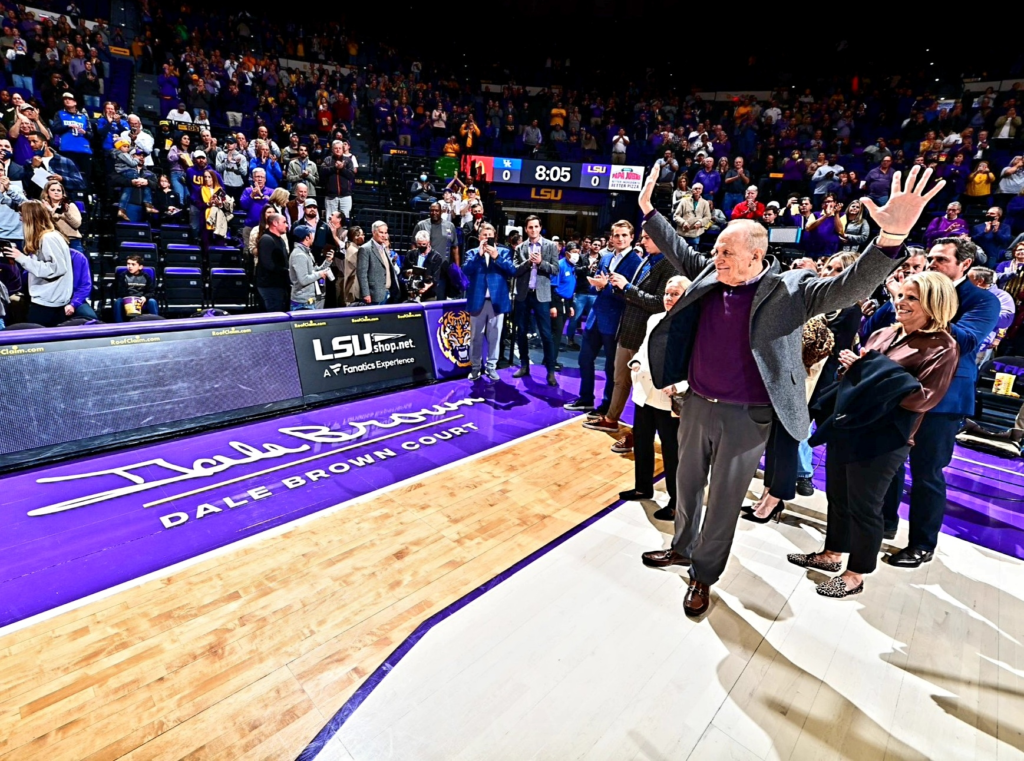 On Friday, the LSU Board of Supervisors will vote on adding legendary LSU women's basketball coach Sue Gunter's name to the Pete Maravich Assembly Center floor alongside the name of Dale Brown, an equally legendary men's basketball coach at LSU.
Some in the local Baton Rouge media have decided to make this rather small molehill into a skyscraping mountain, and personalities like Matt Moscona, Tim Brando, and Dick Vitale have decided that this is the molehill they will perish upon.
To properly address this issue, it's best to start at the beginning.
The LSU Board of Supervisors was initially presented with a vote to co-name the basketball court after both Gunter and Brown. This plan was rejected by the board, and a follow-up vote to name the court solely after Brown was passed.
In January of 2022, LSU held a ceremony to bestow the honor on Brown and officially name the PMAC floor after him.
According to reports, the same board that rejected the initial vote to co-name the PMAC floor is now working behind closed doors with LSU President William Tate IV and Louisiana Governor John Bel Edwards to shoehorn Gunter's name to the floor.
It now appears that LSU's basketball court will be named for both Gunter and Brown after all.
I'm all for complaining about the politics behind this decision. Personally, I think it's a bit of a slap in the face to Gunter's legacy that adding her name to the floor had to be conspired through backchannels instead of out in the public forum.
As so many in favor of solely naming the court after Brown have argued, there is a proper decorum for these types of matters. One should have to pass through the appropriate channels and receive adequate approval before something like a basketball court should be named, or, in this case, renamed.
Unfortunately, for those decrying the politics of this situation, it appears that shady politics was the original crucible behind naming the court after Brown in the first place.
For starters, the board did not receive a greenlight from LSU's Hall of Fame Committee to name the PMAC floor solely after Brown. In fact, the Hall of Fame Committee voted to reject the solo name.
Yet, here we are in a world where Brown's name, at least for now, is the sole occupant on the basketball court. It sounds to this writer that backdoor politics were involved, to some degree, to evade certain channels that were not in favor of this current iteration of the PMAC floor.
Politics aside, many have also argued that going back and co-naming the court is an unprecedented act and should be avoided because such an act is so unheard of.
However, a few quick Google searches indicate that co-naming an athletic floor or venue is not as unprecedented as some like Moscona have argued.
Take Alabama's Bryant-Denny Stadium or Auburn's Jordan-Hare Stadium for examples. Both were originally named to honor contributors to those respective football programs and then renamed to add other major contributors to those programs.
Central Michigan's Kelly/Shorts Stadium is another example of a venue that was initially named after someone before another name was later added.
Let's pretend the solo-name supporters are correct though. For the sake of argument, we'll say that never in the history of American athletics has any sports venue that's been named after one person undergone subsequent renaming to co-honor another person.
Does that matter? Does Gunter not deserve to have this specific honor simply because nothing has ever been renamed?
Even under these circumstances, the reasoning against co-naming seems flimsy, but the counter is that co-naming the court is a dishonor to Brown and an insult to his legacy. They argue that LSU should find something else to name after Gunter to not dwarf Brown's accomplishments.
This writer disagrees, and Gunter has every right to have her name on the floor if Brown's name also resides there.
Gunter is in the Naismith Memorial Basketball Hall of Fame. Brown is not. Gunter sported a 442-221 record while at LSU compared to Brown's 448-301 record. Gunter's teams went to 14 NCAA tournaments and accomplished one Final Four appearance, while Brown's teams went to 13 NCAA tournaments and appeared in two Final Fours. Gunter won two Southeastern Conference Tournament Championships at LSU while Brown won one SEC tournament and three regular season titles.
This does not sound like a case of adding the name of a coach who hasn't accomplished nearly as many accolades as the great Dale Brown. In fact, it's a wonder why co-naming the court was initially shot down with so much equivalency between the two coaches.
So, to briefly recap the opposition of co-naming the court, the argument that the board already voted on this matter is irrelevant. LSU owns the building and the floor, so LSU enjoys the privilege of making these decisions however the powers at be so choose.
If the argument is that the backdoor channels that went into the decision to co-name the floor reeks of Louisiana politics, this writer will not argue there. However, that argument is predicated on the assumption that backdoor politics didn't factor into getting Brown's name on the floor in the first place.
Based on the available information about the initial court-naming decision, this is assumption is shaky at best. At the very least, the vote to name the court after Brown proceeded without the approval of the LSU Hall of Fame Committee.
The decision to add a co-name to a venue that has already been named after someone is not unprecedented and should in no way be taken as a sign of dishonor to either person.
Both Gunter and Brown led their teams to great accomplishments while coaching for their respective Tiger programs. This fact is inarguable. However, to argue that adding Gunter to the floor somehow dwarfs what Brown accomplished is not an argument in good faith. LSU is not scraping Brown's name off of the floor, they are adding Gunter's name to lay beside his.
It sounds to this writer that the only thing at issue of being dwarfed here is Brown's ego. However, if he is at humble as his supporters say he is and if he was as good of friends with Gunter as he claims to be, he would be honored to share the floor with such a legendary basketball coach like Gunter.