World Cup 2022 Preview
by:Robert Poche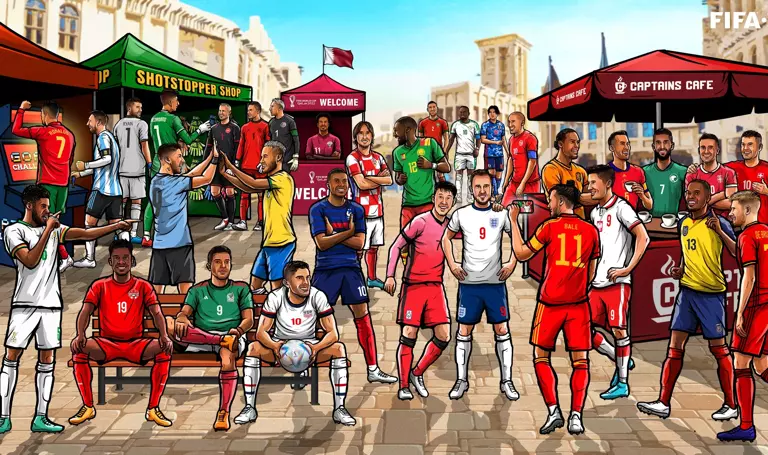 As the world's biggest sporting event is set to kickoff this Sunday November 20th in unfamiliar circumstances, let's look at the groups drawn for this years' FIFA World Cup in Qatar. The highly anticipated event is taking place in a fairly controversial venue that is the small, yet wealthy Middle Eastern nation of Qatar. The countries' controversial bid ridden with a variety of different scandals has lead to the first FIFA World Cup taking place in the Middle East. This means all the games will be taking place in the morning or early afternoon here in America. This time situation is not uncommon to regular American soccer fans but could take a bit of adjustment for new and unfamiliar fans. Nevertheless, let's get into the format of the tournament.
The classic format of the tournament is 32 nations drawn into 8 groups of 4 teams. The top 2 of each group after 3 round robin group matches will qualify for the single elimination Round of 16. The nations that qualified did so through continental qualifying from every continent of the globe as well as the host nation Qatar making their first ever World Cup appearance. The favorites are considered to be defending champion France, Brazil, and Argentina with Lionel Messi set to have his final crack at a chance to win his first World Cup. Other big contenders are England, Germany, Portugal, Spain, the Netherlands, and Belgium. Dark horse contenders are considered to be Croatia, Uruguay, and Denmark. The USA are making their return to the bigtime event after failing to qualify for the previous tournament in 2018. The team now looks night and day different from the last qualifying cycle. The USA boasts the 2nd youngest squad in the tournament, with many players playing for prestigious European clubs which is something quite unfamiliar with the US men's national team.
The tournament, although riddled with controversy surrounding FIFA and the host nation, is still expected to be a spectacular event that will capture the worlds' attention for a month. With that being said let's take a look at the groups and see who has the best chance to advance to the knockout stage.
Group A
Prediction:
1. Netherlands
2. Senegal
3. Ecuador
4. Qatar
Players to watch: Frenkie De Jong, Virgil Van Dijk, Memphis Depay, Kalidou Koulibaly, Moises Caicedo, Victor Estupinan
The main storyline in the first group besides the presence of the hosts Qatar is the unfortunate injury to Senegal and Bayern Munich superstar Sadio Mane. It's now announced that Mane will miss the entire tournamenttournament after picking up an injury in his final game for Bayern before the World Cup. With Mane I thought Senegal had really good value to actually win this group instead of the talented Netherlands team. Although Senegal are the champions of the African Cup of Nations, Mane is so important it could be a real battle for them to just finish 2nd now although they certainly still have the talent to advance.
Betting leans
Group B
Prediction:
1. England
2. USA
3. Wales
4. Iran
Players to watch: Harry Kane, Phil Foden, Trent Alexander-Arnold, Christian Pulisic, Gio Reyna, Weston Mckennie, Sergino Dest, Gareth Bale, Mehdi Taremi
The young, talented and inexperienced USA squad have to like the draw they were given in their return to the World Cup. England is very talented and are expected to win the group. However, the other two opponents leave a lot to be desired at this level. Wales have qualified for their first World Cup since 1958 and Iran qualified through the relatively weak Asian confederation and have a lot of internal issues going on in their home country. The first match for USA vs. Wales has enormous weight on it. A loss or even a draw going into the 2nd match vs. England will make things very difficult for the USA and would likely lead to a must win scenario vs. Iran in the final match. The young and inexperienced American squad with their highly scrutinized manager Gregg Berhalter will be under a fair amount of pressure considering their lack of qualification for the last World Cup. It should be fascinating to see how this talented young squad performs on the biggest stage.
Group C
Prediction:
1. Argentina
2. Poland
3. Mexico
4. Saudi Arabia
Players to watch: Lionel Messi, Angel Di Maria, Lautaro Martinez, Robert Lewandowski, Piotr Zielinski, Hirving Lozano, Edson Alvarez
Group C looks set to be a battle for 2nd place with just about everyone believing Argentina will win this group with relative ease. The battle for 2nd is expected to be between Mexico and Poland who meet in the first match. Mexico historically advances out of their group and loses in their first knockout match but that trend could end this time around. While Mexico has had their recent struggles, they are still a soccer loving country that is capable of an upset like they did to Germany in the last group stage. For Poland, there isn't a team in the world that wouldn't be scared of facing their superstar striker Robert Lewandowski who's been one of the worlds' greatest goal scorers for about a decade now. Mexico's best player and Poland's 2nd best player, Lozano and Zielinski, will put their alliance as club teammates with Italian leaders Napoli to the side and will likely play a huge role in who advances between Mexico and Poland along with Argentina.
Group D
Prediction:
1. France
2. Denmark
3. Tunisia
4. Australia
Players to watch: Kylian Mbappe, Karim Benzema, Antoine Griezmann, Kingsley Coman, Christian Eriksen, Pierre Emil-Hojbjerg
This group seems to be by far the most straightforward and predictable group covered thus far. France are defending champions and arguably the most talented team in the world. They are expected to win the group easily with Denmark finishing in a comfortable second. The Danish squad is deep at every position and have had some very impressive results recently so it's not impossible for them to surprise everyone and win the group over France. Tunisia and Australia are considered to be two of the weakest teams in the tournament and either side advancing out of this group would be a huge surprise. I'd give Tunisia slightly more of chance of advancing than Australia.
Group E
Prediction:
1. Spain
2. Germany
3. Japan
4. Costa Rica
Players to watch: Thomas Muller, Leroy Sane, Kai Havertz, Jamal Musiala, Pedri, Marcos Llorente, Ansu Fati, Aymeric Laporte, Daichi Kamada, Takehiro Tomiyasu, Keylor Navas
Group E is a very strong group highlighted by traditional powers Germany and Spain who have both won this championship relatively recently. While I would say Germany is the more talented team, Spain seem to play better as a team consistently as good as any other team in the world so I would not rule them out winning this group at all. Neither team is a guarantee to advance as Japan is a very exciting and talented team as well. They are the best team in Asia an have a serious challenge on their hands in advancing, but you should not be too surprised if they do. Costa Rica has clearly the least talented team in the group, but that really doesn't mean much as they were in an equally challenging group in 2014 and advanced. They did so through their defense, tactical discipline, and play of star goalkeeper Keylor Navas who will captain and lead the team as they try to shock the world again. Group E should be fantastic.
Group F
Prediction:
1. Belgium
2. Croatia
3. Morocco
4. Canada
Players to watch: Kevin de Bruyne, Romelu Lukaku, Eden Hazard, Luka Modric, Mateo Kovavic, Ivan Perisic, Marcelo Brozovic, Alphonso Davies, Jonathan David, Sebastian Eustaquio, Achraf Hakimi, Hakim Ziyech, Noussair Mazraoui
Group F will be another interesting group. Belgium are favorites to win the group and boast an incredibly talented squad. Croatia were finalists from the weaker side of the bracket in the last tournament and could make an argument of having the best midfield in the world with Modric, Kovacic, and Brozovic. While they don't have the best strikers or defense in the world, they can control possession against practically anyone. Canada have qualified for their 2nd World Cup ever and their first since 1986 so this is a momentous occasion for them. Their best player is Bayern Munich superstar Alphonso Davies who plays left back for Bayern, but will likely feature at right wing or maybe even striker for Canada. Davies tweaked his hamstring for Bayern recently but is expected to be ready for the first match. Morocco is a talented team that has a chance to advance, but it will be very tough to get ahead of Belgium and Croatia.
Group G
Prediction:
1. Brazil
2. Cameroon
3. Serbia
4. Switzerland
Players to watch: Neymar, Vinicius Jr, Sergei Milinkovic-Savic, Dusan Vlahovic, Dusan Tadic, Breel Embolo, Xherdan Shaqiri, Granit Xhaka, Frank Anguissa, Eric, Chupo-Moting, Karl Ekambi
Group G presents the most up in the air race for 2nd place. Brazil is expected to win this group easily with the other three teams having a pretty even shot at 2nd place. While I think Serbia is probably the most talented of the teams besides Brazil, facing the five-time champions in your first match will always make things very difficult. I think Cameroon is more talented than many people realize and could surprise Switzerland in the first match.
Group H
Prediction:
1. Portugal
2. Uruguay
3. Ghana
4. South Korea
Players to watch: Rafael Leao, Cristiano Ronaldo, Bernardo Silva, Joao Cancelo, Nuno Mendes, Luis Suarez, Federico Valverde, Rodrigo Betancur, Thomas Partey, Inaki Williams, Mohammed Kudus, Son Heung-Min
Cristiano Ronaldo's very poor start to his season with Manchester United as well as his recent interview with Piers Morgan where he slates his current club has made things tricky for this talented Portugal team. Some of his Man United teammates are in this Portugal squad which will make things interesting.
While Ronaldo is the all-time leader in men's international goals, he has had his worst club season ever. With Liverpool striker Diogo Jota injured, Ronaldo and AC Milan star Rafael Leao as well as Joao Felix will have to step up if Portugal wishes to fulfill their huge potential. Ghana's squad is sneakily very talented and have a bigger chance to cause a surprise than South Korea who will be relying heavily on Tottenham star Son Heung-Min.