No. 5 LSU stunned by unranked Texas A&M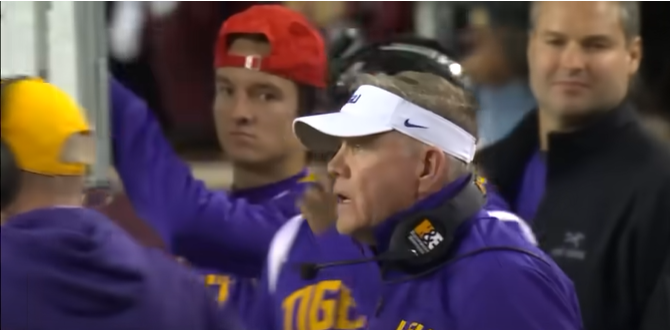 There are many who posit that No. 5 LSU's 38-23 loss to unranked Texas A&M last Saturday was an indescribable experience. I disagree.
LSU lost to a bad Texas A&M team after playing 60 minutes of uninspired football.
It's that plain. It's that simple.
The Aggies didn't do anything special to defeat the Tigers. There was no brilliant game plan or well-devised scheme that outsmarted the LSU coaching staff. Texas A&M simply ran the ball down LSU's throat for four straight quarters and beat the Tigers by being more physical on both sides of the ball.
Aggie running back Devon Achane totaled 38 carries (!) and rushed for 215 (!!) yards and two scores.
Texas A&M wide receiver Moose Muhammad III gave the LSU secondary fits several times and finished the evening with five receptions for 94 yards and a touchdown.
This was an Aggie offense that the Tiger defense showed no interest in tackling for much of the game, and the Tiger defense did not force a punt until the first drive of the third quarter.
Somehow, LSU was only down seven at halftime.
The Tiger defense finally forced a stop that did not result in any Texas A&M points, and the LSU offense responded with a nine-play, 71-yard touchdown drive.
With the score tied at 17 and another defensive stop on the following Aggie possession, it started to feel as though LSU was finally in position to take the lead and gain control of the game.
Unfortunately, LSU committed one of the most egregious errors any team can commit, especially when playing against a bad opponent. The Tigers allowed a defensive score.
On a read option play, LSU quarterback Jayden Daniels fumbled and the Aggie defense was there to scoop the ball and score the go-ahead touchdown.
Texas A&M never looked back.
With the loss to the Aggies, the Tigers have played themselves out of contention for a playoff bid, and they may have even cost themselves a New Year's Six Bowl appearance barring an upset win against Georgia this weekend in the SEC championship game.
LSU fans were rightfully disappointed despite a season that has exceeded almost all expectations set for Tiger coach Brian Kelly's first year at the helm.
While I have spent the entire season writing articles imploring LSU fans to maintain realistic expectations for the 2022 Tigers, even I must admit that losing to the worst team in the conference with so much on the line is thoroughly disheartening.
I do believe that Tiger fans, for the most part, still understand how special this season was and will no doubt appreciate the privilege of their team playing for the SEC championship this weekend.
However, there are many fans who went back to the same, tired talking points about this team, and many of their trite statements were regarding Daniels.
"He can't throw the deep ball."
"We'll never win a championship with him."
"He can't see open receivers."
"Last Saturday, he reverted back to the old Daniels."
"Let's hope Daniels doesn't come back for another year. I'm ready to move on."
This is a small sample of what I heard about Daniels from LSU fans, some of whom were most likely the same fans singing his praises after the Alabama game.
Some of these fans have always had these opinions about Daniels, but they had to keep their mouths closed the last month with almost nothing to complain about.
While Daniels has had his flaws this season, he was not the reason the Tigers lost. He didn't play well, but there really wasn't any player wearing an LSU jersey last Saturday that did play well.
Offensively and defensively, the Tigers just didn't have it while the Aggies treated the game like their Super Bowl. In sports, sometimes that's all there is to it.
If you are the type of person who desperately needs to pin your team's loss on someone no matter what the circumstances are, you may pin this loss on the coaching staff who simply did not have this team ready to play.
Kelly admitted to as much in his postgame press conference.
Not having this team prepared speaks more to the lingering nature of LSU's situation the past few seasons than it does to the caliber of the Tiger coaching staff though.
LSU has suffered from growing pains all year as the program has gone through the cleanse of the last coaching staff to regain its winning identity. Players on this team are still learning how to handle winning, a far more difficult task than anyone who has never played sports at a high level will ever understand.
With Kelly at the helm, losing to bad teams is more in LSU's past than it is in LSU's future. It does not take a rocket scientist to see that.
Patience must persist though.
The worst case scenario for the Tigers in their next two games is that LSU loses the SEC championship and the bowl game to finish 9-5. As deflating an end as that is, 9-5 is still remarkable considering what the program has been through in the last two seasons.
The best case scenario is that LSU wins its last two games which would mean an 11-3 record and SEC championship and Sugar Bowl crowns. If you're able to take a step back, it's remarkable that this scenario is even a possibility for the Tigers in 2022.
If the Tigers split their last two games, they will have achieved a 10-win season and brought home another trophy.
Yes, Saturday's loss stings and does sour what has been a phenomenal season to this point. However, there is still plenty to play for with a conference title on the line this weekend.
As time passes, I believe more Tiger fans will see the appearance in that game as the accomplishment that it truly represents.