LSU shows grit and heart in comeback win against Auburn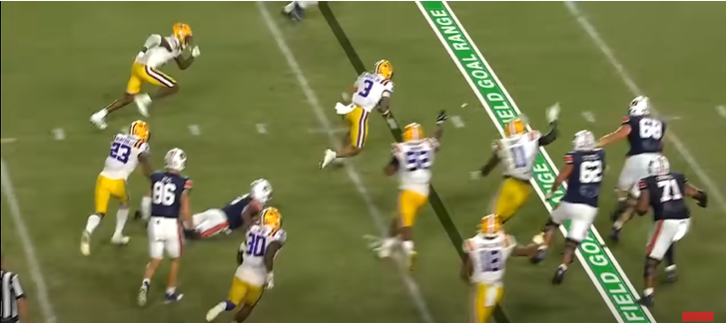 I triumphantly slammed my laptop shut after what seemed like a lifetime of studying for my accounting exam.
In reality, the amount of time I spent in a focused, uninterrupted mental state while reviewing the test material was probably several hours short of an appropriate length of time.
To continue to study was a fool's errand though. Sure, there were some concepts that I was shaky on, but a friend of mine who took the test a week prior told me what problem types made up the majority of the exam.
I hammered that specific material home for a few hours before retiring to my living room to rewatch an episode of the office that I had already seen a half-dozen times.
At the time, I believed that was a far better use of my evening.
When I sat down to take the exam the next morning, I realized that my accounting teacher had pulled a Houdini on the class. The problems that my friend claimed compromised a majority of the test were relegated to a small, postcard-section at the end of the exam. Instead, the problems I hardly glanced at the night prior took center stage.
I mistakenly thought that I knew for sure how the test would play out, and it was at that moment that I thought of a quote by Mark Twain that made me smile in spite of my imminent failing grade.
"It ain't what you don't know that gets you in trouble. It's what you know for sure that just ain't so."
The LSU Tigers were, at its peak, a 9-point favorite heading into Auburn's Jordan-Hare Stadium last Saturday night.
Vegas bookmakers knew for sure that LSU was a better team, and many fans of the purple and gold knew for sure that their Tigers would roll into Opelika, Alabama, to beat Auburn badly enough to run coach Bryan Harsin out of town.
And, it was all of what so many of us knew for sure that almost led us into trouble until LSU narrowly claimed a 21-17 victory on the plains.
Now, I want to make something clear. I don't think LSU coach Brian Kelly and the Tigers took their preparation for Auburn as lightly as I took studying for my accounting exam. The perception of Auburn being a weak football team definitely shocked Tiger fans on both sides of the ball though. This was especially the case when LSU found itself down 17-0 in the second quarter.
First, let's give credit where credit is due. If the heisman trophy was given out on a week-by-week basis, Auburn quarterback Robby Ashford would have certainly been a finalist. The redshirt freshman quarterback finished 19/38 with 337 yards passing, two touchdowns, and one interception.
Auburn wide receiver Koy Moore also had a banner day worth mentioning.
Moore was once an LSU Tiger who claimed that he transferred away because the coaches in Baton Rouge failed to realize that Moore was clearly a better receiver than LSU's Kayshon Boutte.
On Saturday, he was correct in some sense as he was an integral piece to LSU.
In fact, there was nary a Tiger on the field who was more responsible for the LSU victory than Koy Moore.
Moore threw an interception to LSU freshman linebacker Harold Perkins, and he later handed the ball to LSU safety Greg Brooks, Jr. to seal the win for the purple and gold.
I know I speak for LSU fans everywhere when I give my genuine thanks to Koy Moore.
However, there are more relevant matters to discuss in this game other than the play of a transfer wide receiver.
LSU's offense is an example of a far more interesting topic of discussion.
The purple and gold Tigers finished the day with 85 total passing yards, and Kelly acknowledged that the passing game must be better in his Monday afternoon press conference.
Part of the problem is that it seems Daniels is still developing trust with his wide receivers. Another issue, especially in the Auburn game, has been the amount of dropped passes from receivers. Offensive play call has also left much to be desired, and it often feels as though there's no sense of aggression or urgency from the team unless they are down by multiple scores.
Thankfully, LSU's defensive play has bought the offense enough time to get going in each of the Tigers' last two comeback wins.
When LSU needed a spark, junior defensive end BJ Ojulari forced a crucial fumble that senior safety Jay Ward scooped and scored the Tigers' first touchdown of the night.
Mekhi Wingo, Jaquelin Roy, and Jarrick Bernard-Converse all came up with big defensive performances in addition to the Perkins and Brooks plays that we already discussed.
The Tigers weren't completely dismal on offense as running backs Josh Williams and John Emery, Jr. answered the call and worked together to establish the first semblance of a consistent rushing attack for LSU this season.
And, while Daniels wasn't spectacular through the air by any definition of the word, he continues to do enough to win games for this football team.
The passing game and overall offensive execution must be better though, and Kelly mentioned as much in his Monday presser.
"Heart and fight will not win games against the opponents that we're going to have over the next month or so. We're going to have to have better execution," said Kelly on Monday. "We're going to have to coach better."
I see no better time to start executing and coaching better than this Saturday at 11 AM in Tiger Stadium when the No. 8 Tennessee Volunteers roll into town, and it looks like the team agrees.
On Monday night, Daniels called a players-only meeting between the quarterbacks and wide receivers to presumably discuss the offensive issues that have plagued the Tigers through the first portion of the 2022 season.
The opportunity for LSU's offense to get on track against Tennessee will be available as the Volunteers tout one of the worst pass defenses in the country.
If the Tigers' defense continues to hold the line in the face of Tennessee's prolific passing offense, LSU will be a solid offensive showing away from upsetting a top-10 team at home in Tiger Stadium.
The world will have to see such an LSU offensive performance to believe it though. Right now, football fans seem to know for sure that the Tigers won't take aggressive shots through the air to push the ball down field.
If that's the case, hopefully Mark Twain's quote will ring true once again.