LSU handles Miss. State in front of a less than capacity Tiger Stadium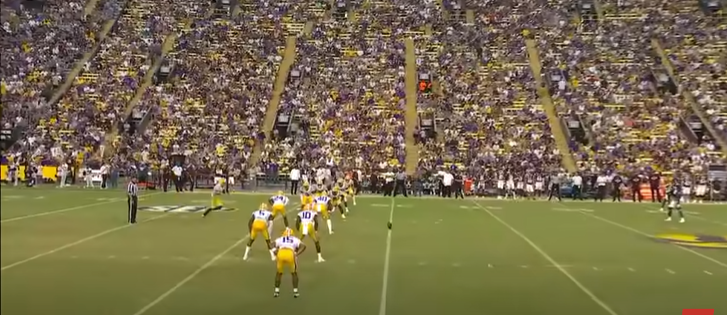 The gravitational forces slammed against my body as all of the potential energy that took seconds to build up transferred into kinetic energy just as quickly.
As I swung from one end of the carnival's pendulum ride to the other, my stomach felt as though it fell from a skyscraper.
These types of dramatic swings that make fair and circus rides popular are fun for weekend thrill seekers, but are far less enjoyable from LSU fans.
LSU defeated Mississippi State 31-16 last Saturday in Tiger Stadium to improve to a 2-1 record and 1-0 in Southeastern Conference play.
After the Florida State game this season, many Tiger fans were ready to write this team off. Some of those fair-weather fans might have been the same ones who predicted LSU to have 10 wins or more at the end of 2022.
The fan base's deflation probably correlated to the lack of attendance for the Mississippi State game.
To put it frankly, it was embarrassing to see a sparsely populated upper deck in Tiger Stadium. This is a fanbase that prides itself on the environment that they create for home games on Saturdays in the fall, yet they couldn't be bothered to show up for LSU's SEC home opener with a first-year head coach.
Make fun of the Texas A&M Aggies and their midnight yell all you want, but thousands of fans pack the bleachers the Friday night before a home game to watch non-football players make cringeworthy puns about that week's opponent. That dedication to such a perennially mediocre football program is worth at least a tip of the hat.
I'm sure the pendulum is already swinging in the other direction for LSU fans though. I'm sure the same fans that were checking out on this team after week one are telling their coworkers at the water cooler how exciting it is to watch this Tiger team make improvements this season.
There is reason for renewed optimism. The Tigers' win against Mississippi State hit the spot like a Cane's box combo on an empty stomach.
LSU defensive coordinator Matt House's game plan against the Bulldogs' air raid offense was nearly perfect and the unit as a whole came out ready to execute. Defensive back Jay Ward made plays all over the field and finished with a team-high 11 tackles and one interception. Micah Baskerville, Harold Perkins, Jr., and Major Burns all anchored the Tigers at linebacker, and BJ Ojulari added constant pressure to Mississippi State quarterback Will Rogers.
Offensively, LSU started the game sluggish after choosing to receive the opening kickoff, and the situation was bleak for the Tigers until the last drive before halftime. Down 13-0, the Tigers managed to find the scoreboard before heading into the locker room thanks in large part to the legs of LSU quarterback Jayden Daniels.
The transfer quarterback ran for big gains on several attempts and capped off the final drive of the second quarter with a touchdown strike to wide receiver Jaray Jenkins.
There are many who are still criticizing Daniels' propensity to run before making all of his quarterback progressions on the field, and this is a fair critique. There were several times when receivers were left wide open when Daniels decided to tuck and run, though his decisions to run still resulted in efficient plays for LSU.
However, I have no doubt that Daniels will continue to progress, especially as his young offensive line improves. True freshman Will Campbell and Emery Jones were the Tigers' bookends at offensive tackle, and both played exceptionally well.
Both LSU and Mississippi State traded field goals to begin the second half of play, and a defensive battle ensued for the rest of the third quarter.
LSU's second-half spark didn't appear until Mississippi State muffed a punt that Tiger long snapper Slade Roy recovered inside the Bulldog 10-yard line. It was all Tigers after that as LSU scored 21 unanswered points in the fourth quarter to ice the game.
Some LSU fans will be unimpressed with the Tigers' handling of Mississippi State. Others will take their newfound optimism and use LSU's next loss to as an excuse to not support the team by going to games.
These will be the same "fans" lamenting about how bad this year's football team was after a 7-5 or 8-4 finish at the end of the season. Do not lose the forest for the trees Tiger fans. LSU's win against Mississippi State is something to be happy about, especially because of the team's progression in such a short amount of time. However, the journey through the gauntlet of the team's SEC schedule has only just begun, and it is sure to increase in difficulty.
Do not allow yourself to be the fan on the emotional pendulum. Continue to support the Tigers whether the team is experiencing a satisfying win like Mississippi State or the inevitable soul-crushing losses that await LSU in the future.