Countdown to Kickoff: Predicting the 2022 LSU football season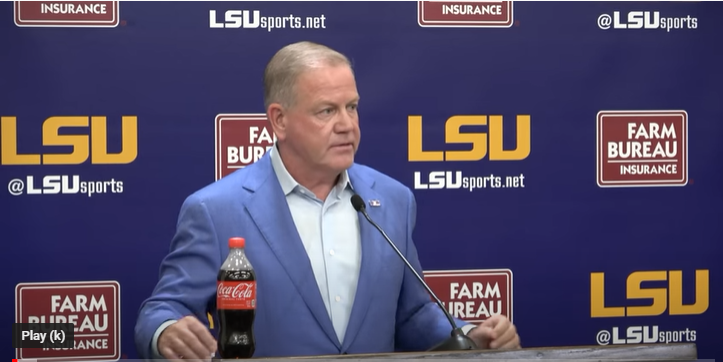 The 2022 college football season is finally upon us, so what better way to conclude our countdown to kickoff series than with a game-by-game prediction of the upcoming season. Please note that the following predictions and opinions are my own, so if you have complaints about my pessimism please forward them to [email protected]
Florida State: Tigers win
This was a game I had more doubts about earlier in the summer, but the more I look at the matchup the more I like it. While I believe the young Tiger offensive line will struggle against Florida State's defensive front, I do believe that whoever coach Brian Kelly decides to start at quarterback will make enough plays on his feet to get the ball out to the receivers. The Seminoles will not have enough depth at defensive back to compete with the likes of Kayshon Boutte, Malik Nabors, Jack Bech, and Jaray Jenkins. I like LSU to start the season with a win in this virtual home game.
Southern: Tigers win
It will be a clash of Baton Rouge teams in LSU's first official home game, and it will be the first time these two programs face each other on the football gridiron. Look for the Tigers to jump to a 2-0 start in this historic matchup, but the real winners of the game will be the fans who stick around to see both bands perform at halftime.
Mississippi State: Tigers win
LSU will take on the Mississippi State Bulldogs at home to begin Southeastern Conference play in 2022. This will be an interesting game, as there are many pundits who are think highly of the Bulldogs this season. Mississippi State is returning many of their offensive starters including quarterback Will Rogers, and the Bulldogs are number one in the SEC in returning players on defense who contributed to the team's production in 2022. However, returning starters on a team that went 7-6 last season should not scare Tiger fans. I have LSU in a close one with home field advantage pushing LSU across the finish line.
New Mexico: Tigers win
I'm not even going to waste your time to talk about this one. Tigers win.
Auburn: Tigers (of LSU) win
This was a close call for me. I can really see this game going either way. LSU will be on the road for this matchup on the plains, and games at Auburn are always tough to win. The biggest factor in my decision to name LSU the winner in this year's edition of the Tiger Bowl comes from the fact that TJ Finley has been named the starting quarterback for Auburn. In the end, LSU's defense shouldn't have trouble shutting down the pass game as the defensive back group, many of whom are playing with one another for the first time in their careers, will have gelled together by the time this game kicks off. I have LSU winning in a close, coin-flip type of game.
Tennessee: Tigers lose
That's right. I have LSU's first loss of the season coming at home against Tennessee. This isn't your father's Tennessee team folks. The Volunteers will have some serious offensive firepower at their disposal this year especially with redshirt senior Cedric Tillman at wide receiver. Apparently Tennessee's defensive depth has improved from last season, but I'm sure there are fans that will remain skeptical on that front. Unfortunately, the Volunteers may have any depth and rotational issues. If this game becomes an offensive shootout, I don't see LSU keeping pace despite being at home.
Florida: Tigers win
There's no denying that the Gators have some playmakers on both sides of the football. However, those more familiar with the Florida roster have cited depth as a serious issue facing the Gators this season. Fans are also curious to see exactly how first-year Gator head coach Billy Napier and staff acclimate to the SEC. While one could argue that LSU will be faced with similar problems this year, I think Kelly and staff have done a better job than the Gators at filling positions of need in the transfer portal. The Swamp is a tough place to win, but I think LSU quarterbacks Jayden Daniels and/or Garrett Nusmeier will be up for the challenge.
Ole Miss: Tigers lose
At the end of the season, I think the LSU-Auburn game is one that fans will look back on as a win when it could've just as easily been a loss. However, football seasons are also filled with games that teams should've won but didn't. I think this Ole Miss will be one of those games. The Rebels were the only team in the country that did a better job than LSU at hitting the transfer portal this offseason, and one notable acquisition is Ole Miss's new running back by way of TCU Zach Evans. While Rebel quarterback Jaxson Dart is probably going to be a far cry from Matt Corral, I think he along with Evans will be enough to best the Tigers in Death Valley.
Alabama: Tigers lose
This may be the best all around team Crimson Tide coach Nick Saban has ever had. I shouldn't have to say much more than that. Alabama fans should enjoy these last few seasons of dominance against LSU because, to quote country singer Darius Rucker, it won't be like this for long.
Arkansas: Tigers lose
I realize that I'm  predicting a real rough patch in the LSU schedule right now. Arkansas would represent LSU's third-straight loss, but I can't worry about hurt feelings in predicting these games. Yes, wide receiver Treylon Burks is no longer with the Razorbacks, but coach Sam Pittman has said they plan on replacing Burks "by committee," and they may actually have the committee to do so. Matt Landers is one of those receivers and has some SEC experience after spending four seasons at Georgia. Oklahoma transfer Jadon Haselwood is another receiver that the Razorback staff likes. Arkansas has also bulked up on the offensive line and slimmed down on the defensive line. Talent in these areas coupled with the return of quarterback KJ Jefferson spells bad news for the Tigers.
University of Alabama at Birmingham: Tigers win
This will be a game where the commentators start arguing about whether or not hot dogs and tacos should be considered sandwiches and casual fans stop watching before halftime. LSU wins handedly.
Texas A&M: Tigers lose
In the final regular season matchup of the year, LSU hits the road to play the Aggies. I understand the propensity for coach Jimbo Fisher and Texas A&M to constantly disappoint Aggie fans. I realize the amount of 8-4 jokes that plague the internet in reference to the record purgatory that Texas A&M has found itself in frequently the last few seasons. However, there is no way any objective fan can compare the rosters of these two teams and tell me LSU is better. The Aggies should have the talent to go toe-to-toe with the likes of Georgia and Alabama this year which, if true, means the Tigers will be ending the 2022 regular season with a loss. 
Final prediction: I have LSU at a 7-5 overall record with a 3-5 record in conference play. While that might not be the season that Tiger fans want, it's a realistic expectation of a team with a new coaching staff who had to scramble with transfer portal additions to field a competitive roster this year. Yes, LSU is still talented at key positions and may have the best wide receiver corps in the country. However, fans expecting a 10-2 or 9-3 season after two consecutive seasons of .500 football are reaching in this writer's opinion. While I will be happy to be proven wrong, Tiger fans should take the 2022 football season for exactly what it will be: a step in the right direction for the LSU program in the coach Kelly era.