"Bigger Than Football": LA Natives Jarvis Landry, Tyrann Mathieu Make Immediate Impact on Community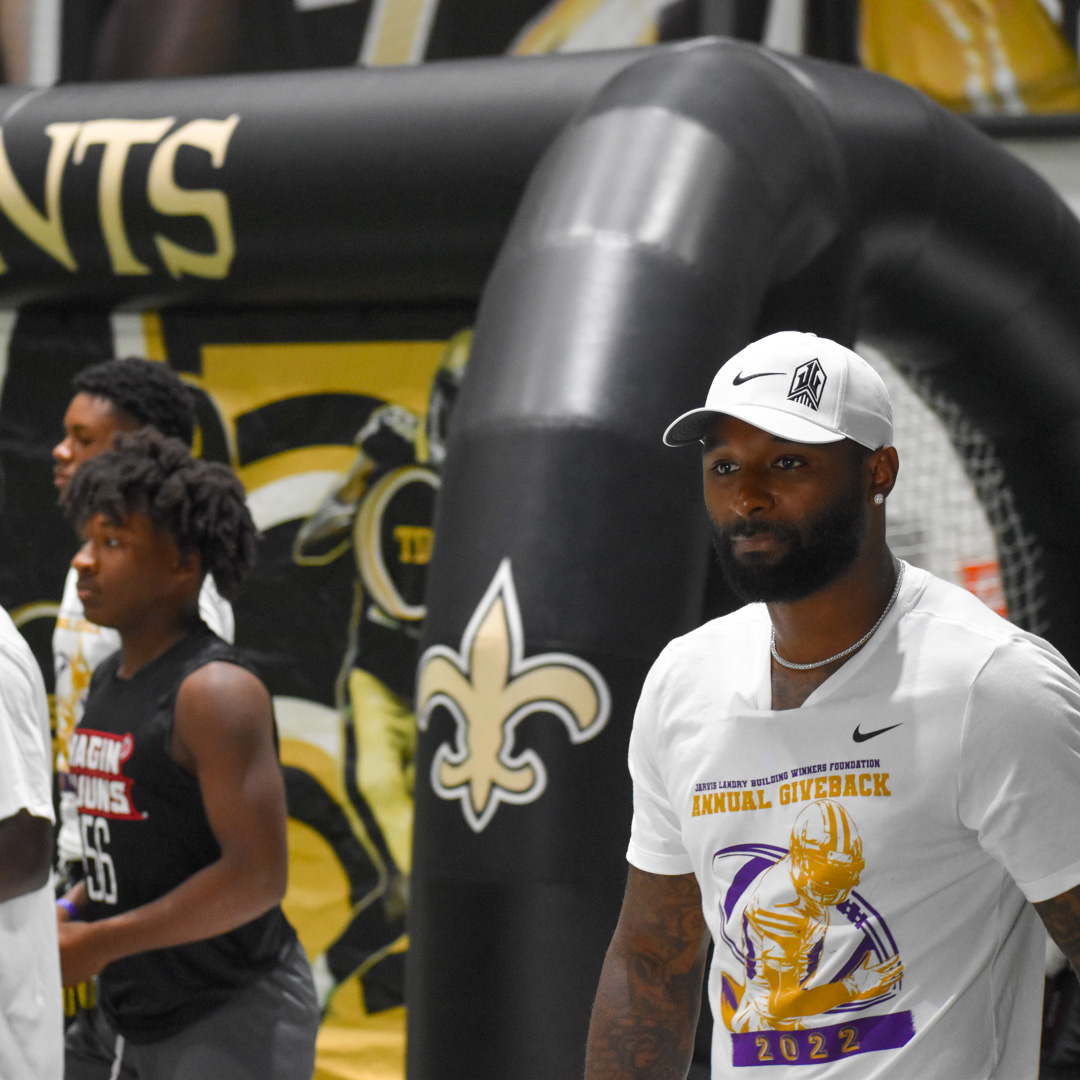 Keimani Borne left today's camp with more than life lessons and football tips. Jarvis Landry's foundation awarded the 2022 Lutcher High graduate with $5,000, a new TV, and a laptop as she begins her college journey in August. Borne earned the annual Building Winners Foundation Scholarship, and, like every camper, received a free Domino's Pizza lunch as well as a custom backpack with school supplies, goodies, and a T-shirt.
Landry, a Lutcher alumnus, is the most recent free agent signing for the Saints; and he, along with St. Augustine alum and fellow LSU Tiger Tyrann Mathieu, has already followed up on their promise to give back to New Orleans and the youth of surrounding communities. The Jarvis Landry GiveBack football camp started in 2015, but this year, the 6th annual event came with a surprise for the 11-17 year-old campers. It was the first year the camp was in the Saints practice facility, as the last five years were held at Lutcher High School. What would 12-year-old Jarvis Landry think about that?
"He'd be proud," said Landry of his 12-year-old self. "I set out to do this. I've done this in every community I've been in — Cleveland, Miami, and here at home. So, he'd be proud."
The scholarships, goodie bags, and life skills mean more than anything to Jarvis Landry and his camp committee.
"It's bigger than football. And I wanted to make sure that it's extended to Lutcher High School because that's where I grew up. That's where my legacy started."
Tyrann Mathieu hosted kids K-9 last Sunday for his annual Heart of a Badger youth football camp at the Ochsner Sports Performance Center. Both Landry and Mathieu invited varsity players and coaches from their respective alma maters to help lead the camp as counselors. The leadership from these two men in Black and Gold is what makes New Orleans, and the Saints, so special.
In such short time, "Juice" and "Honey Badger" worked with Adam Fournier, the Saints senior coordinator of community engagement, to make their camps happen on Airline Drive.
"It's great to have them back home. We love supporting our players, getting out in the community, and especially bringing kids who aren't from our local area – out in Lutcher – here in our facility. We're big on culture, and for any of our players, as soon as they come here we make sure we build a relationship with them. We make sure what they want to do to impact the community is met. New Orleans is ingrained with the Saints, our team, and Mrs. Benson of course, so we love to help as much as we can."
Saints training camp kicks off on Wednesday, July 27.