LIVE: New Orleans Pelicans Select Dyson Daniels 8th Overall, E.J. Liddell 41st, Karlo Matkovic 52nd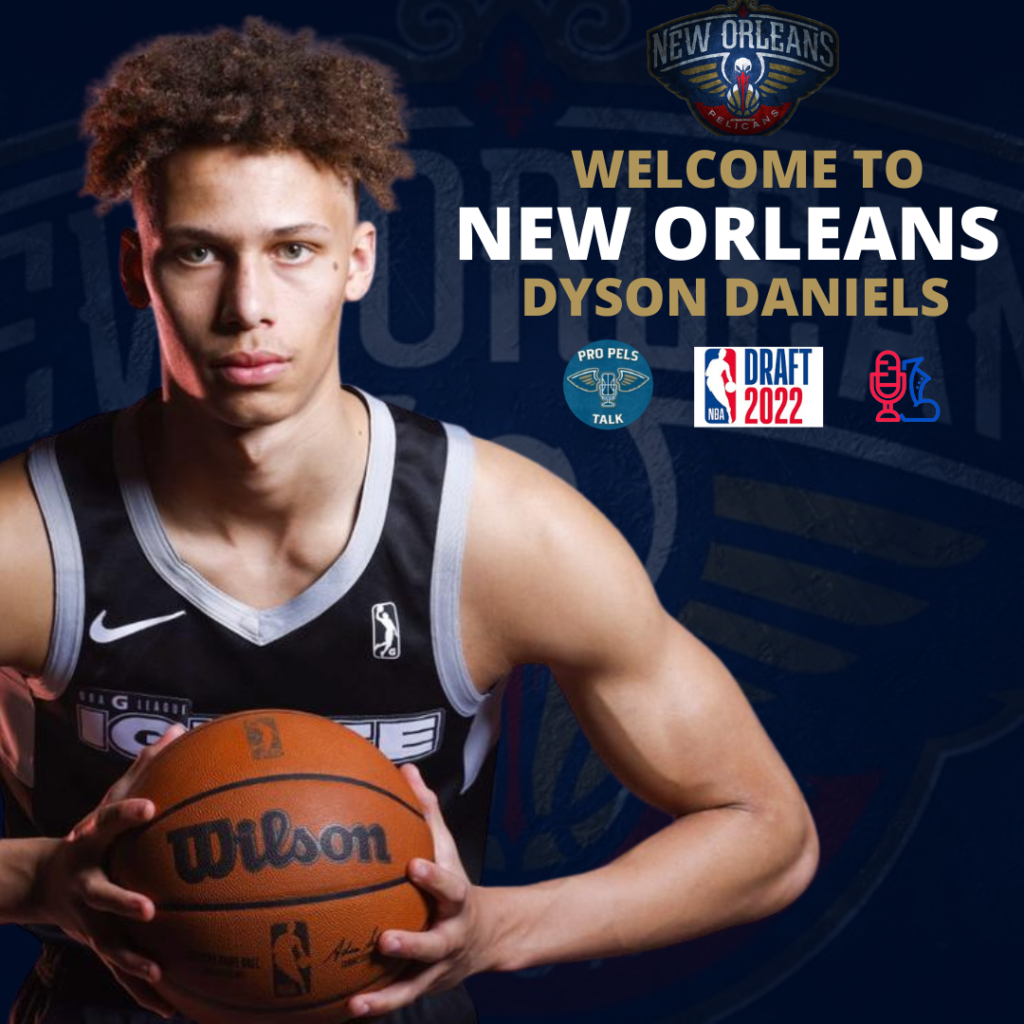 LIVE 2022 NBA DRAFT UPDATES (FIRST 10 PICKS):
Duke's Paolo Banchero was selected first overall by the Orlando Magic.
The Thunder took Gonzaga's Chet Holmgren 2nd overall.
Auburn's Jabari Smith went 3rd to the Houston Rockets.
The Sacramento Kings select Iowa's Keegan Murray 4th overall.
Jaden Ivey from Purdue goes 5th to the Detroit Pistons.
Pacers take Benedict Mathurin in the 6th spot.
Trail Blazers select Shaedon Sharpe.
With the 8th pick of the 2022 #NBADraft, the New Orleans Pelicans select Dyson Daniels
With the 9th pick of the 2022 #NBADraft, the San Antonio Spurs select Jeremy Sochan.
The Knicks are trading the No. 11 pick to OKC, who will select Ousmane Dieng, sources tell ESPN.
NEW ORLEANS, LA – When C.J. McCollum joined the Pelicans in February, the Pelicans lost their first two games and were 22-34. McCollum and Brandon Ingram would lead a young squad to a 16-12 finish and a chance to make the playoffs. They won their two elimination games, entered the playoffs as the No. 8 seed in the West, and challenged the top-seeded, CP3-led Suns to six games before falling in a best-of-7 series.
Since then, the NBA and Pelicans Twitter world has seen the progress and maturity of Zion Williamson, who has not only immersed himself into the city of New Orleans on a philanthropic level, but who appears to be absolutely jacked and ready to prove himself as a Comeback Player of the Year in November.
Tonight, Williamson, Ingram, and McCollum welcome at least one new player to their squad. Boot Krewe Media's Jack Culotta projects that the Pelicans will draft Dyson Daniels.
The 8th pick was acquired from the Los Angeles Lakers in 2019 along with guards Lonzo Ball and Josh Hart, forward Brandon Ingram, the draft rights to the fourth overall pick in the 2019 NBA Draft, De'Andre Hunter, and two future first round draft picks (2022 & 2024 or 2025), in exchange for forward Anthony Davis.
Notable 8th overall selections in the modern era include:

o Jaxson Hayes (2019)
o Collin Sexton (2018)
o Kentavious Caldwell-Pope (2013)
o Terrence Ross (2012)
The Pelicans hold the 8th, 41st and 52nd overall picks in the 2022 NBA Draft.
Notable 41st overall selections in the modern era include:

o Pat Connaughton (2015)
o Nikola Jokić (2014)
o Jodie Meeks (2009)
o Willie Green (2003) – Pelicans Head Coach
Tweets by TalkCulotta