We've Only Just Begun
We started off 1-12. Let that sink in, you know how hard it is to cover a team and do a podcast on a 1 and 12 team? It's really hard. We were selling shirts for $10, just trying to get engagement from the fan base. I was running out of topics to talk about, but I was never in a bad spot mentally.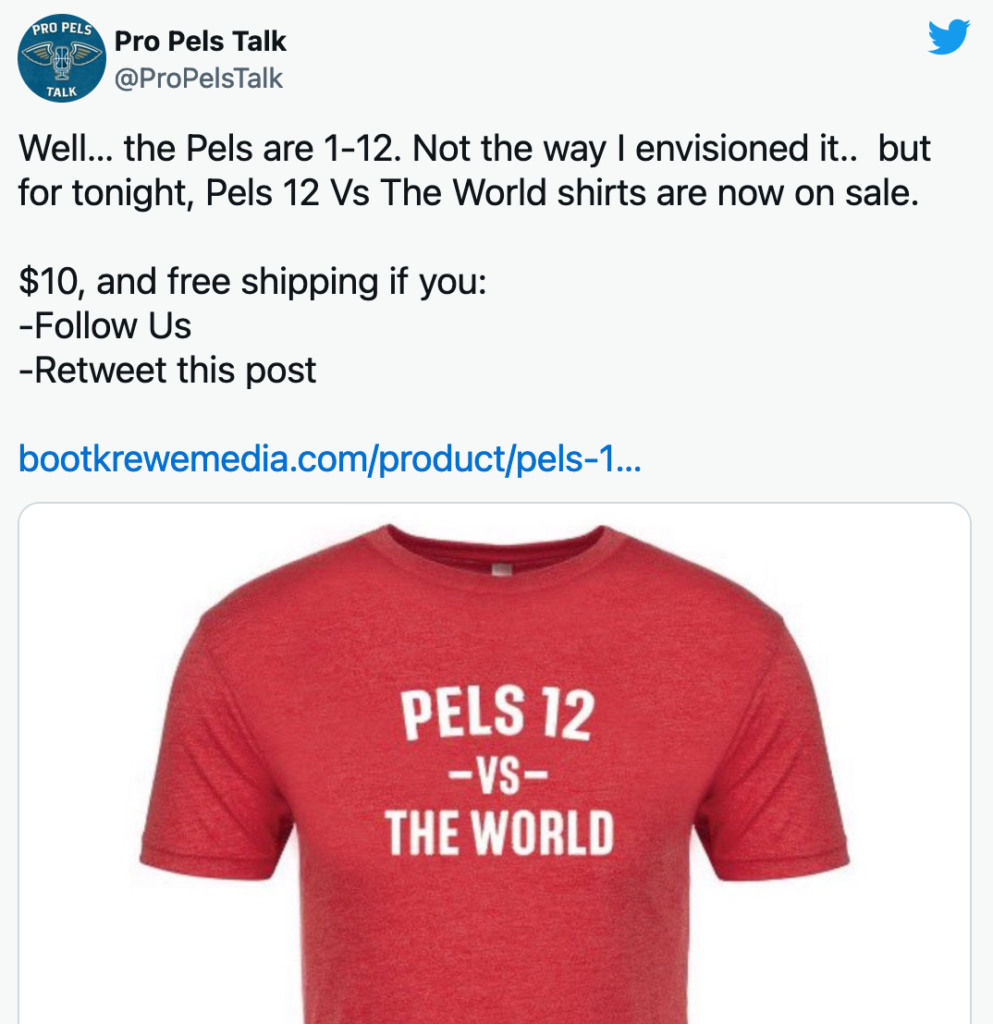 The easiest thing to do in life is to give up, but New Orleanians are not built that way. It just isn't in our DNA. I knew this was different from years past. I saw passion, I saw leadership and I saw players giving it their all even though they were 3-16. SEE! Here is proof. Fucking locked in on a Wednesday morning before Thanksgiving. Why was I so locked in? Because of Willie Green
Willie Green
Body language on a player and a coaching staff tells me everything I need to know about a basketball team and how sound the culture is. With this team, No matter the result, they had good body language. They were always locked in, trying to make the right play, competing their asses off, communicating with each other and most importantly… giving EFFORT.
You know why they gave effort? Because of Willie Green. Willie Green believed in these guys. He didn't care the record, he knew this team was trending in the right direction. When you have someone that believes in you, you will do anything for that person. That goes for anything that wants to be accomplished in this life. When someone believes in you, it pushes you even more because you don't want to fail that person. That is what Willie Green did not only for the Pelicans, but for the City of New Orleans. He believed in this franchise, he believed in this city and most importantly he believed in himself.
I remember watching Pelicans basketball last year and just looking around at how miserable everyone was. SVG was not the right leader for these young guys, some guys didn't want to be here and we had to watch Eric Bledsoe stink it up for 48 minutes.
They needed a players coach, a coach that they could communicate with and be real with. Enter Willie Green. Willie Green is someone they trust. You know why? Because they actually have a relationship with Willie Green. They know that Willie Green actually cares about them as basketball players but most importantly as human beings. There is one story that stuck out to me and it was the benching of Devonte' Graham. Instead of telling him at the facility he was being benched, Willie drove to his house and told him. That is very rare for a coach to do that, I promise you. But, that is why these guys love him. They know that he has their backs.
It started in Summer League and continued all the way through their first ever playoff run together. Willie Green is the main reason why this culture has changed. He wanted a team that was resilient and represented the city of New Orleans. I am proud to say today, that this is exactly what this team is. Resilient. From Brandon Ingram to Jose Alvarado these guys represented this city in a perfect fashion, they never gave up. They got knocked down, they got punched in the mouth, but they would get back up and keep fighting. That is how you change a culture, by always fighting.
Antonio Daniels
Thank god for this man. Are you kidding me? I am going to keep this short, but understand I could write about 15 pages on just what he has meant to this franchise, city, fan base and most importantly me.
I never shared this story with any of you. A while back AD DM'd us asking for a Pels 12 shirt. At first I am thinking to myself, holy shit AD just hit us up, how cool is that? What happened next, I never thought in my wildest dreams would happen. I told him, whatever shirt you want let us know your size, your money is no good here. He then said I got you. So we sent him his shirts and that was that. I thought to myself just how cool the experience was to have him reach out to some nobody's like us because he liked our shirts. That was more than enough for me. 4 Days later, he sent us this.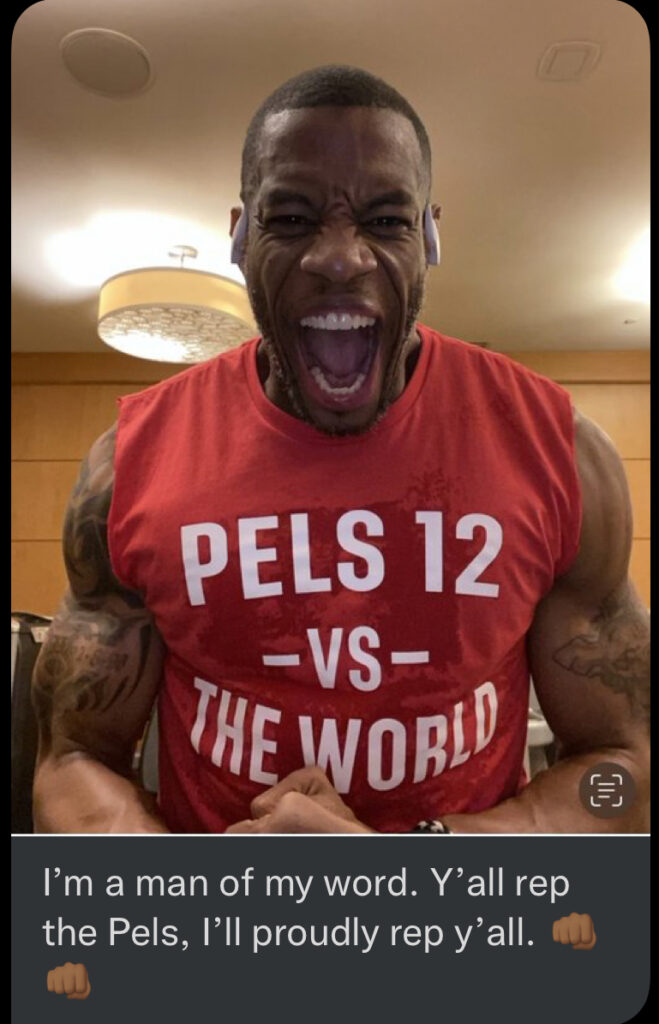 Throughout the years the Pelicans/Hornets always felt distant from their fan base. They don't now, and that is because of Antonio Daniels.
He takes time out of his day to communicate with us via twitter or spaces. When he is not on Twitter he is promoting and defending our Pelicans on a national media platform. How many times has he gone on Colin Cowherd's show, Ryen Rusillo's show or any other national podcast and defended our city and our organization? He has been a blessing to this franchise. He has connected us fans with the organization in a way we have never seen before and to be honest, he makes us feel special. I am sure at least once he has either tweeted with you, liked one of your tweets or even retweeted one of your tweets. Before him no one else did that for us, so thank you AD. Thanks for always having our backs.
RECEIPTS
This fan base had to deal with: "Zion wants out", "Move them to Seattle", "New Orleans is not a basketbal city", "They have 12 fans" and so on.
Instead of us letting this bother us, we turned it into the start of a movement, The Pels 12 Vs The World mentality was born, The Pels 12 group was started and many more fans became connected to each other. This movement has also made me lifelong friends in the process. If you are with us, great. If not, get the fuck out. I just had to get one last jab at Perkins and JJ, sorry.
TURNING POINT
Enter, CJ McCollum.
I read a tweet the other day that CJ McCollum would be as important to this Pelicans franchise as Drew Brees was to the Saints franchise. I thought that was crazy, but then I realized how true it was.
Drew was an unbelievable talent on the field. But why did so many people love him? Because he EMBRACED the city when no one else would. Well, CJ McCollum has done the same thing. He is an unbelievable talent on the court, but we love him because he has embraced us since day 1. CJ wanted to be here. He chose US. You know the saying: "If you love New Orleans, we will love you back." Well CJ, we love you.
Right when he got traded, he instantly started asking where the best restaurants were and connected with the fans on social media.
But there was always one dark cloud hanging over this organizations head during the season. Where was Zion Williamson? We all know the train wreck that was media day. We do not need to get into that. We knew he was in Portland, rehabbing away from the team but no one had heard from him in months. Then, All-Star weekend happened.
This was a planned reaction from CJ McCollum. The way he went about it was perfect. He said some nice things about Zion and how good they could be, but then CJ dropped a bomb that Zion has not reached out to him yet since being traded. This set off a chain reaction of multiple national media members calling out Zion Williamson and how naive he was being during this entire process.
This was something the Pelicans were missing. A veteran leader who was a stud on the floor but also someone who has been through it all and knows how to handle/communicate with teammates during these kind of adverse situations. He was holding his teammates accountable. This moment here changed the entire outcome of the season. From this point forward, the team, the franchise and the fan base all grew together as one. After this moment, Zion returned back to New Orleans, The 12 grew, the city was buzzing and the Pelicans went on a playoff run.
JUST THE BEGINNING
The run was magical. They swept the Lakers, and now control their top 10 pick LOL. They took down the Spurs in a win or go home situation and did the same thing to the Clippers in LA 2 days later. They gave the Suns 6 tough ass games in the first round. They never rolled over or bowed down to them. There was a point in time where I saw that this was the best 8th seed this league had ever seen. The Blender was absolutely electric and this town for the first time ever was a Pelicans town, not a Saints town. Memories that will last a lifetime were made from this team. I will never forget F*ck Jae Crowder chants or Cam Payne telling me he is rich after a 2-10 performance.
I will never forget our T-Shirt business starting because a former player said we had 12 fans. I will never forget the best rookie draft class in franchise history, I will never forget Brandon Ingram becoming a superstar, I will never forget the birth of Not On Herb, I will never forget the friendships that were born from covering this team and I will never forget how we changed the culture and narrative around this team.
They fell short, but guess what? They never stopped fighting, they never stopped growing and this city finally turned into a basketball city. The future is so bright.
There are so many people to thank, but most importantly, thank YOU. Thanks for listening to us and interacting with us on a daily basis. Thank you for all of your support, thank you for buying our shirts and most importantly thank you for changing the culture. Pels 12 Vs The Entire World. We've only just begun.