The Space Between: Loyola Wins 2022 NAIA National Championship
A life free from anxiety is a very sought-after one. A sports life free from anxiety is rarely ever found. But that's okay. It means you care. It means there is more work to be done.
In my six short months as a podcaster, I have made mistakes, stumbled on my words, lost bets, and/or failed in predicting the outcome of a sports contest. I wish I could've bet on last night's National Championship game. But this article isn't really about me. This article is about Stacy Hollowell and Loyola basketball. This article is about how blessed I am to have been able to interview him and other coaches and players who see success the same way, as "the constant and idealistic striving towards the perfection of fundamental detail."
In a similar way, guests I've been lucky enough to feature on my show are men who have reached a top level of their craft — namely Derek St. Hillaire and Tim Duncan (UNO), Myles Brennan and John Brady (LSU), and Myles Burns and Stacy Hollowell (Loyola) — and in front of the camera, under the lights, they each show an amazing amount of poise. But when the door is closed, my guess is that they each face moments of anxiety. Even Coach John Brady, despite what he told Stacy Hollowell on March 18, 2022, after Loyola advanced to the NAIA Elite 8.
It was an interesting dialogue. Funny and light-hearted, yet interesting…and necessary.
Coach Hollowell told me in a text how much it meant to him, to have John Brady hop on for a surprise visit and a few words of wisdom. My takeaway from that dialogue was this:
A life free from anxiety is a very sought-after one. A sports life free from anxiety is rarely ever found. I would venture to say that, only at the pinnacle of one's sports career, after they have walked away, they can begin to live a life free from anxiety.
I would venture to say that even John Brady, despite having retired from coaching basketball, feels a sense of anxiety sitting alongside Chris Blair and commentating LSU basketball on the radio. Nevertheless, as Coach Brady told Coach Hollowell, "I didn't know there was a life without anxiety. There is one out there, Stacy. No pressure, no anxiety, that's where I am. And you'll get there one day, and you'll win a national championship."
Stacy Hollowell is long away from that life, for Stacy Hollowell is not even close to reaching the pinnacle of his career.
Myles Burns will have that feeling again, that "I want it to mean more" feeling, because Myles Burns is not even close to the pinnacle of his career.
The same goes for Loyola seniors Zach Wrightsil, Terry Smith, Jr., and Andrew Fava,
The same goes for Loyola basketball in general. It was a long time coming, but it was worth the wait. And the work. Coach Jerry Hernandez, the longtime athletic director and head basketball coach, discussed that work Tuesday night during the game. Mike Giorlando, former athletic director and head basketball coach, was in Kansas City with a front row seat to watch his former assistant Stacy Hollowell make Loyola New Orleans history, becoming the first Wolfpack head coach to win a national title since 1945 when Jack Orsley did it. And the second … ever. Save that of knowing Loyola was the only Louisiana school with one national championship in basketball, and now they have two.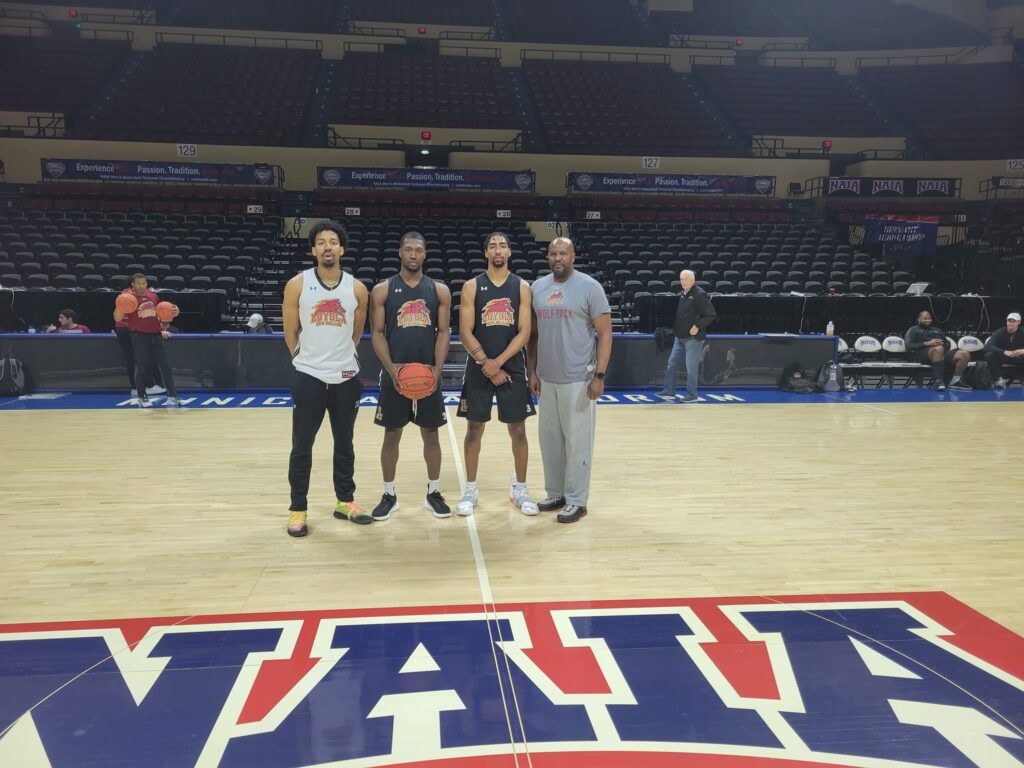 And while Giorlando was there in person, Coach Hernandez was sitting right next to me at Barrel Proof on Magazine Street. He said, "Excuse the tears," as he watched the clock tick down from 10 to zero.
POWERFUL MOMENT: Former Loyola AD/Head Coach Jerry Hernandez tearing up as he counts down the final seconds. @LoyolaWolfPack just won their 2nd national championship, first one being in 1945. Long time coming, worth the wait! @BootKreweMedia @StacyHollowell @BDSIMPSON9 pic.twitter.com/wXkJ53IbWC

— Jack Culotta (@TalkCulotta) March 23, 2022
And as the current athletic director Brett Simpson tweeted last night, the 1945 championship banner will no longer stand alone.
One might say they should leave a bit of space between it and the 2022 banner, to remind them of the work that went into it. I think they should put them right next to each other, to remind them how much space remains for the next one.