Demario Davis is incredible and NFL officiating is not
In a twist we should have all seen coming as the Saints offense continues to flounder, the real star of 2021 has emerged: linebacker Demario Davis.
He's been around since 2018 and anyone who watches the Saints regularly knows he's definitely the most underrated linebacker in the NFL, but now it's clear beyond the shadow of a doubt that he's the heart and soul of the team.  You heard it here first: if the Saints go on a run and win the Super Bowl and Davis is a major factor in that run, he will go down as the greatest linebacker to ever play in New Orleans, leapfrogging the Dome Patrol and leaving Jonathan Vilma in the dust.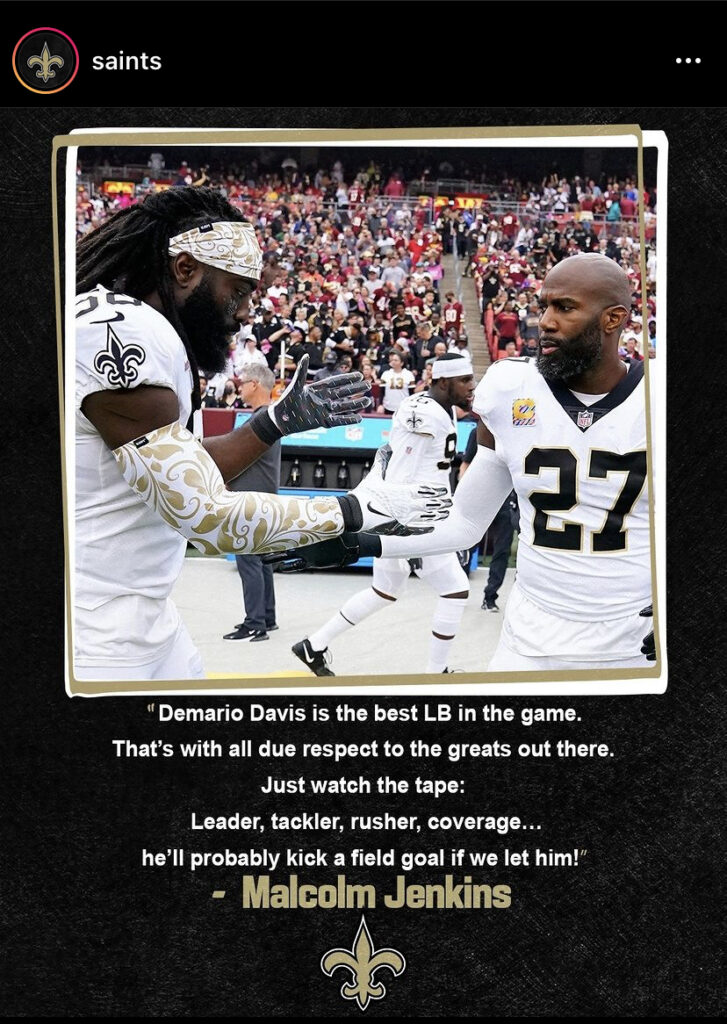 Davis had 10 tackles, 2 sacks and 4 tackles for loss (and nearly had a pick-six on the final defensive snap) while almost single-handedly willing the Saints defense to a winning effort in a 13-10 poopfest – I mean win – in rainy Seattle Monday night.  But maybe calling the game a poopfest is a little harsh because while the offense struggled once again, the defense looked incredible.
If the Saints had even one offensive weapon outside of Alvin Kamara (51 rushing yards, 10 catches for 128 yards and a TD), they might run the table behind the strength of the defense. At this point, I would take the husk of Willie Snead and am genuinely excited to have Mark Ingram back in the fold.
Removing DK Metcalf's fluke of an 84-yard touchdown on the Seahawks' second drive, the Saints held the home team to only 45 yards passing. 
I will let that stat sit there in a 'graph on its own.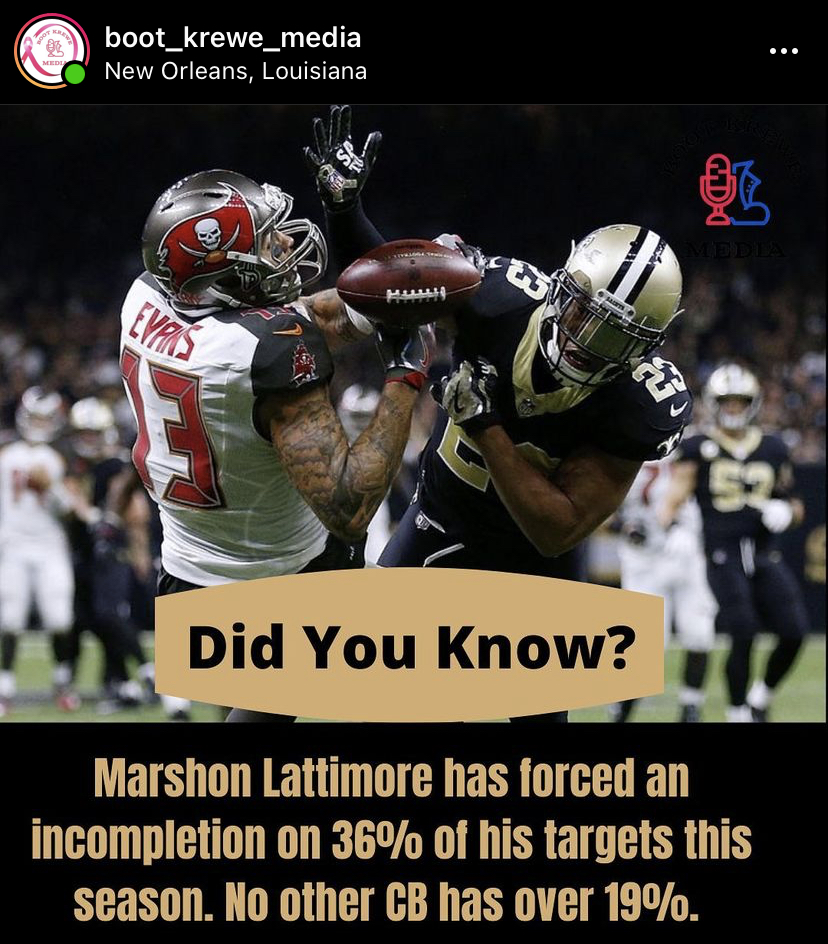 But speaking of that touchdown, what a fluke it was.  Metcalf, who is perhaps the scariest looking receiver in football, committed the single most obvious instance of offensive pass interference I have ever seen.  He – quite literally – stiff-armed Marshon Lattimore to the ground in plain sight of the entire officiating crew.  Then, just like Ben Stiller's eponymous Detective David Starsky tough-talking a dead body, Metcalf proceeded to talk trash to Lattimore for the rest of the game, as if he had actually accomplished something worthwhile.
How does something like that happen? Again? (You know what I'm talking about.)
How can grown men and women who allegedly have functioning brains miss calls like that?  Why, every year, in every game, is there a bad call?  Why is the fate of a multi-billion dollar sport left to the questionable judgement of these people?  Why do we not have a sky judge?  Why is there not a remote committee waiting to quickly review any and all questionable calls?  Why have we not put computer chips in footballs to precisely determine the spot of the ball?
Sure, baseball still uses real umpires.  But their accuracy calling balls and strikes is pretty amazing.  It's uncanny to watch them correctly call a strike that just kisses the outside edge of that square graphic on your screen that comprises the strike zone.  In fact, the typical MLB ump is about 94% accurate calling the rulebook strike zone.
These umpires can read pitches coming at them at speeds over 100 miles per hour, yet when a 6'4, 229-lb receiver illegally shoves another player to the ground in front of a national audience, the refs eat their flags and the lumpy boomers farting around in the league office just shrug and leak another set of emails to #cancel someone that they've probably known for decades was not a great person.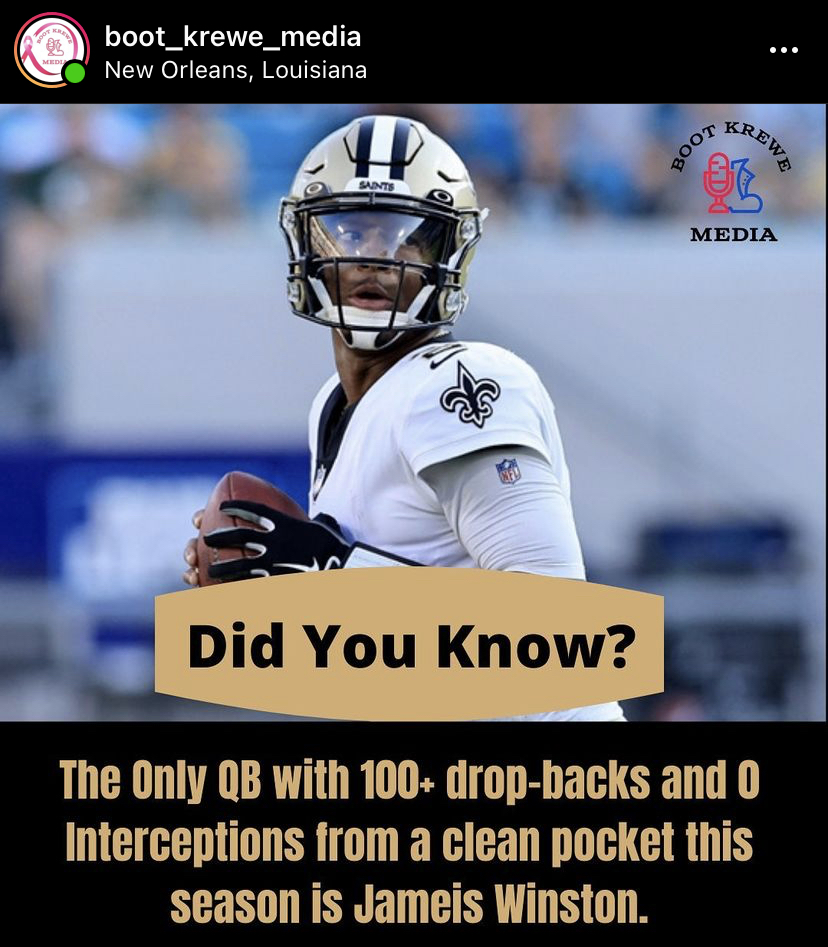 I guess that's the beauty of the 2021 Saints as they sit at 4-2, currently good enough to be a Wild Card team in the first season post-Drew Brees. They're good enough to overcome crap like that.
If they can avert such officiating disasters, then surely they can stop Tom Brady and the Bucs.
We're on to Tampa Bay.