The Case for Each Coach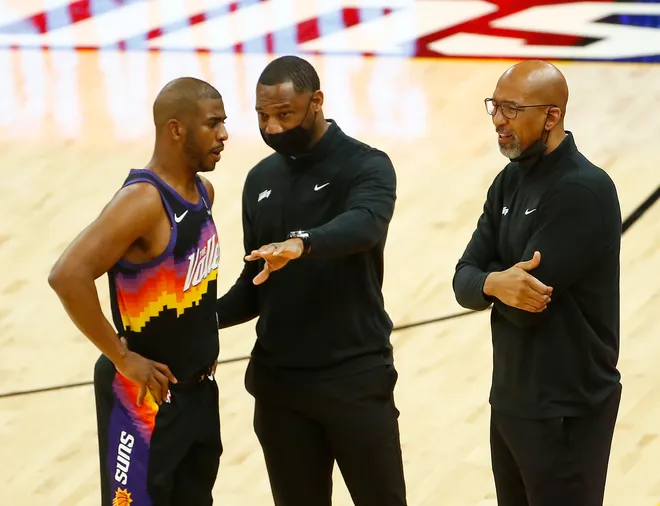 It's been roughly three weeks since Stan Van Gundy and the New Orleans Pelicans parted ways. The organization remains in the process of finding his successor, just one season after he was brought in to lead the young, up-and-coming franchise.
Since his firing, rumors have swirled regarding who the Pelicans' next choice would be to fill the void left by the long-time NBA head coach. Names like Charles Lee from the Milwaukee Bucks, Jacque Vaughn from the Brooklyn Nets and Chauncey Billups, formerly of the LA Clippers initially surfaced.
After Vaughn withdrew his name from consideration to return to the Nets' staff and Billups was given the Portland Trail Blazers job, Lee appeared to be the clear favorite. The Bucks assistant was a part of the interviewing process in 2020 after the firing of Alvin Gentry, and has been viewed by many to be the presumptive favorite for the position going into the 2021-2022 season. 
But two other names have since come to the forefront of the conversation — Willie Green, lead assistant with the Phoenix Suns, and Fred Vinson, Pelicans' longtime assistant.
All have their qualifications, and all have earned the right to be interviewed for the position. But this hire is pivotal for the future of the franchise in New Orleans. Brandon Ingram (possibly along with Lonzo Ball and Josh Hart) will be on his fourth coach in four years. For Zion Williamson, it will be his third in three years. This is not a recipe for success, nor is it conducive to building a "sustainable winner" as David Griffin loves to reiterate.
Several factors jump off the page when it comes to the hire, as Van Gundy made it obvious his coaching style was not a good fit with the Pels — relatability, communication, cultivating buy-in and the ability to earn the respect of the team, to name a few.
Let's take a look at what each candidate brings to the table.
Willie Green
If the Pelicans were to approach this hire solely from the vantage point of bringing in a coach who will be loved by his players, Green would be the easy choice.
On Boot Krewe Media's Pelicans Plus podcast, Duane Rankin of the Arizona Republic detailed the effect Green has had in Phoenix when it comes to the newly established culture with the Suns. He cited two stories that display Green's capability in forming relationships with players but also holding them accountable.
"In game six against the Lakers, (Paul and Green) were talking during the game, and Green told him in the fourth quarter 'Hey, you've got to do something. You've got to put your imprint on this game. You have to do something to help us win,'" Rankin said. "Paul then had a stretch in the fourth quarter where he helped put the Suns over the top. (Between 9:55 and when he exited the game with 30.6 seconds left, the former Hornet put up four of his eight total points and five of his 12 assists for the game). … For Chris to respond to that and do what he does, that right there is Willie Green having a relationship with guys."
Second, Rankin describes what Green has brought outside of games in Phoenix: "This guy still practices with the team," Rankin said. "I can remember him and Devin Booker playing one on one last season after practice. … It's more of Booker on offense and Green on defense where they work on his post-game or whatever, but this guy is 39 and he's still doing that! … He is still engaged. He's still got that competitive edge. He can relate to these guys on a level that would earn respect immediately."
Green, a former New Orleans Hornet, brings much more than a feel good story to New Orleans, though.
During his tenure in the Valley, Green has had a large impact on instilling defensive principles on a team that was previously horrid on that end of the court. Over the course of the postseason, Green has the Suns ranked second in defensive rating. This after facing the Los Angeles Lakers and LeBron James, the Denver Nuggets and MVP Nikola Jokic and the LA Clippers and Paul George. Mention the injuries to Anthony Davis, Jamaal Murray and Kawhi Leonard as a large reason for the highly ranked defense and one would have a point — but still. The numbers aren't irrelevant.
For a more holistic reference, Green's defensive influence had Phoenix ranked fourth in defensive rating (108.1), seventh in defensive efficiency (1.075) and ninth in opponent shooting percentage (46 percent) over the course of the regular season. The Pelicans ranked 24th in rating (114.9), 23rd in efficiency (1.104) and 16th in opponent shooting percentage (46.9 percent) in 2021. The turnaround the Suns made on defense is clearly indicative to what Green is capable of cultivating, and the Pelicans obviously need it. 
Fred Vinson
There's one major advantage for Vinson that no other coach around the league has — he's been with the Pelicans organization for ten years.
Vinson, who joined the staff during the Monty Williams era, has stuck with both Alvin Gentry and Van Gundy, and has been the one piece of continuity for New Orleans over that time frame. With a team that has seen so much turnover over the last decade, having Vinson stick around and take the highest position on the coaching staff would show how much they value what he's done and will continue to do for the Pels. He's also seen what did and didn't work under each head coach with this roster. as Will Guillory of The Athletic referenced here:
"Unlike most other candidates, Vinson got to see first-hand what worked for Zion under Gentry and what worked under Van Gundy. I've been told Vinson would favor the free-flowing offense the team ran under Gentry and having someone who was around during that time would make it easier to insert some of those concepts immediately."

Pelicans coaching search: Is Fred Vinson ready to make the jump to head coach? / Will Guillory, The Athletic
On top of that, the continuity he'd bring after the constant coaching and roster turnover from the last two years could be invaluable to this roster filled with young talent. The new coach will have a lot of work to do either way, and Vinson already knows the roster — their strengths, weaknesses and personalities. 
The former pro has most notably been the coach to finally unlock both Ball and Ingram's 3-point shot as well as drastically improving their respective free throw percentages. For Ingram, his 3-point percentage jumped from 33.1 percent in 2018-2019 to 39.1 in 2019-2020 after more than tripling his attempts per game (1.8 to 6.2). His free throw percentage also took a massive leap between those two seasons, as his 67.5 percent skyrocketed to 85.1 percent. Lonzo's 3-point percentage jumped from 32.9 in 2018-2019 to 37.8 this season, along with 41.7 percent in 2018-2019 to 78.1 percent from the free throw line. A 36.4 percentage point hike in two seasons. That is absolutely otherworldly. 
"The percentages tell you a lot," Ingram told Jen Hale in a post-practice interview. "I've shot the ball from the three a lot more here, but that's all in the confidence Fred gives me every single day in the stuff that he does and his workouts."
Vinson is damn good at what he does for the Pelicans. He's shown that if the players follow his lead, they'll get better. Ball and Ingram hold him in high regard, but the centerpiece of it all, Zion is a big fan as well:
Vinson has his home in the Big Easy — in his relationships with the players, but also becoming a part of the city as well. In an interview with Jen Hale, he described why he loves the Crescent City: "My family and I are so blessed to be here in the New Orleans area," he began. "It starts with the culture of the city, the people. … The fans are very loyal to their home teams, and that's great to see and be a part of. Also the food. … It's home for us."
Lastly, in an interview with the NBA Coaches Association, Vinson had this to say: "I want to win an NBA Championship. I want to win whether I'm an NBA head coach or assistant coach. I want to know what that feels like. You see it, you have friends who have won, and you see how excited everybody is. … I want to be a part of that."
Charles Lee
As stated when Lee was first discussed, many people believed the Bucknell graduate to be the heavy favorite going into the hiring process this offseason. Especially after Vaughn dropped out, it would have been difficult to imagine someone else getting the job. Throw in quotes like this from an article by Kevin Arnovitz, and one could imagine the collective Pelicans fan base foaming at the mouth:
A former pro overseas in Israel, Belgium and Germany, Lee got his coaching start at his alma mater in 2012 as an assistant, after spending two years working for Bank of America Merrill Lynch on Wall Street. Following two years with the Bison, Lee began his NBA career, joining Mike Budenholzer's staff with the Atlanta Hawks. Budenholzer, previously an assistant with the San Antonio Spurs, had connected with Lee during Summer League play in 2006. He played with the Spurs that summer, but was cut prior to the start of the season.
Lee ultimately followed Coach Bud after he took the head position with Milwaukee in 2018.
In his tenure as an assistant with both the Hawks and the Bucks, Lee has coached the likes of Paul Millsap, Kyle Korver, John Collins, Malcolm Brogdon, Giannis Antetokounmpo, Khris Middleton and Jrue Holiday. The talent varies significantly in that group, but Lee has participated in and observed each of these players develop their game in one way or another.
Antetokounmpo and Middleton are the big names here, largely because Zion and B.I. often receive comparisons to the duo. These two young stars need a coach who can aid in figuring out the dynamic between the two, like Milwaukee did with their two stars.
Jordan Treske of the Win in 6 podcast and Behind the Bucks, also joined Pelicans Plus to discuss what Lee would bring, and he had this to say on the topic: "Knowing that Charles saw front and center how that works with (Antetokounmpo and Middleton), I think that's very replicable in New Orleans with Zion and Ingram, and — to a lesser extent — how the supporting cast can build around that, too."
For comparison's sake, Taylor Jenkins — head coach for the Memphis Grizzlies — was who Treske likened Lee to: "I think that's a similar guy you can look towards and see with Charles Lee. There are pieces (in New Orleans) that Lee can tap into and unlock further. He can be the voice that they need for where they are — from scratching at the surface of playoff contention to something greater than that."
The final advantage for Lee is his age — the Washington D.C. native is only 36 years old. After two years with coaches over the age of 60 at the helm, the Pelicans need a young, dynamic personality and mind leading the way. As referenced previously, Van Gundy wasn't the easiest guy to get along with. Lee, with his youth and gravitas, would be a breath of fresh air among the current group in New Orleans.