Damian Lillard: A Different Story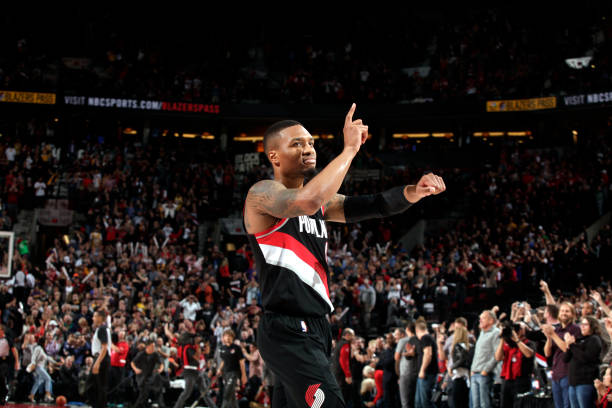 I still cannot believe what we witnessed last night. Damian Lillard put on the performance of the ages. One of, if not the greatest individual playoff performance of the 21st century. And like one of the other best, Lebron in the 2018 finals, it came in a devastating overtime loss. With seemingly someone putting up 40 every night in the high powered modern NBA, it takes something special to qualify as an offensive masterpiece.Typically, when one of the leagues superstars scores 40 plus we hear "the defense was awful" "he got to the line 10 plus times" "he got lucky" "he's on a superteam". However, last night none of these excuses applied; Damian Lillard was pure genius in a way that we simply don't see. Even current NBA players were enraptured by the show Dame Time, with Kevin Durant tweeting "God Mode" and "This is a Spiritual Experience". Damian Lillard finished the night with 55 points, 6 rebounds, 10 assists, but it was the eye test that made it so special.
Ironically, yet unsurprisingly, the NBA put all of their marbles on the Lakers and Suns being the primetime game. It got the TNT national game time slot/coverage while the Blazers/Nuggets Game 5 was resorted to NBA TV. While the Lakers lost by 30, after what may have been the worst 2nd quarter in NBA history, the Blazers and Nuggets dueled it out as they have all series. Two seasons ago these two teams went 7 with the Blazers knocking off the Nuggets in 7 games, and now this year the series has lived up to the promise shown back then. The stars on both sides have been out every night of the series, putting up mythical stat lines and demanding the ball in crunch time moments. Damian Lillard often gets punished for his litany of historical playoff moments being in the first round, but unfortunately his supporting cast has never quite done what it's needed to do. Lillard came into Tuesday night with two career buzzer beaters to win the series (Rockets 2014, Thunder 2019). In the Bubble/playoffs last season Lillard was incredible. This series, he has been good. No one, not a soul, was prepared for this.
Damnian Lillard shot 17-24 (12-17 3p) all while turning the ball over once in 52 minutes. Any time he would catch his team up from a deficit, the Nuggets would pull away to near double digits again. Lillard did not flinch. Now the embodiment of clutch performances, Lillard has long established himself as the most clutch player in the NBA. Long a subjective measure, there are now analytics to back it up. Lillard, this season, led the league in clutch points, fg % in the clutch, and ft % in the clutch. These are facts. For someone with this kind of resume, it is hard for them to do something unbelievable. Somehow Dame did. His 3 to force overtime was a lot to handle…he then followed that up, down 8 in overtime, with a fleury of highest level of difficulty 3's including a stepback in which he appeared to get fouled that sent the game into a second OT. The 3's were the kind of difficulty where you'd typically doubt the conclusion, but the player shooting and the level of hot he had reached made things a foregone conclusion. Sadly for Dame, in the 2nd OT, various mistakes from teammates ended the potential comeback hopes.
It was greatness personified and if he never goes on a championship run it might just be what some remember him by. As mentioned before, with already two series sealing buzzer beaters, nothing is very out of the ordinary for Lillard at this point. His cold stare while being big piled after his series winning shot over Paul George is one of the most iconic images in modern NBA history. We need to see this Blazers run continue so we can continue to watch this absolute cyborg of a player continue to break hearts. Down 3-2 vs a strong Nuggets team, it will take every ounce of Dame Time to come out of this series on top.