Can B.I. and Zion Carry This Team To The Playoffs?
Last weekend I hit rock bottom with this team. After a brutal 1-5 road trip, the Pelicans faced a Minnesota Timberwolves team that was without Karl Anthony Towns AND D'Angelo Russell. I thought to myself no way we would lose this game, it wasn't even possible.
I was wrong. The Pelicans lost to a G-League roster 120-110. Jarred Vanderbilt who has a career average of 2 PPG dropped a double double on the Pels. He had 16 points and 11 rebounds. I was appalled by not only the effort, but just the lack of urgency this franchise had. I understand it was a long road trip that featured both Los Angeles' teams, a back to back in Utah and the Kings, but this loss was inexcusable. I can't stand losing so I took to twitter.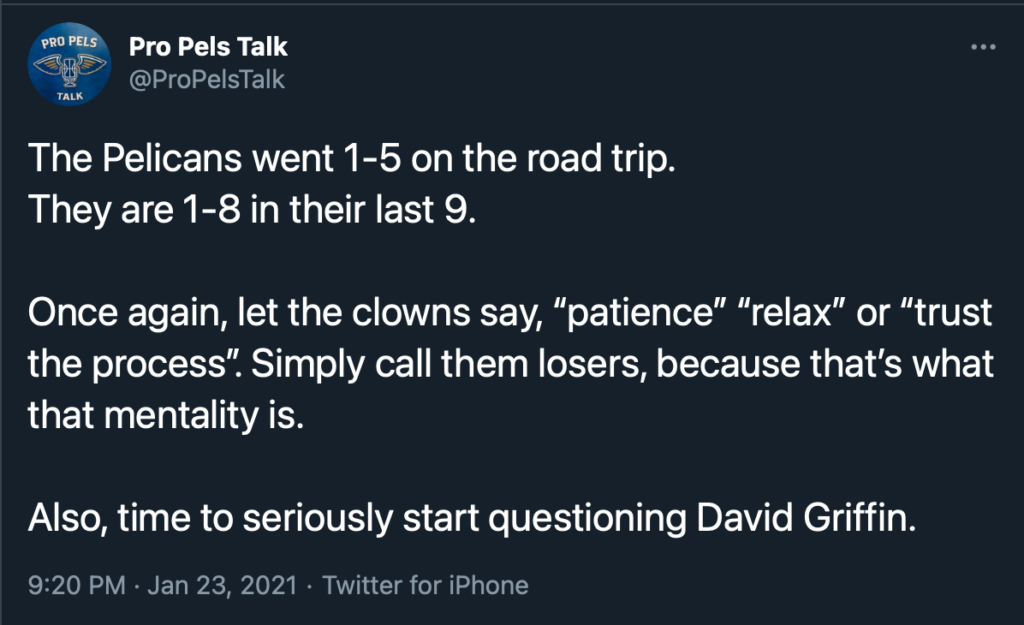 Was it an overreaction? Maybe, but I am sick and tired of the "fans" that are OK with losing. When the Saints lose, it's anarchy. The Saints are a perfect example of a changing culture. Once Brees and Payton got here, losing was not an option. When the Pelicans lose, everyone says be patient, relax or just don't care. I have seen this team lose a bunch over the last decade. In the past 10 years the Pelicans/Hornets have finished last in the division 6 times. Until fans start holding this franchise accountable and losing is not an option, they will continue to be in this forever rebuild. We have been in a rebuild ever since Chris Paul left.
I have seen ALL TIME talents Chris Paul and Anthony Davis request a trade to get out of New Orleans. Why? Because superstars want to WIN. With Chris Paul, they had a great run from 2007-2010. They made the playoffs 3 out of 4 years and took the Spurs to 7 games in 2008. I still have a clear vision of Janero Pargo missing that wide open corner 3 late in the game to tie it. By 2010, the team had lost everyone from that team. The Hornets were not going to resign West or Chandler. Peja was going to retire and Morris Peterson was like 67 years old. Once West went to the Pacers, CP3 requested a trade because he knew this team was about to rebuild. CP3 was eventually traded to the Clippers. CP3 didn't want to lose anymore.
Enter Anthony Davis. In 7 years, Anthony Davis won 0 division titles and made it to the playoffs twice. In his career as a Pelican he went 5-8 in the playoffs. Dell Demps tried everything to surround AD with talent and unfortunately he just failed. The Pelicans were never healthy. Ryan Anderson, Eric Gordon, Omer Asik, Solomon Hill, Demarcus Cousins and Tyreek Evans were all flops. Jrue Holiday was a great get for this franchise, but Holiday and AD never seemed to be on the same page until that Portland playoff series. Gordon didn't want to be here, Asik got the Plague and basically died, Solomon Hill was horrible, Ryan Anderson was kind of a tool and Demarcus Cousins has never been the same since the Achilles injury. Demps mortgaged the entire future for those guys and the plan failed. Davis was done losing, so he requested a trade. First year out of New Orleans? Championship.
Enter Brandon Ingram and Zion Williamson. Zion is averaging 24 a game as a 20 year old, shooting 58% from the field. Do you know how ridiculous that is? There have been 3 players to average 25 a game at 20 years or younger. Their names? Lebron James,Kevin Durant and Luka Doncic.

Zion has one move, no jump shot and no right hand. Yet he still drops 25 on your head a night. Defensively, he is a nightmare but has gotten better these last 4 or 5 games. His close outs are still weak and he is still lost on rotations, but he is 20! He will get better.
Brandon Ingram is averaging 24 a night, shooting 48% from the field and 40% from deep. B.I. is a walking bucket. He can score from all 3 levels, but once again everyone questions his defensive ability. We can both agree that these 2 are the leaders of this franchise. They are both SPECIAL offensive players, but defensively they have to get better.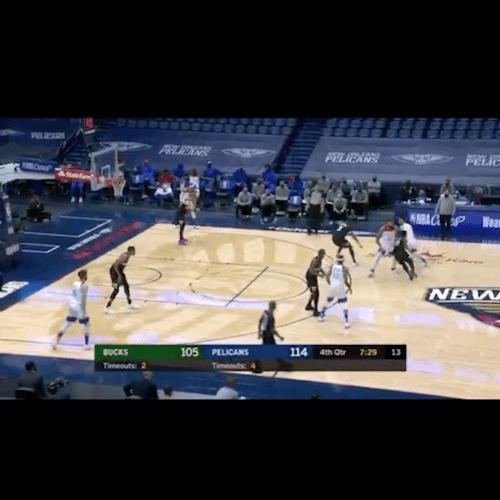 In their last 3 games, Ingram is averaging 30 PPG, shooting 55% from the field and 41% from deep. Zion in his last 3 games is averaging 24 PPG, shooting 55% from he field and grabbing 7 rebounds during this stretch.
I want Zion and B.I. in New Orleans for the next decade. I am so tired of seeing All NBA players be drafted by this franchise and wanting to leave by year 6. You know how you fix that? You start WINNING.
I do not expect this team to win a championship this year, but this team is talented enough to be a fringe playoff team in the Western Conference. Getting any type of playoff experience for young superstars such as Ingram and Williamson is so beneficial for their growth. These 2 guys are good enough to carry this team to a playoff appearance and that is what I expect.