Mistakes No More, Lattimore: Payton Turner saved Marshon Lattimore's behind
Lattimore committed two late penalties in the final minutes of Sunday's game that nearly costed the Saints in their comeback win over the Falcons, 27-26.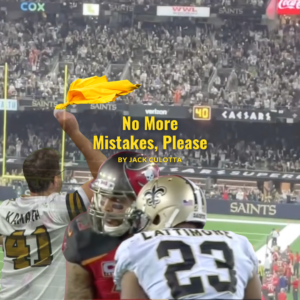 New Orleans Saints cornerback Marshon Lattimore earned the NFL Defensive Rookie of the Year award four years ago. Since his first meeting with the Buccaneers, number 23 has gone at it with Tampa Bay's number 13, Mike Evans, who wears the same jersey number and has the same name as Saints' wide receiver Michael Thomas. As many have seen from his Twitter username, Thomas is not afraid to let the opposing cornerback know that he cannot guard him. "Can't Guard Mike" is a competitor. So is Mike Evans. So is Marshon Lattimore.
Being "too competitive" is something we hear as kids on the playground. Lattimore committed two late penalties in the final minutes of Sunday's game that nearly costed the Saints in their comeback win over the Falcons, 27-26. Maybe Lattimore was just being a little "too competitive," but in his rookie season he had already been on the receiving end of a personal foul. That was a learning opportunity.
Marshon Lattimore vs. Mike Evans, A Learning Opportunity
It was November 5, 2017, Week 9, in the Superdome. The 5-2 Saints were embarrassing the 2-5 Bucs. With 8:28 left in quarter three, the Black and Gold led, 30-3, after scoring an insanely fast two touchdowns in — wait for it — 20 total seconds.
2nd & 4 at TB 6(9:59 – 3rd) Alvin Kamara 6 Yard TOUCHDOWN Rush
2nd & 10 at TB 25 (9:54 – 3rd) R.Fitzpatrick pass short right to O.Howard 6 yards. FUMBLES (V.Bell), RECOVERED by NO-C.Banjo at TB 36.
1st & 10 at TB 36 (9:39 – 3rd) Ted Ginn Jr. TOUCHDOWN Pass From Drew Brees for 36 Yrds
Fast forward to three plays later. It's third down, and neither Marshon Lattimore nor Mike Evans were involved in the play on the field, but they were certainly involved in the after-play off the field.
3rd & 5 at TB 30(8:35 – 3rd) (Shotgun) R.Fitzpatrick pass incomplete deep left to D.Jackson [V.Bell]. PENALTY on TB-M.Evans, Unnecessary Roughness, 15 yards. INJURY UPDATE: Vaccaro Armstead
A fight broke out towards the Tampa Bay sideline. To add to the drama, it was then-Buccaneers quarterback Jameis Winston who started it. Winston, sidelined at the start of the second half due to a shoulder injury, touched Lattimore on the helmet and pointed across the field like a MLB umpire directing the manager to get back to the dugout.
Winston acted first. Lattimore reacted. Then, all hell broke loose.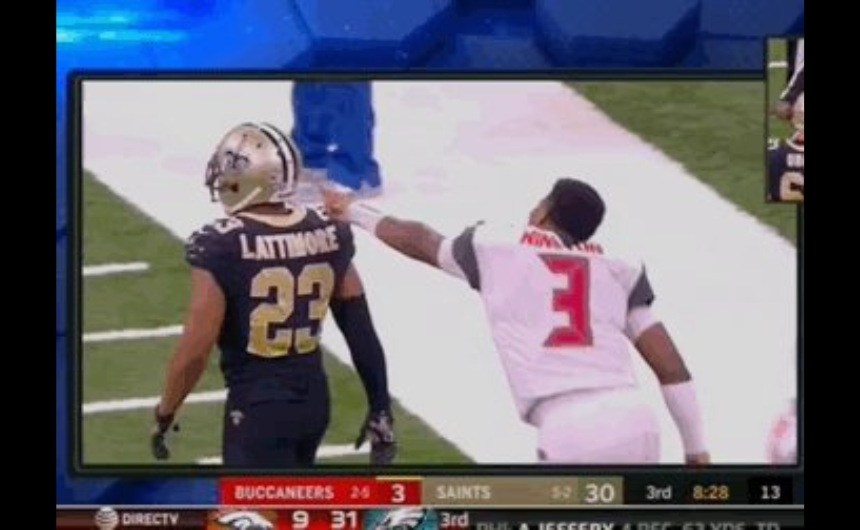 ---
Mike Evans, who had one measly catch in the first quarter and would finish the game as such, decided to convert a football field into a WWE ring. Running full speed at an unaware rookie cornerback, Evans blindside-tackled Lattimore into a sidelined group of Tampa Bay players.
Evans acted first. Lattimore, along with other Saints, rightfully reacted.
And as you can see from the play description above, unnecessary roughness was called only on Mike Evans with former Saints Kenny Vaccaro and Terron Armstead leaving the game for injuries. The Saints went on to win, 30-10.
Fast forward to this past Sunday's wild season opener between the Saints and division rival, the Atlanta Falcons, and the kick that should have never happened. Lattimore was defending Falcons receiver Bryan Edwards in Atlanta's desperation effort to get into field goal range. From their own 35, the Falcons would have needed twenty yards in 6 seconds to get to the Saints' 45-yard line. The goal? A doable 63-yard field goal try for the strong-legged Younghoe Koo.
The clocks hit zeros as Tyrann Mathieu made a game-ending open field tackle on Cordarrelle Patterson at the Falcons 40, but the game was not over yet. The Falcons had a timeout, and they called it with two seconds left. As Patterson fell to the ground, Edwards was blocking Lattimore to the whistle. Immediately as the whistle blew, Edwards gave Lattimore one extra shove — similar to the shove 23 gave back to Winston five years ago on the sideline.
Edwards acted first. Lattimore reacted…like Mike Evans did.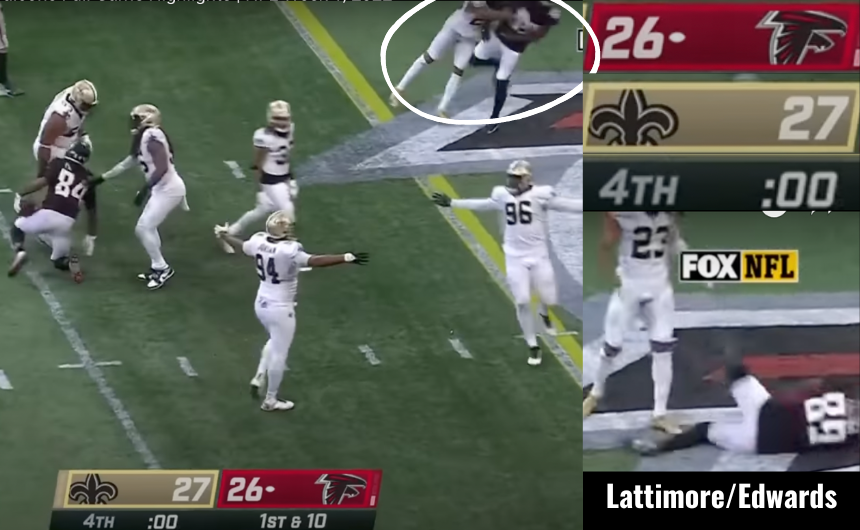 No, it wasn't the same level of force. No, he didn't have a running head start. And no, he didn't hit someone who was facing the other way. Nevertheless, Lattimore reacted with the same immaturity that he saw Mike Evans put on display all those years ago in what could have been argued by some as "protecting his quarterback," an item atop Saints offensive lineman's agendas this Sunday.
Saints, Bucs, and even Falcons fans could debate all day the differences and maturity levels of Mike Evans' hit on Lattimore and Marshon Lattimore's shove-back on Bryan Edwards. But the biggest difference is that the Bucs were losing by 27 points in the third quarter. The Saints had won the season opener in Atlanta in miraculous fashion. And regardless of the two seconds that were added back, the clocks hit zeros. Bags were packed. Fans were leaving. The personal foul on Lattimore gave the Falcons their wish — a 63-yard field goal try, eventually blocked by New Orleans defensive end Payton Turner.
Lattimore's penalty was his second in crunch time. A third-down holding call allowed Marcus Mariota three more plays to run the clock down. Jameis Winston's offense had just 48 seconds get in range for "the field goal that should've happened" — Wil Lutz's 51-yarder — giving New Orleans its 1-point lead.
Payton Turner saved Marshon Lattimore. The Saints star cornerback cannot count on that happening again. No more personal fouls, Mr. Lattimore. Please, no more.