The Road to the 2021 NBA Title Goes Through New Orleans (Kind Of)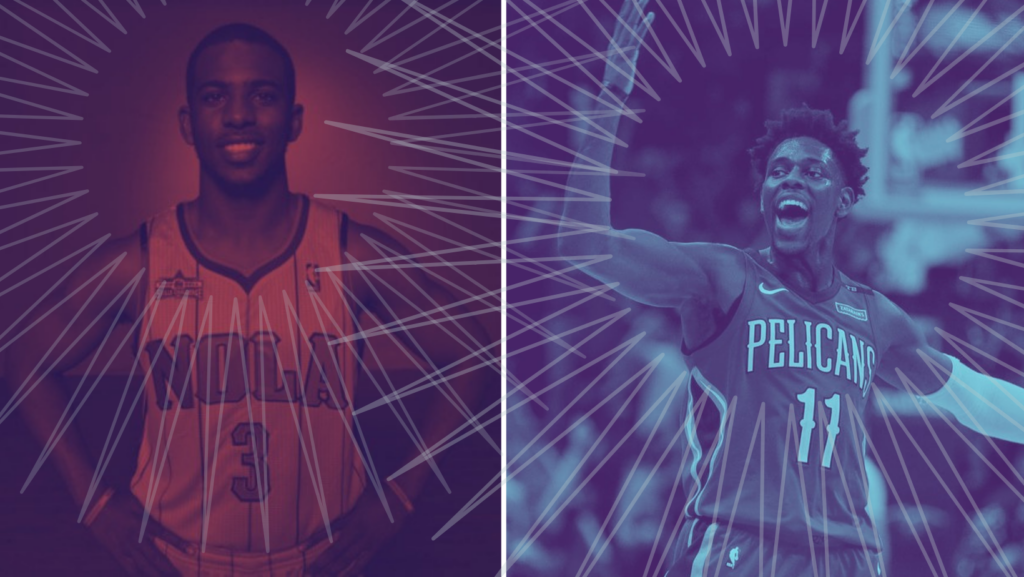 There's three types of heated sports discussions I consistently find myself. One is "conspiracy theories" (you'd be surprised at how many people are the country think the Saints won the Super Bowl in 2006 after Katrina because it was "a good story").
Another is on appropriate "sports branding" (cut to me screaming "the Pelicans are actually the best name is ALL of sports and here's 25 reasons why") in loud bars all over the United States. I've heard "don't get Chris Trew started on the Pelicans name" many more times than you could possibly imagine.
The third is Chris Paul and how much NBA history would shift if he wasn't drafted by the New Orleans Hornets in 2005.
Are you sitting down? Then hear me out. Because my case that the 2021 NBA title goes through New Orleans (kind of) starts here.
Chris Paul is drafted by the New Orleans Hornets with the 4th overall pick in 2005. Hurricane Katrina happens. Then the Oklahoma City Hornets happens. Then the team returns to New Orleans even though people think they shouldn't. After a magical run that remains the best season of basketball ever played in the 504, the team has a real life foundation to build on.
None of the above happens without Chris Paul. Sure, David Stern green lighting All-Star Weekend was probably a sure thing given the circumstances. But David West isn't an All-Star without Chris Paul. The franchise doesn't reach the ticket sales goal without Chris Paul.
Are you still sitting down?
If the Hornets don't have a leader like Chris Paul they might not ever come back from Oklahoma City. Think about it – the vulturous maneuvers of Oklahoma City brass that snaked the Sonics away from Seattle? That was supposed to be New Orleans. If the Atlanta Hawks draft Chris Paul and Marvin Williams ends up in a Hornets jersey, do you think that team goes 56-26, inspires a community, and quiets relocation efforts?
My least favorite horror movie is when I close my eyes, journey back to the 2005 NBA Draft and replay what could have happened. Andrew Bogut – nice piece, but is not whipping the Big Easy into a frenzy. Deron Williams? Sure, he's fine, but Deron Williams would not have inspired a community of Saints fans into giving basketball a try.
Oklahoma City would have kept the Hornets, who may not have ever become the Thunder. That means the Bobcats and Sonics still exist and, worst of all, the NBA is forever dead in New Orleans.
But of course, the Hornets stay. They fall in game 7 to a formidable Spurs team in the second round of that magical 2008 season. Suddenly they are title contenders in 2009. But some things go wrong and Chris Paul wants out.
But then the Hornets become the Pelicans in 2013. The same Summer that Nerlens Noel tumbled to the Pelicans in the draft. The same Summer that New Orleans kickstarted The Process in Philadelphia by scoring Jrue Holiday.
Jrue Holiday's time in New Orleans doesn't inspire the same maniacal sliding doors theories that Chris Paul's does. But something equally as special and important to the history of NOLA NBA happens.
Jrue becomes the kind of forever beloved player that a franchise like the Pelicans desperately needs. Like a Jason Smith that plays meaningful minutes. Like an Anthony Davis that doesn't obliterate his reputation on the way out. Like a JJ Redick that doesn't have a podcast, entitlement, or both.
It's not that the Pelicans wouldn't exist without Jrue Holiday, but it's hard to wrap your head around an identity without him. He was there for the franchise's re-rebirth, the first as the Pelicans. We were there with him as he went through some unfathomable family events. He was there again, for the world this time, as he donated his remaining salary in the 2020 season to launch a social justice fund.
In between he was a crucial part of every Pelicans playoff appearance. He was a reliable second-best player and the perfect companion to Anthony Davis. There's no better player to have next to you, pointing at your fallen foe.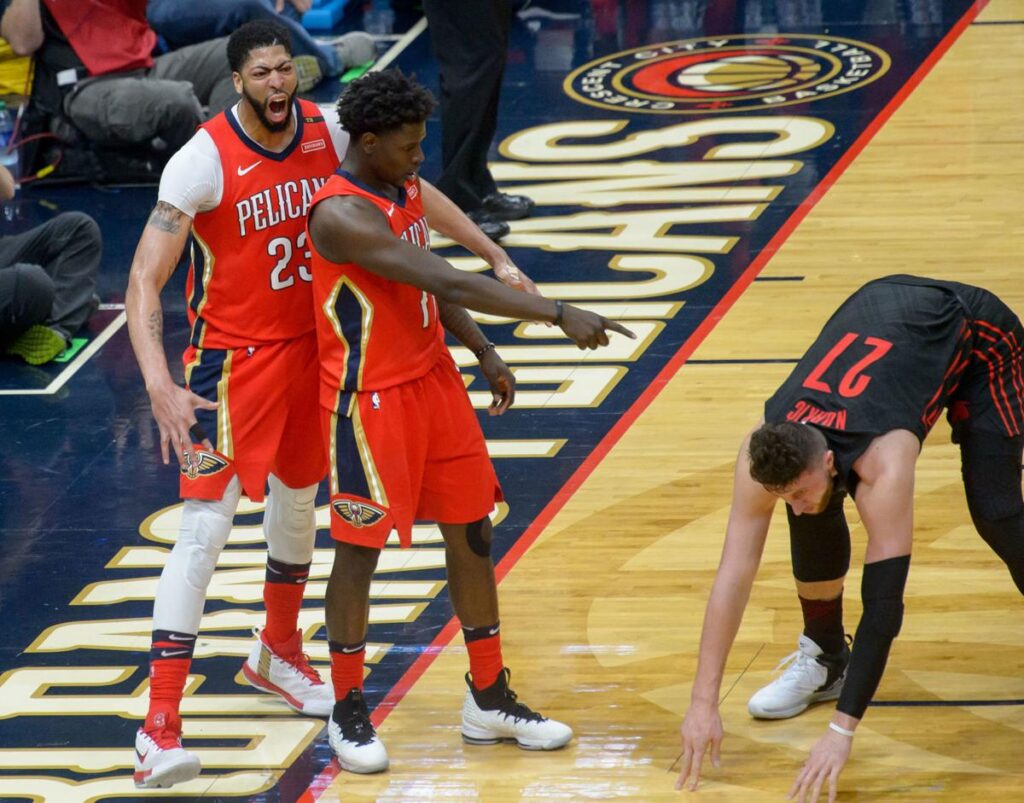 From Hornets to Pelicans. From Chris Paul to Jrue Holiday. From rebirth to re-rebirth. Half of NBA New Orleans Mount Rushmore in one NBA Finals. Neither are wearing the jersey we wish they were, but it matters nonetheless.
When Anthony Davis won a championship in 2020 our skin crawled. This year we'll get goosebumps no matter what. Either the most important player in New Orleans Hornets history or the most beloved in New Orleans Pelicans history is getting their first ring.
The road to the 2021 NBA title goes through New Orleans (kind of).
---
Chris Trew is a comedian based in New Orleans. His latest book "Behind the Bench: Funny Stories From Sitting Behind the Visitor's Bench at Pelicans Games" is available as an Ebook or Audiobook here. Learn more about Chris Trew at the link.