Jaxson Hayes Has Become a Problem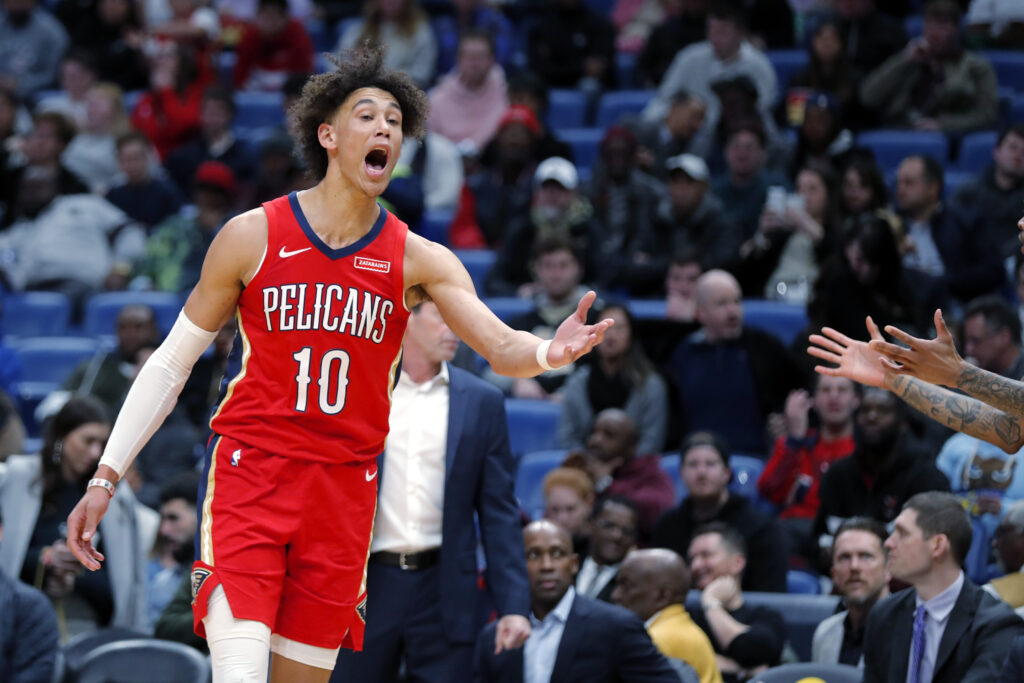 Take us back to the first 10 games of the season. Hayes was averaging 2.9 PPG, shooting 27% from the field, 4.2 REB, 0.5 BLK and had not attempted a single 3 point attempt. We watched Hayes struggle for the first 2 months, being completely lost on the defensive end of the ball and a negative on the offensive side of the ball that could only catch lobs. Jax struggled so much that during a stretch in the season he logged 7 DNP's. We all agreed that Jaxson Hayes was unplayable at times, and was almost becoming close to a BUST. I even stated on a podcast that the #8 overall draft pick in the 2019 NBA draft was a major mistake by Griffin and that he was a lost caused. He was THAT bad, glad I was wrong. (Also, major props to me for admitting I was wrong.)
Fast forward to last night, the 20-year-old went 3-3 from deep, 5-10 from the field and had 13 points. In his last 10 games he is averaging 11 points, shooting 65% from the field, with 5 rebounds and 1.4 blocks a game. He logged a 6-block game against the Charlotte Hornets on Sunday night. In his last 10 games he has recorded at least one block in 6 of those games.
Going from DNP's to being a major contributor to this team, Jaxson Hayes is by far the biggest surprise of the year. To have an athletic big who can rim run, protect the rim defensively, clean the glass, shoot at a high clip at the free throw line and now knocking down 3's is a HUGE positive for this team moving forward.
Not only is he knocking down 3's, he is also defending the rim at an elite level. If he is not glassing a shot from a driving guard, he is at least altering the shot which is just as good. He is EXACTLY what this team needs. A rim running, athletic big, who can space the floor offensively, switch on to guards defensively late in games and now is possibly becoming a 3 point threat. It's a very small sample size, but at least we have a sample.
The reason why I am confident in Jaxson is because of his form at the free throw line. If you have good form and good touch it shows at the charity stripe. He is shooting at a 77% clip this year.
Now, let's not get too far ahead of ourselves, Jaxson still has a long way to go. Even though his discipline has gotten day and night better on the defensive end he still needs to play without fouling. In the off season he absolutely needs to add weight to that 6'11, 220 frame so that he can bang with the big boys such as Jokic, Embiid and Ayton.
I will leave you with this from last night. Imagine Zion running a rub screen action with Jaxson Hayes and spacing shooters in the corners. You will have Zion going downhill, B.I. in a corner, NAW in another corner with Hayes being either a threat to shoot or take you off the dribble on a weak closeout. The sky is the limit for this 20 year old who has only been playing the game for 5 years. SCARY.
Absolute filth from Hayes.

Rub screen action with a dribble drive and an up and under with a little English off the glass. pic.twitter.com/MjlwV5LeLp

— Pro Pels Talk (@ProPelsTalk) May 11, 2021