Early Season Surprises
WHAT?!?
We are five games into the season for some teams and things are already 'head scratching' to say the least. To start – COVID immediately impacted the season for the Washington Nationals. One player tested positive the day before opening day for their game against the New York Mets which lead to several other players and staff members being quarantined. This wiped out the entire opening series and both teams began later than the rest of the league. It baffles me that a year later we are still dealing with ramifications of this virus. I'm sure Max Scherzer wasn't too thrilled with delaying his start and having to watch all the other aces pitch on opening day.
Oakland Athletics have started the season 0-6! The defending American League West champions have yet to put a notch in the win column. That is crazy. They are so talented. Getting swept by the Houston Astros at home for a four game set and then dropping the first two games against the Dodgers – NOT GOOD. Granted, both of those teams are top tier competition but C'mon, you couldn't snag one win?!?!? Surprising.
The Atlanta Braves are not off to a great start. Well… that is putting it nicely. They, like Oakland, have not won a game yet, beginning the season 0-4. Dropping three games away in Philadelphia and then their last game to the Nationals. Braves are hitting .128 and slugging .223, that isn't going to win many games. Their run differential thus far is -7. Pitching staff is keeping them in games but they are not putting up the runs offensively. Three of their four losses have been by one run. They will get it turned around. Just hope they don't dig themselves too big of a hole.
Let's all welcome the Cincinnati Reds to the party. Here is a good surprise. I don't think anyone had the Reds leading the National League Central with a 4-1 record. They follow only Houston for run differential at +24. Taking two away from St. Louis Cardinals which was most people's pick to win the division. Then grabbing the first two games against Pittsburg. Nick Castellanos is absolutely on fire and also bringing energy to this ball club. He officially started the first bench clearing altercation of the season with a slide into home plate against the Cardinals. Hey Nick – keep that shit up. Love it.
Another good surprise in this early part of the season is Kansas City Royals. They are on top of the American League Central with a 3-1 record. The run differential is not as high as the previous mention Reds but a +10 ranks in the top third of the league. Second baseman Whit Merrifield is having an incredible start. The young infielder has 3 homeruns and hitting .421 thus far. Danny Duffy first start was a success, going 6 innings giving up 2 hits and 0 runs. We shall see if they can continue this success in such a deep division.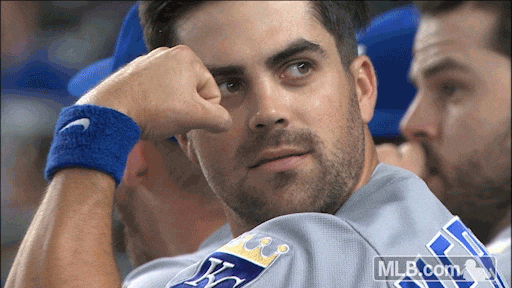 I realize we have not even played a full week yet of baseball but we have plenty of things to be excited about. Buckle up – it's a long ride. Enjoy it.