The 2021 Midseason Absurd Awards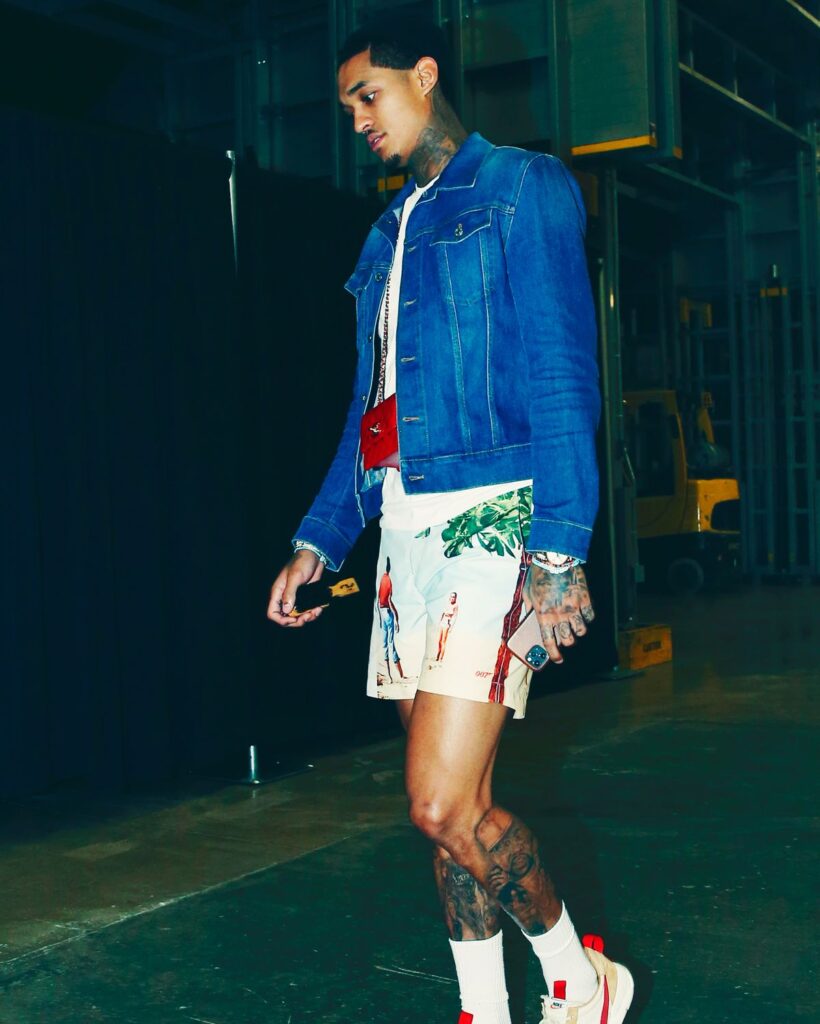 Every year it seems like every sports media outlet under the sun gives out their first half awards. You know, MVP, DPOY, ROY, First Team, the likes of which we've become accustomed. This too was originally my plan, but I thought that might lack the flavor necessary, especially in a season as strange as this one. In this full pandemic of absurd twists and turns, cancellations, and ambiguous pre tip off locker room departures, it wouldn't be right to imitate normalcy. No, this is unlike anything we've ever really experienced before. As a result, I'm here to announce some awards that will only ever live on this right here page, they probably won't ever be adopted or expanded upon, but right here in this moment in time, in this unparalleled sphere of basketball media, they are the most important fictitious awards to ever be earned. NBA reports have been flying around announcing the current top 5 for different awards and the reactions have been saturated in clown emojis and laughing faces, including from the players themselves. There is a general underlying sentiment that the official awards have been hijacked and their significance undermined. Which is where the "McGovern annual first half absurd awards" come in. Let's get this train back on the tracks.
The thought you were good, wait maybe you aren't, wait you are really good award
Julius Randle takes home this esteemed award for the first half of the season. When Randle came over from the Pelicans two seasons ago, he showed signs of being a brilliant scorer, and as the Knicks plugged along on their rebuild, it seemed like a great young free agent to get in the mix and possibly become that guy. Instead, in his first year with the Knicks, Randle seemed influenced by the circus around him. His numbers dropped monumentally, as he dipped to 27% from 3, dipped under 50efg% and did not distribute or rebound quite at the level they needed. This season Randle has gotten back to his level with the pelicans, and kept soaring, grabbing his first All-Star appearance, and solidifying himself as the alpha of the Knicks operation. Seemingly posting a triple double every week, Randle is averaging a stunning 23/11/5.5. He is also shooting over 40% from 3 all while clocking 36 minutes a night. So yes, he is far and away the chosen man for this here award.
The you aren't so great, wait maybe you are, wait nope you are not award
Devonte' Graham takes home this award with flying colors. In 2018, Graham was the 34th overall pick by the Hawks, and then was traded to Charlotte for two second rounders. In Graham's first season he appeared in 46 games, but hovered around the 15 minute a game mark. Part of this was his rookie status, but a lot of it was performance based. The former Jayhawk star, long plagued by inefficient shooting continued that trajectory in the league, shooting 28% from 3 with, with some of the worst defensive metrics at the guard position. In the 2019-2020 season, with a lot of opportunities for shots to go around, Graham became a high volume, still inefficient, but proficient. He scored 18 a game on 37% from 3, and showed ability as a distributor as well logging 7.5 assists a game. He eventually fell just short to Brandon Ingram in the Most Improve Player convo. But the holes in his game still were reflective, if slightly masked by the volume scoring. His 39% 2pfg% is tough to swallow, and his high turnover rate foreshadows what might continue to be a thorn in his game. When the Hornets drafted Lamelo Ball, the pressure only increased. Graham saw his minutes, fg%, 3p%, FTA, and FT% all drop this season as Ball ascended. Graham has been fully usurped as the started in Charlotte and the dropoff he's experienced this season (18/3/7 to 13/3/5) might be an indication of what the future looks like in Charlotte.
The I could have sworn you were retiring now the haters are sick award
Nic Batum. The French veteran has long been a great 3 and D player, commanding the SF position and distributing the ball in the beautiful manner that Euro NBA players do. Long a pillar of the strong Trail Blazers rosters, Batum seemed to lose a bit of his flair and effectiveness his last few seasons in Charlotte, partially derailed by injuries. In 2019, the beleaguered Batum, saw his minutes drop to a near all time low 23mpg, corresponding to career lows 3p% (28%) and fg% (34%) scoring just THREE ppg. Batum, it was thought, might Mirotic his way across the pond. Instead he joined a CONTENDER???? Plenty of veterans are into ring chasing on their way out, but Batum has completely taken the opportunity and ran with it. He's shooting a career high 45% from 3 (10th in league) contributing towards his 9/5/2 line all while playing 30 mpg which is about his career average. He has completely stolen the thunder from high priced offseason acquisition Luke Kennard and is even averaging the most steals per game of his career (1.2). Get this man a ring.
The I've been cloned and replaced by an imposter award
Blake Griffin. This is not the Blake Griffin any of us know. The high flying Blake Griffin who starred on lob city's clippers roster has to have been replaced by an imposter. The griffin who not long ago was skying above the rim, and throwing down ferocious dunks, is now content to hang out on the perimeter. Griffin was an all-star his first 5 seasons in the NBA and during that stretch averaged .4 3pa/game. Now Griffin has spent the past two seasons shooting 6.2 a game, logging 24% last season, and a better but not good 31% this season. This is no doubt an imposter. Give me the Blake back that was dunking over a KIA like it was a loaf of bread. He is only 31, but those continue to look more like dog years. The bounce king we once knew is gone, but hopefully a potential change of scenery can help him find his form.
The how do you look so smooth playing basketball this has to be a crime award
Jordan Clarkson. I just don't understand it. Jordan Clarkson plays basketball like he's at the local YMCA. The man exudes confidence from the time he walks down the tunnel wearing an outfit only he would even consider dawning. Clarkson has always been his own brand, and wherever he has served the 6 man role (LAL, CLE, UTAH) he has been a walking bucket. Clarkson steps into perimeter shots, the way Bonds stepped into the batter's box, Elvis stepped up to the microphone and Quavo entered the dm's. It's mesmerizing. In Clarkson's mind, there's no room for second thought, the game is a constant fluidity that very few can capture. Plus he's good. If there's any true sign of confidence it's the fact he's leading the league in FT% at 97%. Second thoughts? Never heard of em.
These are all my awards for now. I have plenty more in mind, and maybe will add to this next week. For now, feel free to reach out to me with other award ideas as we all move on from the traditional trophies.