3 potential trades between the New Orleans Pelicans and Houston Rockets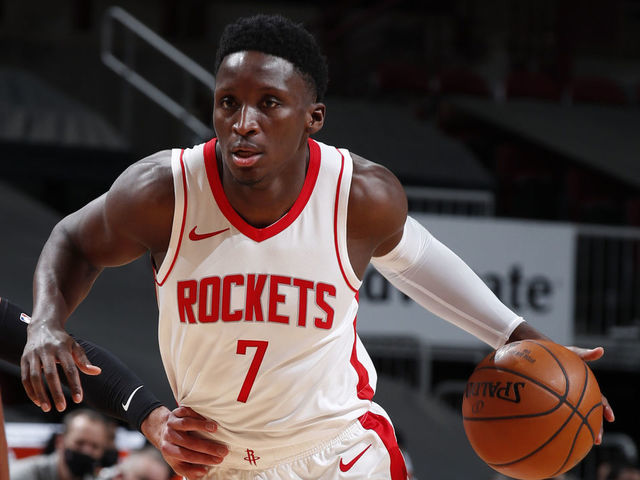 Jeff Haynes / National Basketball Association / Getty
The Houston Rockets entered the NBA All-Star break on a 13-game losing streak. They no longer have James Harden, Christian Wood is out with an ankle injury and adding Victor Oladipo to the roster hasn't equated to wins the way the organization had originally hoped. They're currently 11-23, sitting 14th in the Western Conference. 
It's time to shake things up.
Per Bleacher Report, one NBA assistant general manager said GM Rafael Stone and the rest of the front office are 'starting to call teams,' to initiate trades. Another assistant general manager added "Houston's going to burn the house down."
One can assume that means damn near every player is available to be shipped out of town other than their newly-established cornerstone and rising star, Wood. Given the former Detroit Piston is 25 and in the first year of a three-year, 41 million-dollar deal, and first-year head coach Stephen Silas was brought in this off-season, initiating the rebuild as soon as possible makes plenty of sense.
The only other player on this roster one can assume to be off limits is Jae'Sean Tate. The 25 year old, former Sydney King is a grit and grind player that brings energy every single night. His team-friendly,  two-year, three million dollar contract is nothing for what he brings to this team — 9.9 points, 5.3 rebounds and 1.7 assists a night. To give Pelicans fans reading this a comparison, he's the Rockets' version of Josh Hart.
Now, in regards to what Houston is looking for: don't be surprised if the Rockets seek out a plethora of draft picks and young talent that can continue to develop and compliment what Wood does on the court. This is about showing Wood what he's worth to the team and doing the best they can to help Silas build culture.
Between the bevy of draft picks, youth they have on their hands and need for some defensive help, the New Orleans Pelicans may be the perfect trade partner.
Option 1
Pelicans receive: Victor Oladipo
Rockets receive: Eric Bledsoe, Cleveland 2022 second round pick, Washington second round pick 2021
Here's the thing about this trade — I could see both fan bases hating it for different reasons. That usually means it's plausible.
For Houston, they receive an aging point guard who has shown he doesn't want to play somewhere he probably won't win. On top of that, he's locked into his contract for the remainder of this and next season. Not only that, he's expensive. Bled is making $16.8 million this year and $18.1 million next. He's guaranteed $3.9 million in 2022 whether he gets waived or not. 
But that's the thing — he's basically only got the remainder of this and next season on his contract. Should the Rockets take him on now, they can get solid value for him this off-season or at the trade deadline next season for a title-chasing team that is in desperate need of a veteran point guard.
Sure, they embrace the suck now, but it pays dividends later. They may want a first round pick out of the Pelicans in this exchange, but what holds the Pels back from offering it is the fact that Oladipo only has the remainder of this season left on his contract.
And that's the reason Pelicans fans don't like it. Why give up two draft picks to acquire a guy who can't stay healthy and only has half a season left on his deal?
Two reasons: 1. The Pels get rid of Bledsoe. 2. If New Orleans is really vying for a playoff spot, they get a third player who can play defense and shoot the basketball.
Fine, Oladipo isn't a perfect compliment to what Zion Williamson and Brandon Ingram do. But, that's not the point. The point is winning basketball games. If it works, David Griffin can see if Oladipo will return on a team-friendly deal. If not, the Pels will have much more cap space next season than if they held onto Bledsoe.
The Indiana product steps on the floor and immediately improves the Pelicans perimeter defense. He's a former All-Star that's scoring nearly 20 points a game. If the Golden State Warriors aren't able to get the rumored deal they want done that sends Oladipo to The Bay, New Orleans can (and should) take a shot at it. 
Option 2
Pelicans receive: PJ Tucker
Rockets receive: Nicolo Melli, Wenyen Gabriel
PJ Tucker has to be the player most Pelicans fans would want or think of should a trade come to fruition with Houston. It makes sense. He's a veteran who's known for his defense on bigs and wings, and, at one point in his career, he was a solid three point shooter. His career percentage is 35.9, but he's known as being a corner three specialist. During the 2018-2019 season, Tucker shot 39 percent from the there. 
In an offense that surrounds 2019 All-Star level scorer Ingram and Zion drawing an unreal amount of attention when he has the ball in his hands, Tucker is a great fit. With his age and style of play, he's not going to be a guy who plays on the ball much or moves much without it — all he has to do is stand in his sweet spot and launch. Talk about a dream role.
Defensively, Tucker adds the element this team needs. He can match up with the opposing team's best wing and make it tough to score. Tucker has taken a bit of a step back defensively this season, but it's tough to blame the guy given the current situation the Rockets are in. He isn't used to losing having been teammates with James Harden the last three years. It must be tough to give effort through each and every possession when your team is 11-23 at the break.
Along with Hart and Lonzo Ball, Tucker improves the defense with his size. Yes, Ball is lanky, Hart brings energy and both are high IQ defenders. But Tucker is built to defend bigger players — he's thicker, he can withstand a bit of a beating. He'd be a huge addition to this team for the remainder of the season.
Acquiring him shouldn't be that difficult, either. Between shipping out Nicolo Melli and Wenyen Gabriel, that should be enough to get the former Texas Longhorn. Melli adds some shooting and a cheap, expiring contract, and Gabriel is brought in for the exact reason the Pelicans grabbed him — potential. While New Orleans hasn't seen much of Gabriel due to his injury, he's known for the defense he played in the bubble last season, and the intensity he brings every night. Not a bad thing to have on your team in the middle of a rebuild.
The only thing getting in the way of this deal is title-contending teams seeking out Tucker's help for the remainder of the season. As stated previously, he's an immediate help on the defensive end, and a veteran presence certainly doesn't hurt.
Option 3
Pelicans receive: Kelly Oubre, Marquese Chriss
Rockets receive: Frank Ntilikina, Kevin Knox II, Jordan Poole, Utah 2023 second round pick, Washington 2022 second round pick.
New York Knicks receive: JJ Redick
Golden State Warriors receive: Victor Oladipo
The NBA trade deadline is known for its craziness. This trade exemplifies why.
Golden State gets the guy they want in Oladipo. An instant impact wing that isn't able to quite shoulder the load that Klay Thompson has and will when he returns, but a player who can fill the void in a season where the Warriors don't want to waste a year of Steph Curry's prime. The Dubs have made it clear they still want to win. Grabbing Oladipo here solidifies that narrative.
But, in order to acquire him and his $21 million on the salary cap, they've got to give up something. Here, it just so happens to bring in Kelly Oubre, Marquese Chris and Jordan Poole.
In acquiring Oubre, the Pelicans get a 6'7 defensive-minded wing who won't have to shoot threes in this offense, and can come off the bench in relief of Ball or Ingram. A no pressure, intense role where he can impact the game. Another energy, effort players the Pels can use. We've seen this from Oubre his whole career — he makes winning plays. 
For Houston, they get three young players with potential in Knox II, Ntilikina and Poole while adding to their stock of draft picks. Ntilikina is a long guard who plays defense, and he was drafted No. 8 overall in 2017 for a reason. There's still the possibility for growth in all facets of his game. He's in a contract year, and on the Rockets, he'll have a chance to prove as to whether or not he's worth an extension. 
The same goes for Knox. Coming out of Kentucky, there were high hopes for him, but he hasn't lived up to the hype. By heading to Houston, he gets to play significant minutes in the last year of his contract. This is time for him to prove what he's worth. For Houston, this is an opportunity to hit on one or two players that have yet to hit their prime, or to move on immediately from expiring deals. Acquiring Poole helps make the money work for Golden State, and it's another shot at a young guy with potential. Why not?
Lastly, getting Redick to New York is a happy byproduct of it all. Here, in the latter stages of his career, Redick gets to head home to spend more time with his family, and while continuing play mentor to a team that is attempting to revitalize the name of the Knicks league-wide. The 36 year old more than likely finishes his career without a title (unless he comes back next year to play with the Brooklyn Nets), but is able to finish it out happily alongside his family, on a young team that's winning.