Packers x Super Bowl LV
Can this be the packers Super Bowl year? As a Packers fan we have been here before, 12-3, 1st in the NFC north, Rogers having a possible MVP season, but can this season be different. Can the packers finish? Normally Aaron Rodgers would be telling me to R-E-L-A-X, but how can I, I taste the Vince Lombardi Trophy and Superbowl LV should be ours!
The Green Bay Packers' Super Bowl hopes took a huge hit before the end of 2020. David Bakhtiari, the Packers' Pro Bowl left tackle, suffered a season-ending knee injury during a New Year's Eve practice. If you have seen the movie The Blind Side you would know why he was so important to the packers. He was Aaron Rodgers' blindside protector and did a damn good job! This hurts, I even googled how to donate an ACL. I blame 2020
The packers defense will have to step up. Green Bay's defense has been the weak link for years now. Not many people notice this because the offense is always there to get them across the finish line. They are currently rank No. 7 in total defense. Green Bay ranks sixth in the league in passing defense (219.4), 14th against the run (113.1) Which is great They have been better in 2020. The Packers have allowed just 19.0 points per game during their current five-game winning streak. And Green Bay is coming off arguably its best defensive performance of the Mike Pettine-era, a 40-14 domination of Tennessee last week.
One advantage the packers have over most NFL teams, is that they have an Aaron Rodgers. Not just any Aaron Rodgers but an MVP playing Aaron Rodgers. If you don't understand what that means just imagine your favorite QB but better, like really better. Week 12, throwing at least three touchdowns in four of the Packers' last five wins. His numbers are amazing. If we went by stats only MVP him now please! With a receiver like Davante Adams who has 17 receiving TD's by himself which is currently more than 5 NFL teams, they cannot help but to make magic. The Packers have arguably the best QB-RB-WR trio in football and it sets them up for Super Bowl.
But then again, they could easily be a one and done team. Any team can get beat on any night. Hoping to get home field advantage with a win over the bears or a Seahawks loss, the packer faith could be molded this Sunday.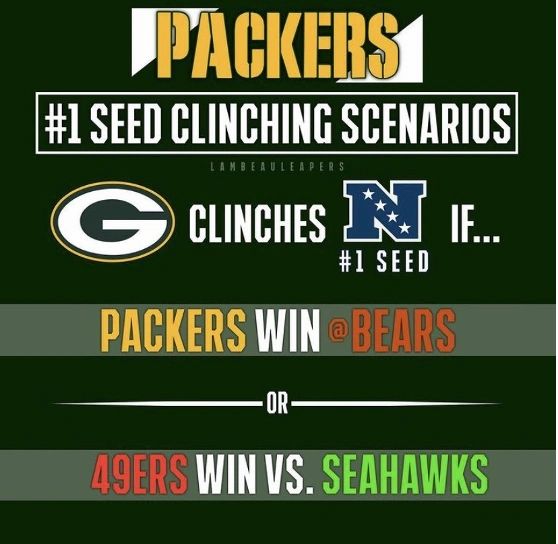 However this season ends for the Green Bay Packers, just know history was made. #GOPACKGO
…..TO BE CONTINUED