Steven Adams & Eric Bledsoe Bring Leadership and Winning to NOLA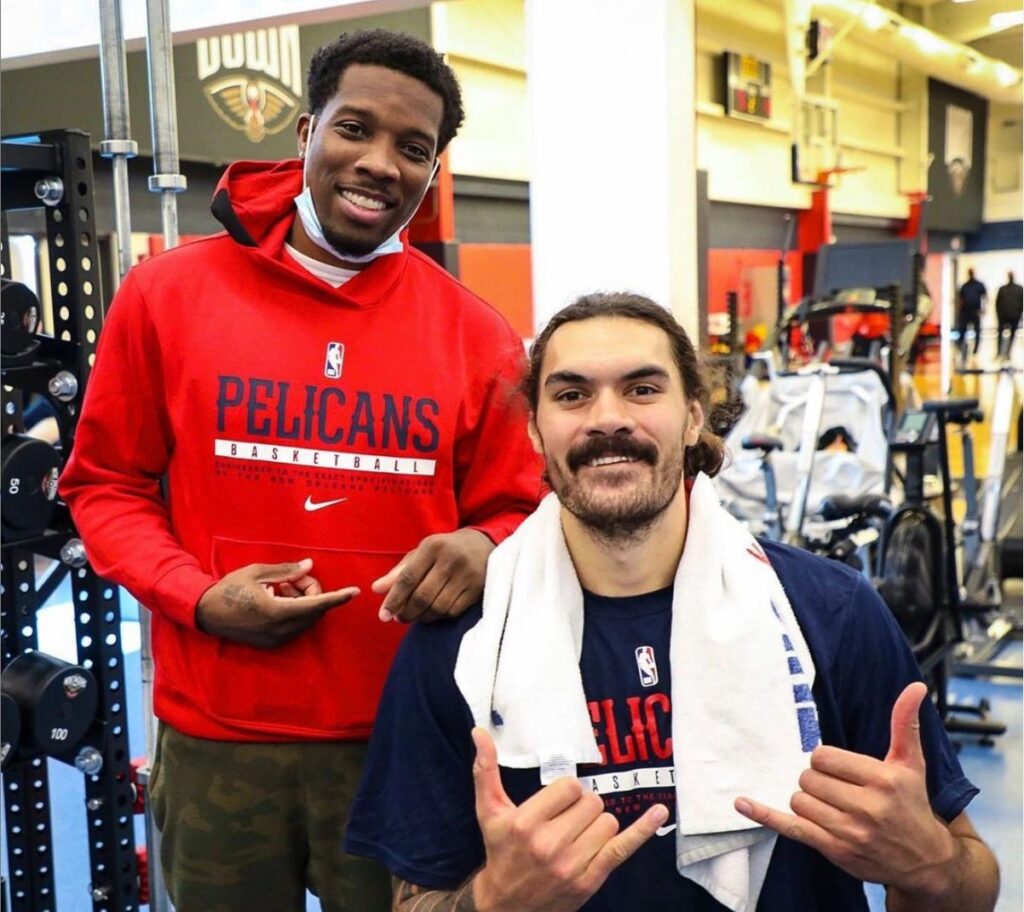 Ever since Chris Paul left, this organization has never really had a real leader. Sure, they drafted Anthony Davis and traded for Jrue Holiday, but they were not leaders. They also rarely did any winning in New Orleans. Anthony Davis and Jrue Holliday went to the postseason two times in six Years. They never won a division title together and never got to a Confrence Championship. I laugh every time people ask me if we are going to be ok without Jrue Holiday. How could we be any worse? In their six years together, the Pelicans were 251 – 323. That's not great. They were not winners, and they were not leaders. I will never ever have a problem with Jrue Holiday, but he was not a leader. He was a soft-spoken guy who was so likable it was hard to say anything bad about Jrue. Jrue also did so much for this city, but it was time to move off of him. With trading AD to the Lakers last year and Jrue to the Bucks a few weeks ago, this finally feels like a brand-new franchise. Enter, Steven Adams and Eric Bledsoe.
Plain and simple, these guys are winners. Eric Bledsoe has been to the playoffs 5 times in his career. Steven Adams has been to the playoffs 6 times in his career. After their press conferences today, these two said all the right things. If you listened to Bledsoe and Adams' press conference today, the theme was "team". We don't need to dive into stats and what these guys can do, I think we all know what they can do. Bledsoe is a bowling ball going to the rim and Adams is a tough son of a bitch who sets bone crushing screens. What they bring to this team is leadership and winning.
One of my favorite quotes today came from Steven Adams and embracing the city he plays for.
THIS SCREAMS BUYING IN! Steven Adams has not played one second for the Pelicans and he is already one of my favorite players. You have to have team first guys who not only talk the talk, but they also walk the walk. It is easy to come out and say the right things and then not deliverer on said promises (Politicians do this all the time). But Steven Adams is not that guy, he will be a leader on the court and also off the court. Steven Adams will be so big for guys like Jaxson Hayes and Nicolo Melli to learn from.
Eric Bledsoe was a winner in Milwaukee and Los Angeles. I don't care about his playoff stats; The Pelicans have been to the playoffs FOUR times in the past TWELVE years. Lets make the playoffs first before we start talking about Bledsoe's playoff stats.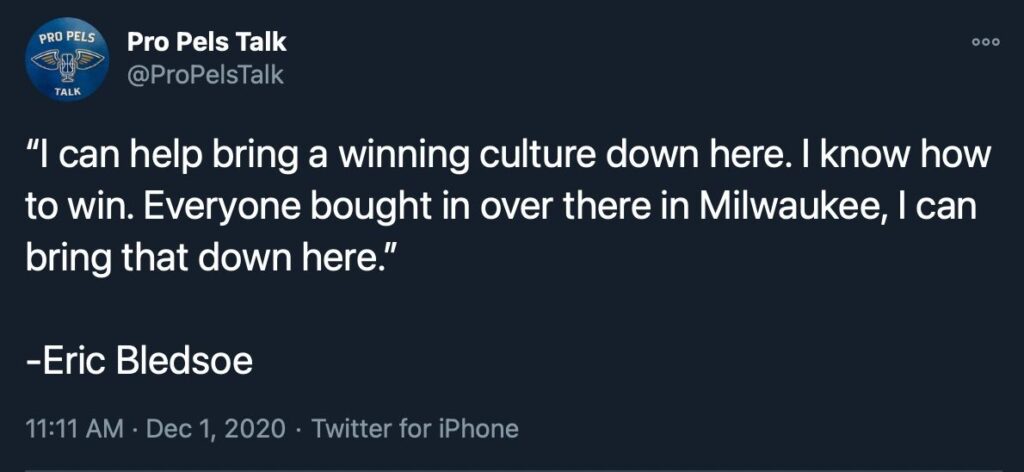 The Bucks do not get to where they were without him. From Giannis to Middleton to Korver they all had high praises for their starting Point Guard. Bledsoe is going to be able to teach young guards such as Ball, Naw, Kira and Hart on what it takes to win in this league. I think Eric Bledsoe is being overlooked by A TON of people. I think he might be the most important player on this team. Bledsoe and Ball will make this team go. People keep trying to peg Bledsoe as the 1 and Ball as the 2 or vice-versa, but I see them as position-less. If Lonzo has the Ball, Bledsoe goes to the 2. If Bledsoe has the ball, Lonzo goes to the 2. They will be able to play with pace, but also be able to play efficient half-court offense. Bledsoe will be able to create and make life way easier for Lonzo, BI and Zion. I see Lonzo being more of a set shooter (kind of like Austin Rivers) and really taking a step forward this season. Ball and Bledsoe will be able to exist!
The biggest key to this offseason was getting players who were willing to buy in and players who were going to be leaders for this franchise. I am not saying that this team is going to win a championship in the next few years, but this is a fresh new start. Out with the old and in with the new. Steven Adams and Eric Bledsoe are EXACTLY what this franchise have been missing since Chris Paul left. I am saying it now, the Pelicans make the playoffs this year. I guarantee it.